E-Learning
Get flash to fully experience Pearltrees
How to Create Your Own Online Course: 100 Tools, Guides, and Resources Perhaps you have a special skill, talent, or knowledge-base that you want to share with others, and maybe you've heard that teaching online courses can make you a little extra money. The resources below will help you discover how to combine both what you have to offer and what you wish to gain by guiding you through creating and establishing an online course. No matter what age of student, subject you want to teach, or size of the class, you will find resources and information to bring your class online. Learning Management Systems
Email Share September 17, 2012 - by Susan Oxnevad 28 Email Share
This handful of resources provide about 100 different ideas for, and examples of, using Twitter in the classroom. It's been almost 8 months since I published the post, "6 Examples of Using Twitter in the Classroom" , about uses of the popular micro-blogging tool in the instructional setting. This post generated a lot of traffic, and continues to attract hundreds of viewers every week. Since that brief posting, I've come across a lot of articles containing examples and suggestions for using Twitter in instructional applications.
Welcome to the LearnOutLoud.com Audio Book Downloads Section! Here you'll find over 10,000 educational and inspirational audio books to download to your iPod® or any portable audio player. You can also play these audio books on your iPhone®, Android™ phone, iPad®, or any mobile phone or tablet with our new Mobile Format. Any products you purchase here are available as MP3 files and can be played on any portable audio devices.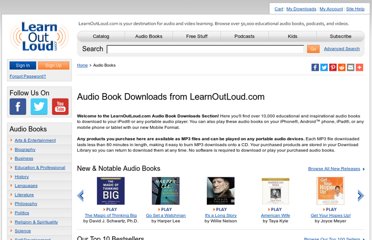 Our rationale for creating a Facebook page for our school is to "Go where our parents are." Since the majority of the parents of our students check their Facebook account daily, but only check our school webpage a few times a year, doesn't it make sense for our school to have a Facebook page? For example, if we were about to have an Ice Cream Social and we put a notice on our webpage, very few parents would see it. But if we put the same notice on our Facebook page, most of our parents would now know about it. Mr.