Dreams
About dreams and dreaming . Lucid dreaming , meaning of dreams . Dreaming as a tool to solidify memory and learn skills while asleep. Controling dreams . mirlen101 Feb 20
Get flash to fully experience Pearltrees
Today, our guest, the Rev. John Price, looks at our dreams. The University of Houston presents this series about the machines that make our civilization run, and the people whose ingenuity created them.
<iframe id="511b5ab353480" name="511b5ab353480" src="http://ox-d.bullfrog-digital.co.uk/w/1.0/afr?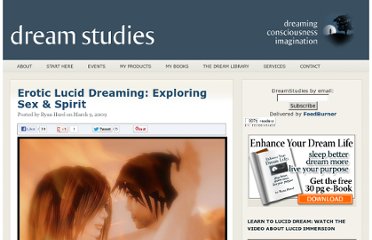 Posted by Ryan Hurd on March 9, 2009
My body is incompatible with Earth. It has a daily sleep-wake cycle that lasts about 28 hours instead of 24 hours, which means each day I stay awake about four hours longer than most people. In the middle of the week, I sometimes find myself waking up at 11PM and going to bed in the early afternoon the next day. When I was younger, people thought I was insane.
By lucid dreaming, you can gain complete control over the one place that no one will ever care about: your imagination. Just The Facts Lucid dreaming is a scientifically proven phenomenon.
If you see a student dozing in the library or a co-worker catching 40 winks in her cubicle, don't roll your eyes.
Posted by Ryan Hurd on December 10, 2010