Burning Man festival
Nowhere, un festival pas comme les autres - Le monde bouge. Burning Man 2007 - Photos by Scott London. 2007 will be remembered as the year of wind, dust and rainbows, as the year that attendance surged to nearly 50,000 people, and, perhaps most of all, as the year when the man went up in flames four days ahead of schedule.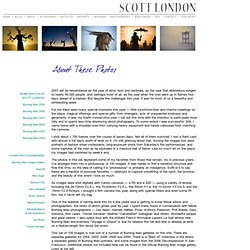 But despite the challenges this year, it was for most of us a beautiful and exhilarating week. For me there were many special moments this year — little synchronicities and chance meetings on the playa, magical offerings and special gifts from strangers, acts of unexpected kindness and generosity. It was my fourth consecutive year. I set out this time with the intention to participate more fully and to spend less time obsessing about photography. To some extent I was successful. BURNING MAN : Photography by Scott London. Burning Man France : FRENCH BURNERS - Les 10 principes. BURNING MAN se caractérise par 10 principes.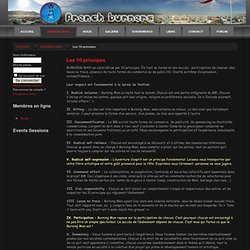 Ils font sa forme et son succès : participation de chacun, don, leave no trace, absence de toute forme de commerce ou de publicité, liberté extrême d'expression, autosuffisance,...Leur respect est fondamental à la survie du festival. I. Radical inclusion : Burning Man accepte tout le monde. Chacun est une partie intégrante du BM. Chacun s'inclue et inclue les autres, quelque soit leur origine, religion ou préférence sexuelle. Mes quatre jours au festival du Burning Man : hippie 2.0. Le dôme ou est organisée chaque soir l'une des soirées les plus fréquentées du Burning Man (Damian Ewens) (De Black Rock City, Nevada) Ne cherchez pas Black Rock City sur une carte.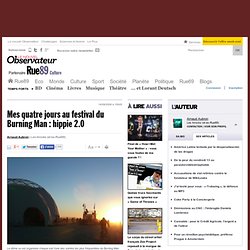 Car cette charmante bourgade de 50 000 âmes dans le désert du Nevada n'existe qu'une semaine par an. C'est là, au beau milieu de nulle part, que se rassemblent chaque année, à la fin du mois d'août, artistes, teufeurs du monde entier et cadres de la Silicon Valley pour célébrer le Burning Man. Le pool Burning Man! What is Burning Man?: 1999: Black Rock City Map. Burning Man 2005. This webpage, and all of are yours to enjoy.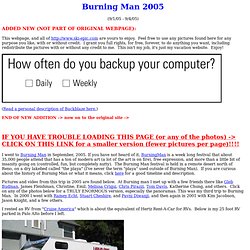 Feel free to use any pictures found here for any purpose you like, with or without credit. I grant you full rights, for free, forever, to do anything you want, including redistribute the pictures with or without any credit to me. This isn't my job, it's just my vacation website. Enjoy!
Burning Man :: Welcome Home. Burning Man. Un article de Wikipédia, l'encyclopédie libre.
L'Homme (« The Man »), de nuit, en 2002. L'évènement qui clôt la rencontre est le bûcher du géant de bois, image qui ramènerait à des rites païens si elle n'était commentée sous le registre religieux, quoique la spiritualité de ce sujet partagé reste à considérer. Le festival Burning Man est une grande rencontre artistique qui se tient chaque année dans le désert de Black Rock au Nevada. Elle a lieu la dernière semaine d'août, le premier lundi de septembre étant férié aux États-Unis (Labor Day).
---