Licences
Panorama des licences libres. Welcome! - Free Software Directory - Free Software Foundation. Définition d'un logiciel libre. L'original de cette page est en anglais.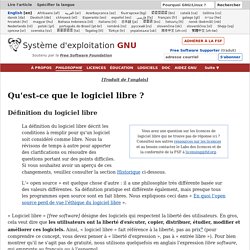 Définition du logiciel libre Cette définition du logiciel libre a pour but de décrire clairement les conditions à remplir pour qu'un logiciel soit considéré comme libre. CeCILL. CeCILL et les logiciels libres Les logiciels libres ont aujourd'hui un rôle important dans le monde de la recherche scientifique.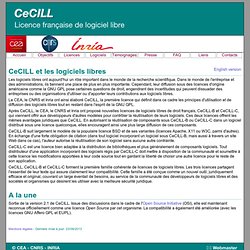 Dans le monde de l'entreprise et des administrations, ils tiennent une place de plus en plus importante. Licence pour documents Libres v1.1. Retour aux pages Licence pour Documents Libres Version 1.1 Copyright (©) 2000 Guilde des Doctorants.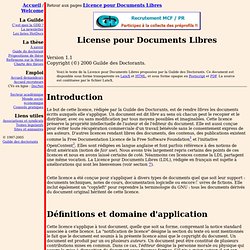 Voici le texte de la Licence pour Documents Libres proposéee par la Guilde des Doctorants. Ce document est disponible sous forme transparente en LateX et HTML, et sous forme opaque en Postscript et PDF. La source est contituéee par le fichier LateX. Richard Stallman et les quatre libertés du logiciel libre - une vidéo Actu et Politique. The Open Source Definition. Open source doesn't just mean access to the source code.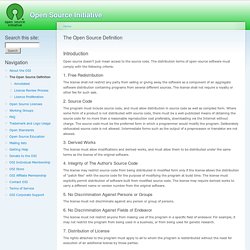 The distribution terms of open-source software must comply with the following criteria: 1. Free Redistribution. About The Licenses. Our public copyright licenses incorporate a unique and innovative "three-layer" design.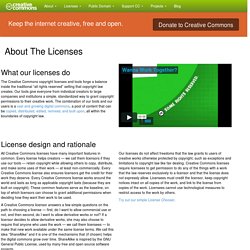 Each license begins as a traditional legal tool, in the kind of language and text formats that most lawyers know and love. We call this the Legal Code layer of each license. But since most creators, educators, and scientists are not in fact lawyers, we also make the licenses available in a format that normal people can read — the Commons Deed (also known as the "human readable" version of the license). The Commons Deed is a handy reference for licensors and licensees, summarizing and expressing some of the most important terms and conditions. Blog | The Noun Project, How to Properly Attribute CC BY - a Guest Blog Post by Creative Commons.
---