DIY
I guess i have this tree for all the cool stuff you find on the internet that you can make yourself. I luv projects to do at home im all for homemade products and caft projects :)
thankx for wanting to help
Cabochon Accessories. Little resin cabochons are so cute as little earring studs…..and so easy to make.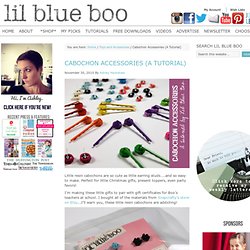 Perfect for little Christmas gifts, present toppers, even party favors! I'm making these little gifts to pair with gift certificates for Boo's teachers at school. I bought all of the materials from Snapcrafty's store on Etsy….I'll warn you, these little resin cabochons are addicting! For each earring, put a small dab of glue on the back of a cabochon. Add the earring post to the back and let sit until the glue sets. 10 Really Cool DIY Gadgets. Do-it-yourself is a popular topic online: there are hundreds of tutorials and how-tos.
But most of them are too hard to replicate and require too much time, effort and skill. This collection shares 10 cool things you can do at home with no more than 5 minutes spent: great ideas for DIY gifts and fun gadgets. Enjoy! Easy DIY Bathroom Organization Ideas. How to Make An Eco-Friendly Bag. M.A.I.L. - Maille Artisans International League - Aura (photos) - Submitted by Legba3. For the purpose of this article I have used 1mm wire in 6&3mm ID (5&3mm ID works well too).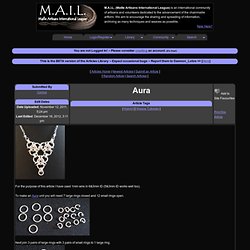 To make an Aura unit you will need 7 large rings closed and 12 small rings open. Next join 3 pairs of large rings with 3 pairs of small rings to 1 large ring. Fold over 1 pair of large rings and add 2 small rings like this. Do this 3 times so that you have this. This is an Aura unit, you can have 2 or 1 ring at the bottom, this is a unit with 1. Harry Potter - StumbleUpon.
Your guide to all things Harry Potter Want to make some great Harry Potter gear for the opening night of Harry Potter and the Deathly Hollows?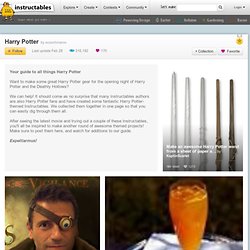 We can help! It should come as no surprise that many Instructables authors are also Harry Potter fans and have created some fantastic Harry Potter-themed Instructables. We collected them together in one page so that you can easily dig through them all. After seeing the latest movie and trying out a couple of these Instructables, you'll all be inspired to make another round of awesome themed projects! Can Art: A Way To Recycle Some Tin Cans. Happybirds Crafting Haven: Make A Cute Little Bow With A Fork...Tutorial For You! - StumbleUpon. I made this fork bow tutorial for you.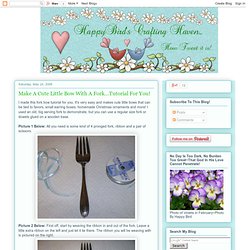 It's very easy and makes cute little bows that can be tied to favors, small earring boxes, homemade Christmas ornaments and more! I used an old, big serving fork to demonstrate, but you can use a regular size fork or dowels glued on a wooden base. Picture 1 Below: All you need is some kind of 4 pronged fork, ribbon and a pair of scissors. Picture 2 Below: First off, start by weaving the ribbon in and out of the fork. Leave a little extra ribbon on the left and just let it lie there.
Stuff to Make in my Old Age - StumbleUpon. Etching Glass. DIY Advent 17: Beautiful Recycling - Barcelets from Plastic Bottles DIY - Outfits, Shoes & Accessories Dana's Fashion Blog - StumbleUpon. Bearing in mind that we should take a day at least 3 liters of fluid to us, a single human requires whole 730 1.5 liter bottles of water per year.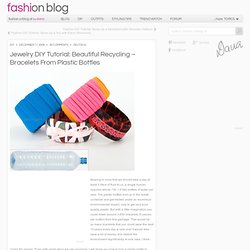 The plastic bottles end up in the waste container and get melted under an enormous environmental impact, only to get very poor quality plastic. But with a little imagination you could tinker around 3,650 bracelets (5 pieces per bottle!)
DIY beauty/food. Life As Lou :: Magic Boxes: A Life As Lou Online Class :: January :: 2008 - StumbleUpon. Due to popular demand, I am doing a tutorial on the Magic Boxes I showed off in some previous posts.
To begin, choose your paper. You need six sheets of matching paper (preferably a heavier weight). Choose one for your outside, budgeting for a contrasting one for your lid, and 4 to create the inside boxes. Cut as follows (all measurement are in inches): Outside: 6 x 11 3/4ths. Homemade Holidays: Crock Pot Candles | Bonzai Aphrodite - StumbleUpon. Growing up in my house, we always made our own holiday gifts.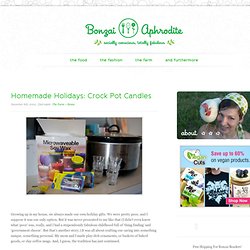 We were pretty poor, and I suppose it was our only option. But it was never presented to me like that (I didn't even know what 'poor' was, really, and I had a stupendously fabulous childhood full of 'thing finding' and 'government cheese'. But that's another story.) It was all about crafting our caring into something unique, something personal. Make-up Magnet Board - StumbleUpon. We all know with craft blogs that original ideas are often hard to come by, we find ideas we love and make them our own but we didn't come up with the idea ourselves.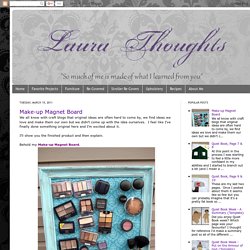 I feel like I've finally done something original here and I'm excited about it. I'll show you the finished product and then explain. Behold my Make-up Magnet Board. I have a friend who is beautiful and stylish and has always loved make-up but recently took a course that intensified her love. Recycled Craft Ideas — Saved By Love Creations - StumbleUpon.
Dream Catcher tut. This Thanksgiving I'm going to focus on the Indians whose help enabled the Pilgrims to survive.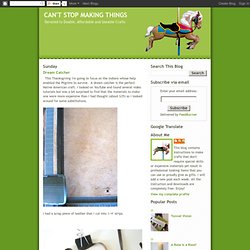 A dream catcher is the perfect Native American craft. I looked on YouTube and found several video tutorials but was a bit surprised to find that the materials to make one were more expensive than I had thought (about $35) so I looked around for some substitutions. I had a scrap piece of leather that I cut into 1/4" strips. Using Shoe Goop, I glued the strips together and clamped them with clips. Gifts to Make for Your Man. To make all of these Instructables, download this collection of How To's as an ebook. Download » Gifts to Make For Your Man gives you full step-by-step instructions for 40 cool gifts you can make, including everything from wallets to belts to cookies. Stamp carving tut. English I love to carve stamps! Is one of my favorite crafts. I love the endless posibilities it offers and the wonderful results I get. A single stamp can be used for so many things, and I keep discovering more and more uses..Its wonderful to customize your things and really make them unique.
Which Glue to Use Where chart. Top 100 Tutorials of 2010 - StumbleUpon. Home PomPom Pillow from Living with Punks. Dip-Dye Lamp and Pillow from Design Sponge. String Ball Craft. DIY | Doily Lantern | Glamour and Grace. The lovely Sarah is back again this month with another fabulous DIY! This one is so simple and chic, I know you all are going to love it!
Happy spring, readers! I have been so excited to share this month's DIY project with you! Create Something Saturday's- DIY Stencil Art | 8th Continent Soymilk Blog - StumbleUpon. Jars - sorrage and usage. Tree costers. Prone to crushes on boys in books pin idea. Yarn Bowl. Birthday Board. Tutorials - StumbleUpon. Ruby Cotton Scarf with Lace. Wanelo - unique products -ideas. Bottle cap candles TUTORIAL | Craftaholics Anonymous - StumbleUpon. Candles in Seashells -- Martha Stewart Crafts - StumbleUpon. How to Make an Earbud Cord Caddy. Suitcases - Large Pool Multi Dots Suitcase. Medieval Chained Dragon Chest by DeweysNook on Etsy. Letter In A Bottle in For Home Shop by Category Library Stationery Journals at Terrain. Stencil with freezer paper. Holder for Charging Cell Phone.
---