Divers
Bodybuilding
2de Hands for Mac users. 2de Hands. Funny. Video Clips, Music Videos and Live Clip on Jukebox : The Global Nº1 on music videos. Movies & TV. How Too's.
Save web articles as PDF for reading later: Joliprint. Recipes. Recettes Marocaine. Travel. (NL) Gezondheid. NASA Earth Observatory : Home. Strange Places on Mars: What Do You Want to See Next? | Wired Science. NASA's Mars Reconnaissance Orbiter has captured more than 13,000 images of the red planet's surface.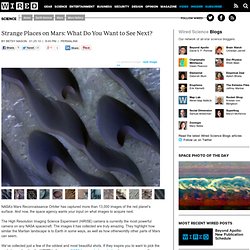 And now, the space agency wants your input on what images to acquire next. The High Resolution Imaging Science Experiment (HiRISE) camera is currently the most powerful camera on any NASA spacecraft.
---