Directories
Global Legal Information Network - GLIN
Duhaime
Key Development Data & Statistics - World Bank
The Social OPAC
Electronic Information System for International Law -EISIL
GlobaLex
Development Gateway
Rule of Law Resource Center - Lexis Nexis
To better serve you with the latest Rule of Law content, we have consolidated this information in fewer web locations. The key content of Rule of Law Resource Center will be on the International Rule of Law page on the International & Foreign Law Web Community site. Our thanks to all of our contributors and partners for their participation and interest.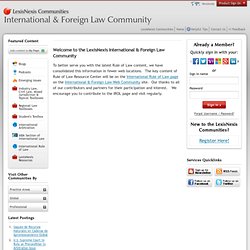 Directory of Development Organizations
businessanticorruption | Links
Multilateral Conventions - Edwin Ginn Library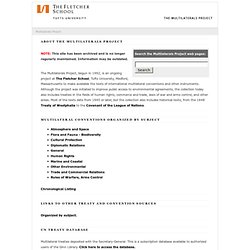 NOTE: This site has been archived and is no longer regularly maintained. Information may be outdated. The Multilaterals Project, begun in 1992, is an ongoing project at The Fletcher School , Tufts University, Medford, Massachusetts to make available the texts of international multilateral conventions and other instruments.
Forum for Agricultural Research in Africa-FARA
Worldwide NGOs Directory - World Association of Non-Governmental Organizations-WANGO
infolaw - gateway to the UK legal web
Lawbore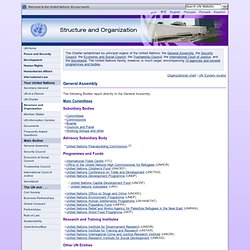 Organization Chart of the United Nations
The Charter established six principal organs of the United Nations: the General Assembly , the Security Council , the Economic and Social Council , the Trusteeship Council , the International Court of Justice , and the Secretariat . The United Nations family, however, is much larger, encompassing 15 agencies and several programmes and bodies . The following Bodies report directly to the General Assembly.
DATABASE ON HUMAN RIGHTS EDUCATION AND TRAINING - INSTITUTIONS