Symbology
32:3 · The Tibetan symbol for the origins of the universe shows a seed of the universe rotating clockwise in the spiral of potential energy . (See the sign in Group 14 .) The same structure, , is also the coat of arms of the Aztec god Quetzalcoatl ("quetzal" = precious, the quetzal bird, plumed; and "coatl" = serpent), the feathered snake , most probably a chief from another culture arriving in the Aztec empire around the year A.D. 700.
Symbol 32:3
If I said that simply by drawing thirteen equal circles, I could describe the universe, you might be a little surprised. Yet that is exactly what is achieved by Metatron's Cube and some other shapes in 'Sacred Geometry'. The Angel Metatron and his amazing 'Cube'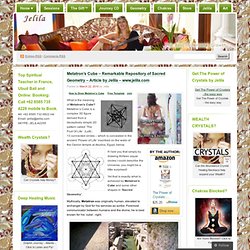 Metatron's Cube – Remarkable repository of sacred geometry – Article by Jelila « Jelila – Spiritual Retreats, Healing & Harmony in Bali
Zeus, Apollo, Hermes, Jesus, 8880
Ancient Greek mythology personified the mysteries of life and the cosmos in the form of a pantheon of gods who ruled from Mount Olympus. Their most powerful god who controlled the sky and weather was named Zeus. Apollo was the son of Zeus and Leto and the twin of the goddess Artemis. He is sometimes personified as the sun driving a fiery chariot across the sky each day. He is associated with the tending of flocks and herds, love of beauty, balance, music, fine arts, poetry and medicine. He is the god of prophecy and is credited with the foundation of the oracle of Delphi.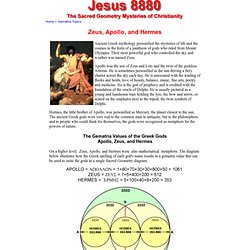 The painting Sacred Geometry II is a correlation work. Its purpose is to unify ancient and contemporary concepts of form, harmony, and human consciousness. The specific concepts related in the painting: The background of the painting shades from midnight blue at its outer edges, representing the depths of space, to a more illuminated hue nearer the planet, suggesting the "noosphere"--or halo of planetary consciousness--postulated by theologian Pierre Teilhard de Chardin. The largest structure of the painting is composed of a large circle with twelve smaller circles arranged around it.
Sacred Geomtery: Images and Concepts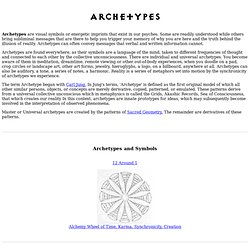 Archetypes are visual symbols or energetic imprints that exist in our psyches. Some are readily understood while others bring subliminal messages that are there to help you trigger your memory of why you are here and the truth behind the illusion of reality. Archetypes can often convey messages that verbal and written information cannot. Archetypes are found everywhere, as their symbols are a language of the mind, taken to different frequencies of thought and connected to each other by the collective unconsciousness. There are individual and universal archetypes.