Processus d'achat
www.fevad.com/uploads/files/Etudes/autres_etudes/prez_7Baro_comportements_achats_2011.pdf
La digitalisation des parcours d'achats s'intensifie avec les nouveaux écrans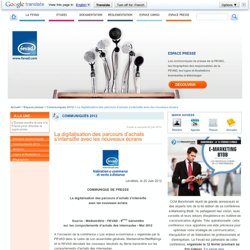 Levallois, le 20 Juin 2012 La digitalisation des parcours d'achats s'intensifie avec les nouveaux écrans Source : Médiamétrie - FEVAD - 8 ème baromètre sur les comportements d'achats des internautes - Mai 2012
www.accenture.com/SiteCollectionDocuments/PDF/Technology/Accenture-Are-Your-CPG-Brands-Maximizing-Return-Digital-Investment.pdf#zoom=50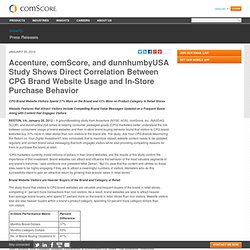 Accenture, comScore, and dunnhumbyUSA Study Shows Direct Correlation Between CPG Brand Website Usage and In-Store Purchase Behavior
January 30, 2012 Accenture, comScore, and dunnhumbyUSA Study Shows Direct Correlation Between CPG Brand Website Usage and In-Store Purchase Behavior CPG Brand Website Visitors Spend 37% More on the Brand and 53% More on Product Category in Retail Stores Website Features that Attract Visitors Include Compelling Brand Value Messages Updated on a Frequent Basis Along with Content that Engages Visitors RESTON, VA, January 30, 2012 – A groundbreaking study from Accenture (NYSE: ACN), comScore, Inc.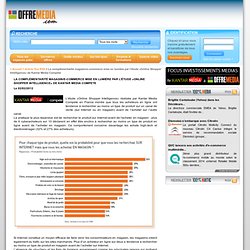 La complémentarité magasin/e-commerce mise en lumière par l'étude «Online Shopper Intelligence» de Kantar Media Compete
L'étude «Online Shopper Intelligence» réalisée par Kantar Media Compete en France montre que tous les acheteurs en ligne ont tendance à rechercher au moins un type de produit sur un canal de vente (sur Internet ou en magasin) avant de l'acheter sur l'autre canal.
Pew: 25% of In-Store Shoppers Use Phones to Comparison Shop
Lisa Lacy | January 30, 2012 | 0 Comments inShare44 More than half of consumers used their mobile devices during the holiday season to aid in purchase decisions while looking at physical products in stores.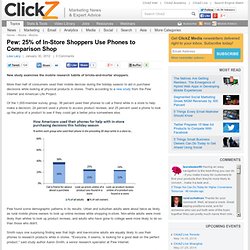 Integrating online offline and on-portal off-portal - by Unica
Akin Arikan Presentations
Etude Google Ropo France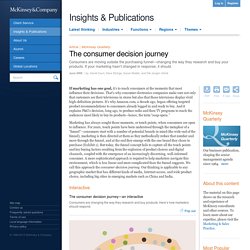 If marketing has one goal, it's to reach consumers at the moments that most influence their decisions. That's why consumer electronics companies make sure not only that customers see their televisions in stores but also that those televisions display vivid high-definition pictures. It's why Amazon.com, a decade ago, began offering targeted product recommendations to consumers already logged in and ready to buy. And it explains P&G's decision, long ago, to produce radio and then TV programs to reach the audiences most likely to buy its products—hence, the term "soap opera."
Les médias sociaux ont un impact considérable sur les processus d'achat en ligne lorsqu'ils s'ajoutent aux moteurs de recherche.