Digital literacy
In terms of DIAL college wide engagement CSM ( POI project – BA Performance Design and Practice) and LCF ( video presentation skills - MA Fashion Entrepreneurship) have had a majority of local engagement and these were through course engagement involving course staff as apposed to college engagement or support, DIAL did not have the capacity to address college or university wide engagement. In the beginning most of the DIAL projects came directly from central services or departmental interests or channels, Library services , academic and technical away days, student enterprise and employability service (SEE) and CLTAD and as the project progressed we had more course and individual interest.
Six UAL colleges and six differing approaches to digital literacies | process.arts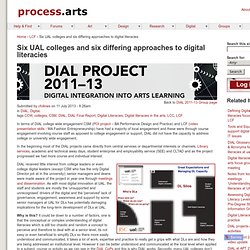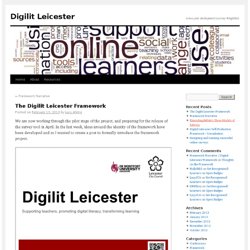 We are now working through the pilot stage of the project, and preparing for the release of the survey tool in April.
The Digilit Leicester Framework | Digilit Leicester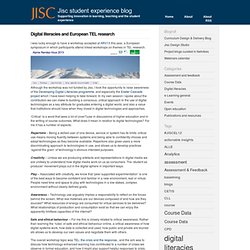 I was lucky enough to have a workshop accepted at ARV13 this year, a European symposium in which participants attend linked workshops on themes in TEL research.
Digital literacies and European TEL research : JISC e-Learning Blog
The Institute for Prospective Technological Studies
Authors: Anusca Ferrari EUR Number: 25351 EN Publication date: 8/2012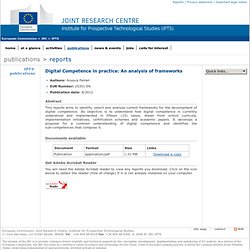 mediendidaktik.sharedby
I.2A v5.doc
Enacting digital identity « catherinecronin
When we ask our students to share online — in a discussion forum within an LMS; in a wiki, course blog, Google Doc or Facebook group; on Twitter or anywhere on the open web — we are inviting not just online interaction but an enactment of each student's digital identity.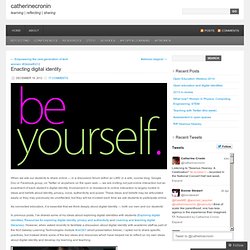 Terms of Service; Didn't Read
TEF764_Greenhow_Gleason%20(2)
(1) Digital Literacy Projects
Resources for Data Literacy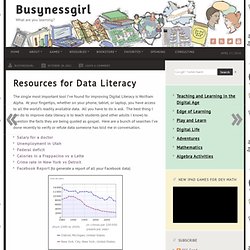 The single most important tool I've found for improving Digital Literacy is Wolfram Alpha.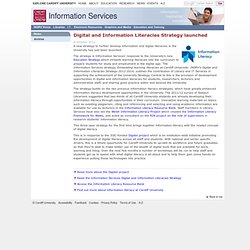 4 October 2012 A new strategy to further develop information and digital literacies in the University has just been launched. The strategy is Information Services' response to the University's new Education Strategy which embeds learning literacies into the curriculum to prepare students for study and employment in the digital age.
Digital and Information Literacies Strategy launched
A Broader View of Digital Literacy « JISC PADDLE Project
October 4, 2012 at 9:33 am Pete At the project meeting this week we discussed the need for a broader view of digital literacy.Project members will refine the following ideas before looking again at the frameworks for specific staff and student cohorts (more to follow on these).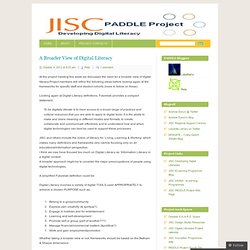 I recently came across an article in Wired Magazine called " Why Kids Can't Search ". I'm always interested in this particular topic, because it's something I struggle with in my middle and high school classes constantly, and I know I'm not alone in my frustrations. Getting kids to really focus on what exactly they are searching for, and then be able to further distill idea into a few key specific search terms is a skill that we must teach students, and we have to do it over and over again.
Academics' online presence - assessing & shaping visibility 2012
Information Literacy Community of Practice meeting held at the Scottish Government Offices, Victoria Quay on Thursday 30th August 2012, 11.30 am – Notes on the meeting
Information Skills for a 21st Century Scotland - Discussion Board - Meeting on 30th August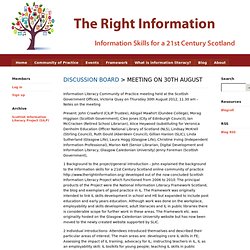 One of the recent activities of the Visitors and Residents project has been the development of an analysis framework to help us to gain a deeper understanding of how our participants are engaging with technology for their learning.
Analysing digital literacies – four headlines
Finding a Voice
WebCite query result
en-C39-05-PRE-15724-TAYIE
Teen Social Media Infographic from Common Sense Media
Computer Programming for All: A New Standard of Literacy
Everyone ought to be able to read and write; few people within the global mainstream would argue with that statement.
Supporting Academic Practice in a Digital Age · neiljohnford
Cyberwise Guide to Media Literacy
A Curated Conversation on Digital Inclusion « The Heutagogic Archives
Digital Inclusion & Policy Overview; I previously promised to write a blog post on the practicalities and way forward relating to Digital Inclusion based on upcoming events.
Josie Fraser , social and educational technologist, Leicester City Council First define what you mean by digital literacy: The definition I most frequently use is this one: digital literacy = digital tool knowledge + critical thinking + social engagement. Then it's worth knowing its main characteristics :
World of E's
TeachWebMaking
Web Literacy Skills: now in diagram form :) « rwxweb
Whether the digital era improves society is up to its users – that's us | Danah Boyd | Comment is free
Social media training resources produced by researchers at the University of Warwick
_FutureWorkSkillsSummary.gif 1,633×1,033 pixels
Turning Students into Good Digital Citizens
The Definition of Digital Literacy
JISC at Association of University Administrators (AUA) 2012 « Myles Danson
What does 'safe' look like in a digital age?
The Job Hunt: Social Media Tips
TEDx Warwick: The Essential Elements of Digital Literacies
Behind the Mask of Digital Identity | Scott's eLearning Library
The Grimsby Institute Group: Making it easy for students to use their own devices to learn
Developing digital literacies in practice
Craven College: Embedding mobile and digital technology in teaching and learning
Digital literacy
SCONUL Seven Pillars model: Digital Literacy lens
Computer Science is not Digital Literacy
Digital and Media Literacy: A Plan of Action
DIGITAL LITERACY
thisismeCareers0-1_2.doc
Resources | Digitally Ready
JISC infoNet: e-Learning Programme support (67)
literaci.es
Digital Literacy @ University of Worcester
Research supervisors and information literacy
digital literacies.wmv
untitled
Digital Literacy and Citizenship Curriculum for Grades 9-12
Digital literacy 1: What digital literacies?
Demos | Publications
NetworkED: Technology in Education
Digital literacy
Professionalism in the Digital Environment (PriDE) | A JISC-funded Digital Literacies Project
Broadcasting ourselves « Digital Literacy @ University of Worcester
Developing Digital Literacies Programme Start Up Meeting
Developing digital literacies
Digital Literacies (1) – Definitions « Pete Bell
Digital Literacies Pilot Materials