Digital literacy
Six UAL colleges and six differing approaches to digital literacies | process.arts. In terms of DIAL college wide engagement CSM (POI project – BA Performance Design and Practice) and LCF (video presentation skills - MA Fashion Entrepreneurship) have had a majority of local engagement and these were through course engagement involving course staff as apposed to college engagement or support, DIAL did not have the capacity to address college or university wide engagement.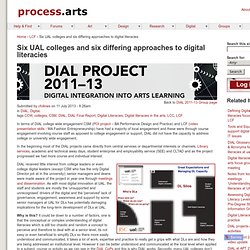 In the beginning most of the DIAL projects came directly from central services or departmental interests or channels, Library services, academic and technical away days, student enterprise and employability service (SEE) and CLTAD and as the project progressed we had more course and individual interest. DIAL received little interest from college leaders or even college digital leaders (except CSM who has the only Digital Director job at in the university); senior managers and deans were made aware of the project in year one through meetings and dissemination. Digital literacies and European TEL research : JISC e-Learning Blog. I was lucky enough to have a workshop accepted at ARV13 this year, a European symposium in which participants attend linked workshops on themes in TEL research.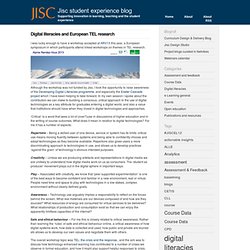 Although the workshop was not funded by Jisc, I took the opportunity to raise awareness of the Developing Digital Literacies programme, and especially the Exeter Cascade project which I have been helping to take forward. In my own session I spoke about the contribution we can make to building a conscious, critical approach to the use of digital technologies as a key attribute for graduates entering a digital world, and also a value that institutions should have when they invest in digital technologies and approaches. 'Critical' is a word that sees a lot of (over?) Use in discussions of higher education and in the writing of course outcomes. The Institute for Prospective Technological Studies.
Authors: Anusca Ferrari EUR Number: 25351 EN Publication date: 8/2012 Abstract This reports aims to identify, select and analyse current frameworks for the development of digital competence.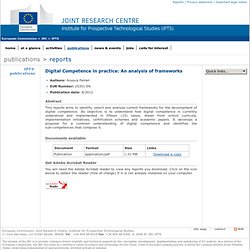 Its objective is to understand how digital competence is currently understood and implemented in fifteen (15) cases, drawn from school curricula, implementation initiatives, certification schemes and academic papers. It develops a proposal for a common understanding of digital competence and identifies the sub-competences that compose it.
Mediendidaktik.sharedby. Enacting digital identity « catherinecronin. When we ask our students to share online — in a discussion forum within an LMS; in a wiki, course blog, Google Doc or Facebook group; on Twitter or anywhere on the open web — we are inviting not just online interaction but an enactment of each student's digital identity.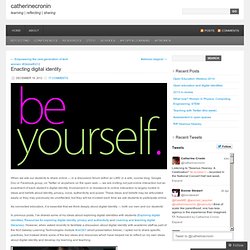 Involvement in or resistance to online interaction is largely rooted in ideas and beliefs about identity, privacy, voice, authenticity and power. These ideas and beliefs may be articulated easily or they may previously be unreflected, but they will be invoked each time we ask students to participate online. As connected educators, it is essential that we think deeply about digital identity — both our own and our students'. Terms of Service; Didn't Read. TEF764_Greenhow_Gleason%20(2) (1) Digital Literacy Projects. Resources for Data Literacy.
The single most important tool I've found for improving Digital Literacy is Wolfram Alpha.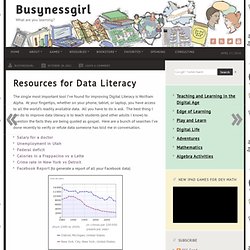 At your fingertips, whether on your phone, tablet, or laptop, you have access to all the world's readily available data. All you have to do is ask. The best thing I can do to improve data literacy is to teach students (and other adults I know) to question the facts they are being quoted as gospel. Digital and Information Literacies Strategy launched.
4 October 2012 A new strategy to further develop information and digital literacies in the University has just been launched.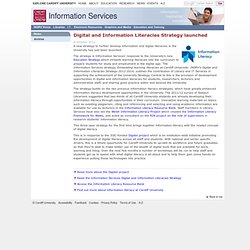 The strategy is Information Services' response to the University's new Education Strategy which embeds learning literacies into the curriculum to prepare students for study and employment in the digital age. A Broader View of Digital Literacy « JISC PADDLE Project. October 4, 2012 at 9:33 am Pete At the project meeting this week we discussed the need for a broader view of digital literacy.Project members will refine the following ideas before looking again at the frameworks for specific staff and student cohorts (more to follow on these).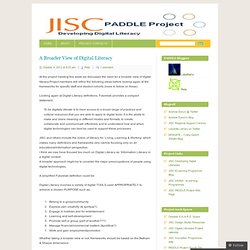 Looking again at Digital Literacy definitions, Futurelab provides a compact statement: To be digitally literate is to have access to a broad range of practices and cultural resources that you are able to apply to digital tools. It is the ability to make and share meaning in different modes and formats; to create, collaborate and communicate effectively and to understand how and when digital technologies can best be used to support these processes. JISC and others include the notion of literacy for 'Living, Learning & Working' which makes many definitions and frameworks very narrow focusing only on an educational/information perspective.
How To Make Students Better Online Researchers. I recently came across an article in Wired Magazine called " Why Kids Can't Search ".
I'm always interested in this particular topic, because it's something I struggle with in my middle and high school classes constantly, and I know I'm not alone in my frustrations. Getting kids to really focus on what exactly they are searching for, and then be able to further distill idea into a few key specific search terms is a skill that we must teach students, and we have to do it over and over again. Search Education – Google.
Academics' online presence - assessing & shaping visibility 2012. Information Skills for a 21st Century Scotland - Discussion Board - Meeting on 30th August. Information Literacy Community of Practice meeting held at the Scottish Government Offices, Victoria Quay on Thursday 30th August 2012, 11.30 am – Notes on the meeting Present: John Crawford (CILIP Trustee), Abigail Mawhirt (Dundee College), Morag Higgison (Scottish Government), Cleo Jones (City of Edinburgh Council), Ian McCracken (Retired School Librarian), Alice Heywood (substituting for Veronica Denholm Education Officer National Library of Scotland (NLS), Lindsay McKrell (Stirling Council), Ruth Gould (Aberdeen Council), Gillian Hanlon (SLIC), Linda Sutherland (Glasgow Life), Laura Hogg (Glasgow Life), Christine Irving (Independent Information Professional), Marion Kelt (Senior Librarian, Digital Development and Information Literacy, Glasgow Caledonian University) Jenny Foreman (Scottish Government),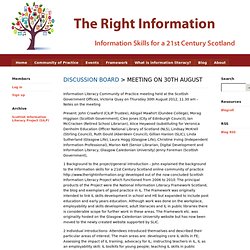 Analysing digital literacies – four headlines. One of the recent activities of the Visitors and Residents project has been the development of an analysis framework to help us to gain a deeper understanding of how our participants are engaging with technology for their learning.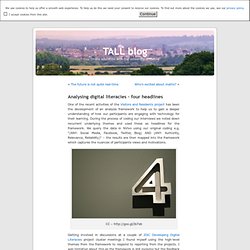 During the process of coding our interviews we noted down recurrent underlying themes and used these as headlines for the framework. We query the data in NVivo using our original coding e.g. "(ANY: Social Media, Facebook, Twitter, Blog) AND (ANY: Authority, Relevance, Reliability)" – the results are then mapped into the framework which captures the nuances of participants views and motivations.
CC – Finding a Voice. WebCite query result. En-C39-05-PRE-15724-TAYIE. Teen Social Media Infographic from Common Sense Media. June 26, 2012 Social Media, Social Life: How Teens View Their Digital Lives is the latest research report from Common Sense Media's Program for the Study of Children and Media. We surveyed over 1,000 13- to 17-year-olds nationally to understand how they perceive social media (like Facebook and Twitter) affects their relationships and feelings about themselves.
Read highlights from the study in the infographic below, and visit our research page to download the full report. Computer Programming for All: A New Standard of Literacy. Everyone ought to be able to read and write; few people within the global mainstream would argue with that statement. But should everyone be able to program computers? The question is becoming critically important as digital technology plays an ever more central role in daily life.
Supporting Academic Practice in a Digital Age · neiljohnford. Cyberwise Guide to Media Literacy. A Curated Conversation on Digital Inclusion « The Heutagogic Archives. Digital Inclusion & Policy Overview; I previously promised to write a blog post on the practicalities and way forward relating to Digital Inclusion based on upcoming events. The Curated Conversation on Digital Inclusion and, subsequently a workshop on Social Digital Research organised by UK Online Centres and held as part of Dr. Ellen Helsper's work relating to Media Policy at the LSE. This post will pick up on some of the issues raised partly to promote awareness on Digital Day in Adult Learners Week, partly to highlight issues that a networked digital society might have to address. At TEL (the Technology Enhanced Learning Research Programme) we have been experimenting with fresh ways of developing research-driven policy recommendations.
20 ways of thinking about digital literacy in higher education | Higher Education Network | Guardian Professional. Josie Fraser, social and educational technologist, Leicester City Council First define what you mean by digital literacy: The definition I most frequently use is this one: digital literacy = digital tool knowledge + critical thinking + social engagement.
Then it's worth knowing its main characteristics: • It supports and helps develop traditional literacies• It's a life-long practice• It's about skills, competencies and critical reflection on how these skills and competencies are applied• It's about social engagement Top tips for developing the digital literacy of non-traditional students: Begin by exploring the ways in which the group are already using mobile and web based technologies. World of E's. TeachWebMaking. Web Literacy Skills: now in diagram form :) « rwxweb. Whether the digital era improves society is up to its users – that's us | Danah Boyd.
Social media training resources produced by researchers at the University of Warwick. Turning Students into Good Digital Citizens. The Definition of Digital Literacy. JISC at Association of University Administrators (AUA) 2012 « Myles Danson. What does 'safe' look like in a digital age? The Job Hunt: Social Media Tips. TEDx Warwick: The Essential Elements of Digital Literacies. Behind the Mask of Digital Identity | Scott's eLearning Library. Developing digital literacies in practice. Digital literacy. 21st Century Literacies. SCONUL Seven Pillars model: Digital Literacy lens.
Computer Science is not Digital Literacy. Digital and Media Literacy: A Plan of Action. DIGITAL LITERACY. ThisismeCareers0-1_2.doc. Resources. JISC infoNet: e-Learning Programme support (67) Literaci.es. Digital Literacy @ University of Worcester. Research supervisors and information literacy. Digital literacies.wmv. Digital Literacy and Citizenship Curriculum for Grades 9-12.
Digital literacy 1: What digital literacies? Demos | Publications. NetworkED: Technology in Education. Digital literacy. Professionalism in the Digital Environment (PriDE) | A JISC-funded Digital Literacies Project. Broadcasting ourselves « Digital Literacy @ University of Worcester. Digital Literacies for Writing in Social Media. Developing Digital Literacies Programme Start Up Meeting. Developing digital literacies. Digital Literacies (1) – Definitions « Pete Bell. Digital Literacies Pilot Materials.
---