COMMUNITY
www.sharedvoices.net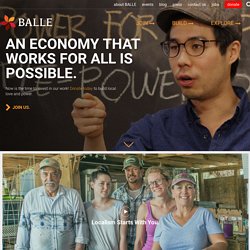 Changing the way our economy operates starts with a single person. It starts with you. We believe that real national prosperity — even global prosperity — begins at the local level and that by connecting entrepreneurs who are re-thinking their industries, funders who are investing in the local economy movement, and network organizers who can mobilize on a broad scale, we can — and will — create a stronger, more resilient, and fair economy. BALLE is the fastest growing business alliance of values aligned entrepreneurs, business networks, and local economy funders in North America.
THE BUSINESS ALLIANCE FOR LOCAL LIVING ECONOMIES | BALLE - Business Alliance for Local Living Economies
Oxytocin: could the 'trust hormone' rebond our troubled world? | Science | The Observer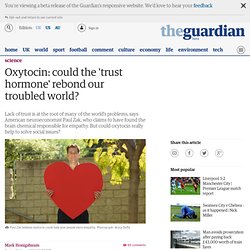 Listening to Paul Zak extol the virtues of oxytocin, the "love hormone", is like hearing a preacher sing the praises of the Promised Land. His idea of a harmonious oxytocin-fuelled society is so seductive you find yourself almost praying it were true. At the same time, you cannot help but wonder if it might be an illusion.
The Hub | Home
Loosecubes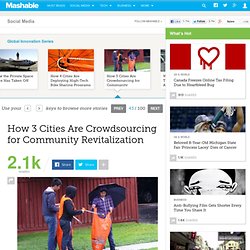 The Global Innovation Series is supported by BMW i, a new concept dedicated to providing mobility solutions for the urban environment. It delivers more than purpose-built electric vehicles — it delivers smart mobility services. Visit bmw-i.com or follow @BMWi on Twitter. Cities are beginning to benefit from crowdsourcing methods to gather input from residents and apply the information they receive to make tangible improvements to communities and neighborhoods.
How 3 Cities Are Crowdsourcing For Community Revitalization
A Love Still Supreme, but John Coltrane's House in Ruins
Nikolay Georgiev - Exploring within and without
Deployed The Sharing Birthday – share and celebrate what you Love. Transform the Culture of Birthdays from indifference to love, from consumption to creation, from taking and holding to giving and sharing. The search for completion, happiness, love, bliss, peace, money, relationships, enlightenment, visions, values, meaning, acceptance, recognition, achievement, etc will continue forever, until you turn the search around a look into the One searching.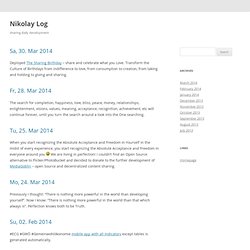 Main Page
By CyberMummy co-founder Sian To 03 May 2011 The great playwright Henrik Ibsen once described community as "like a ship; everyone ought to be prepared to take the helm". The equally great (if slightly easier to digest) wordsmith Neil Tennant of The Petshop Boys, agreed, saying, "I think the world should be one community". Though neither was referring to the internet, they're both right – community can affect your business for better or worse.
10 steps to a thriving online community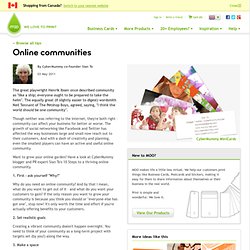 Baked In
#109: Seth Godin – Building a Musical Tribe | CD Baby DIY Musician Podcast
Seth Godin is an author and thought leader who has written 13 books that cover topics such as leadership, digital marketing and the spreading of ideas. His book, Tribes, garnered a lot of attention among the music community. Tribes explores how innovators can focus on groups of similarly minded individuals (a tribe) and get that tribe excited by releasing a new product, music, or message via the internet.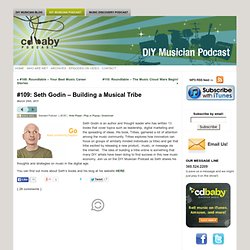 CrisisCommons seeks to advance and support the use of open data and volunteer technology communities to catalyze innovation in crisis management and global development. CrisisCommons is a global community of volunteers from technology, crisis response organizations, government agencies, and citizens that are working together to build and use technology tools to help respond to disasters and improve resiliency and response before a crisis. CrisisCamp CrisisCommons actively supports CrisisCamp, a barcamp event, which seeks to connect a global network of volunteers who use creative problem solving and open technologies to help people and communities in times and places of crisis.
About « CrisisCommons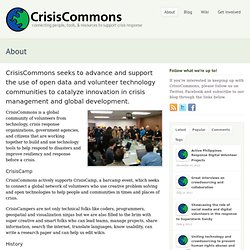 A mind map of 100+ tips for using Linkedin more effectively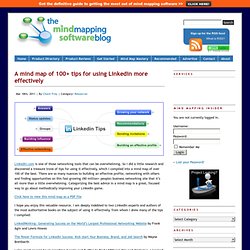 Mar 18th, 2011 | By Chuck Frey | Category: Resources Linkedin.com is one of those networking tools that can be overwhelming. So I did a little research and discovered a treasure trove of tips for using it effectively, which I compiled into a mind map of over 100 of the best. There are so many nuances to building an effective profile, networking with others and finding opportunities on this fast-growing (90 million+ people) business networking site that it's all more than a little overwhelming. Categorizing the best advice in a mind map is a great, focused way to go about methodically improving your Linkedin game.
MicroGrants | Partnering With People of Potential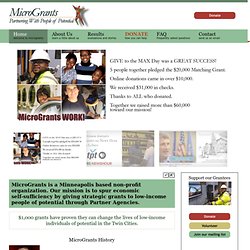 MicroGrants is a Minneapolis based non-profit organization. Our mission is to spur economic self-sufficiency by giving strategic grants to low-income people of potential through Partner Agencies. $1,000 grants have proven they can change the lives of low-income individuals of potential in the Twin Cities. MicroGrants History MicroGrants was founded in 2006 by Joe Selvaggio, founder of Project for Pride in Living and the One Percent Club. He has had a distinguished 40-year career as a bridge between affluent and low-income people, and started MicroGrants as part of this bridge.
Resource Guides to Careers, Academic Programs, Networking, Events, Research, Funding (and more) in Peacebuilding, International Development and Related Fields
Home
Home :: The Mosaic Project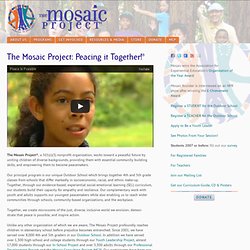 The Mosaic Project®, a 501(c)(3) non­profit organization, works toward a peace­ful future by unit­ing chil­dren of diverse back­grounds, pro­vid­ing them with essen­tial com­mu­nity build­ing skills, and empow­er­ing them to become peace­mak­ers. Our prin­ci­pal pro­gram is our unique Outdoor School which brings together 4th and 5th grade classes from schools that dif­fer markedly in socioe­co­nomic, racial, and eth­nic make-up. Together, through our evidence-based, expe­ri­en­tial social-emotional learn­ing (SEL) cur­ricu­lum, our stu­dents build their capac­ity for empa­thy and resilience. Our com­ple­men­tary work with youth and adults sup­ports our youngest peace­mak­ers while also enabling us to reach wider com­mu­ni­ties through schools, community-based orga­ni­za­tions, and the work­place.
Stepping Stones Project
Stepping Stones Project helps youth discover their unique gifts and develop self-esteem through meaningful rites of passage . 6:30-8:30pm: Rm 114 Lotus at Rudramandir. 830 Bancroft Way, Berkeley, 94710 Join us in 2012 for an informative evening presentation about the value of long term mentoring groups for middle-school youth. At Stepping Stones, we have been providing our Coming of Age program for youth & parents for more than 9 years. Fall 2012 enrollment is open for entering 6th and 7th grade girls and boys (current 5th and 6th). If you want to get your son or daughter involved in our 2+ year Coming of Age program which culminates in a rite-of-passage ceremony to transition into high-school, now is the time.
green electronic bidding, is your one stop green network for all your green needs from recycling yard waste to ecological engineering. Reduce, Recycle, Reuse, Redistribute, minimisation, Environment, Green Bidding, Green, Green Industry, Environment, Greb
ANIM
Mar 25 SXSW: In Search of the Next Big Thing David Leavitt Flickr Creative Commons photo by Nan Palmero. Now that a couple weeks have passed since the interactive portion of South By Southwest (SXSW), what stands out as the Next Big Thing?
Social Impact Blog | Weber Shandwick Social Impact is a global agency team that works with nonprofits and foundations.
Create a Social Networking Site with Ning, the Best Social Site Platform
How to Move Your MySpace Friends to Facebook
MySpace is in trouble. And potentially, so are your Myspace profile and Myspace friendships. It's time to move your Myspace friends to Facebook.
Harlem Children's Zone
WHA, World Hands Alliance - Mission To Haiti
Welcome to Urban Habitat | Urban Habitat