Cake
Monday Morning Mmmm: Pink Lemonade Cake — Giving Up on Perfect. Strawberry Strawberry Cheesecake | Baking is Hot. Blueberry Buckle Cake. Blueberry Buckle Cake Today is a special day.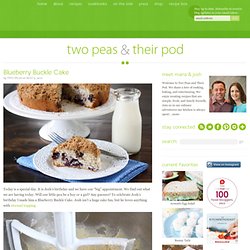 It is Josh's birthday and we have our "big" appointment. Black and White Chocolate Cheesecake Supreme Recipe. I decided to buck tradition this year and I made a cheesecake for Thanksgiving instead of apple or pumpkin pie.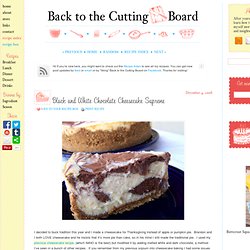 Brandon and I both LOVE cheesecake and he insists that it's more pie than cake, so in his mind I still made the traditional pie. I used my previous cheesecake recipe, (which IMHO is the best) but modified it by adding melted white and dark chocolate, a method I've seen in a bunch of other recipes. If you remember from my previous sojourn into cheesecake baking I had some issues getting it right (it looked undercooked, though it really wasn't). I baked it a bit differently this time and found this is definitely the right way to do it. Stress relief… When I am sad and stressed I just pick up my chin and grin and say…the sun will come out (SLAP!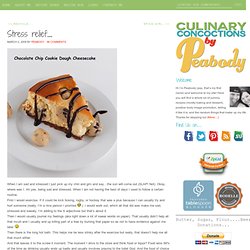 Not). Okay, where was I. Smitty & The Shortcake (Ep. 2) | Some Kitchen Stories Smitty & The Shortcake (Ep. 2) | What happens when a writer and a photographer get together to make delicious food. Last episode of "Smitty & The Girl" Elvira tried not to stare.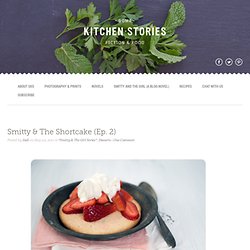 "Hunh." The redhead was related to Sylvia? "Mathers, you said your last name was?" Letta was walking by, and eavesdropping, and Elvira all but heard her whip her giant, nosy head around at the name. Easter Kit Kat Cake. Easter Kit Kat Cake I've had this cake planned for weeks to bring to work for Easter.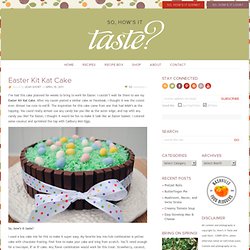 I couldn't wait for them to see my Easter Kit Kat Cake. After my cousin posted a similar cake on Facebook, I thought it was the cutest ever. Almost too cute to eat! Honey Cake -DK. Mini Pineapple Upside-Down Cakes Recipe. Cinnamon Cream Cheese Pound Cake | Evil Shenanigans - Baking & Cooking Blog. Is there anything better than a well made pound cake?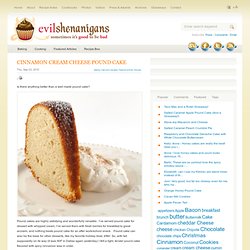 Pound cakes are highly satisfying and wonderfully versatile. I've served pound cake for dessert with whipped cream, I've served them with fresh berries for breakfast to great acclaim, and nothing beats pound cake for an after work/school snack. Low Fat Dessert Recipes - Chocolate-Malt Ice Cream Cake Recipe at WomansDay.com. Strawberry Valentine Cake Recipe at WomansDay.com- Valentine's Day Desserts.
Martha Stewart's Cookies and Cream Cheesecakes Recipe. Posted by Grace Massa Langlois on Wednesday, 21st July 2010 I have yet to meet a person who doesn't like Oreo cookies or Cream Cheesecake Cupcakes.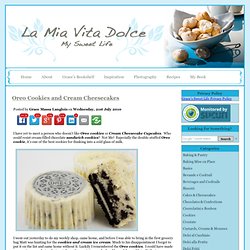 Who could resist cream-filled chocolate sandwich cookies? Not Me! Craft Blog / How To Make A Rainbow Cake! by COLOURlovers. So I did mention something about health and/or diet food in my last post, and while this recipe is the latter, it is most certainly not to be confused with the former.
The cool thing is that if you're making something so distractingly colourful, people will think it's delicious no matter what. This presents me with the option to use an old Weight Watchers trick—the one-point cupcake. Except I'm making a cake and I created my own frosting. Kinda. 2 Stews: 1-2-3 Chocolate Microwave Mug Cake. Calling all Chocoholics!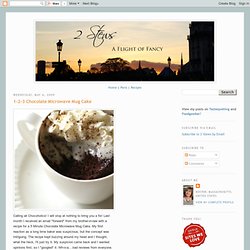 I will stop at nothing to bring you a fix! Last month I received an email "forward" from my brother-in-law with a recipe for a 5 Minute Chocolate Microwave Mug Cake. My first reaction as a long time baker was suspicious, but the concept was intriguing. The recipe kept buzzing around my head and I thought, what the heck, I'll just try it. Junior's Famous Pure Cream Cheesecake. Try Kitchen View!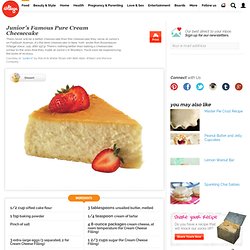 Take your computer to the kitchen and view this recipe full-screen, with step-by-step directions. Enter Kitchen View 1 For the Thin Sponge Cake Layer: Preheat the oven to 350 degrees F and generously butter the bottom and sides of a 9-inch springform pan (preferably a nonstick one). Wrap the outside with aluminum foil, covering the bottom and extending all the way up the sides. 2 In a medium sized bowl bowl, sift the flour, baking powder, and salt together.
Thirty Top-Rated Cake Recipes at Epicurious. Rainbow Cake in a Jar | The Family Kitchen. I've always had a penchant for sunshine in a jar. Doesn't the very phrase itself, "sunshine in a jar," roll off your tongue and fill your mouth with magic? While I've never yet found myself a sunshine in a jar, I think we may have just concocted it in our kitchen tonight. In this simple recipe, a basic white cake is turned into a slew of bright colors, baked to perfection, then topped with a creamy white frosting. Cakes baked in jars can be topped with traditional metal canning lids and stored in the fridge for up to five days. They make a great treat to ship to someone, so long as you can ensure delivery to it's final destination within 3 days. "Pumpkin Pie" Cheesecake. Absolutely Amazing DIY Birthday Cakes! Parenting.com has a fabulous birthday cake gallery/tutorial that is nothing short of AMAZING!
Each of the 31 cakes in this gallery comes with step-by-step instructions on how you can recreate it at home. There's some serious creativity & resourcefulness going on here! Pictured at top: Castle cake – featuring ice cream cone turrets…SWEET! Pictured below: Pirate Ship and Soccer Ball cakes. (The use of Oreo Crisps for the soccer ball is GENIUS!)
How To Make Banana Cake. I've had plenty of banana bread in my day. But it always seems like more of a cold weather food. Go figure, a tropical fruit that makes a cold weather bread. No-Bake Spiderweb Cheesecake. Heaven and Hell Cake Recipe. Enlarge Credit: André Baranowski FOR THE GANACHE:2 lbs. milk chocolate, such as Valrhona, chopped1 1/2 cups heavy cream FOR THE ANGEL FOOD CAKE:1 1/2 cups confectioners' sugar1 cup cake flour1 1/2 cups egg whites1 tsp. cream of tartar1/8 tsp. kosher salt1 cup sugar2 tsp. vanilla1 tsp. almond extract FOR THE DEVIL'S FOOD CAKE:1/2 cup vegetable shortening, plus more for pan1 1/2 cups cake flour, plus more for pan1 tsp. baking soda3/4 tsp. kosher salt1/4 tsp. baking powder1 cup coffee1/2 cup cocoa powder, sifted1 1/2 cups sugar1 tsp. vanilla2 eggs FOR THE PEANUT BUTTER MOUSSE:1 1/2 lbs. cream cheese, at room temperature4 cups smooth peanut butter, at room temperature3 1/2 cups confectioners' sugar, sifted1 1/2 cups heavy cream 1.
Swirled Pumpkin Cheesecake Recipe – Canned Pumpkin Recipes at WomansDay.com.
---