Design
Web Design Resources
Lorempixum - placeholder images for every case. CSS Layouts: 40+ Tutorials, Tips, Demos and Best Practices. Jul 28 2008 The main idea behind CSS-based layouts is offering more flexibility and enhancing the visual experience of visitors.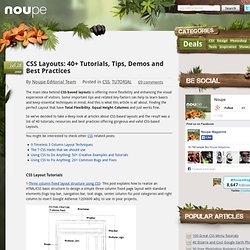 Some important tips and related key-factors can help to learn basics and keep essential techniques in mind. CSS3 Dropdown Menu. While I was coding the Notepad theme, I've learned some new CSS3 features and now I would like to share it with you.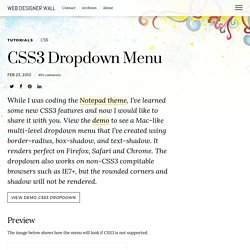 View the demo to see a Mac-like multi-level dropdown menu that I've created using border-radius, box-shadow, and text-shadow. It renders perfect on Firefox, Safari and Chrome. Web Color Chart - Hexadecimal - by VisiBone. 10 Templates that Solve Problems for Web Developers. We live in a web centric world right now, and if you haven't already, you'll most likely be facing website related dilemma(s).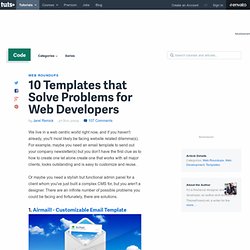 For example, maybe you need an email template to send out your company newsletter(s) but you don't have the first clue as to how to create one let alone create one that works with all major clients, looks outstanding and is easy to customize and reuse. Or maybe you need a stylish but functional admin panel for a client whom you've just built a complex CMS for, but you aren't a designer.
There are an infinite number of possible problems you could be facing and fortunately, there are solutions. 1. Demo: CSS drop-shadows without images. Designers' List - Great resources and websites for designers.
---