Headquarters
design blitz: skype headquarters in palo alto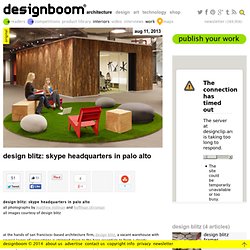 design blitz: skype headquarters in palo alto all photographs by matthew millman and hoffman chrisman all images courtesy of design blitz at the hands of san francisco-based architecture firm, design blitz, a vacant warehouse with several layers of renovations is stripped down to the bare essentials to form a clearly organized work space for skype's palo alto headquarters. the layout supports concentric spaces for collaboration, concentration and contemplation. a central corridor runs through the building, off of which the most noise-intensive program is located in pods. these structures have self-supporting ceilings with corrugated metal deck typically used in long-span applications. enclosing the space, the architects asked, 'what else can this do?'
eBay Istanbul Office by OSO Mimarlik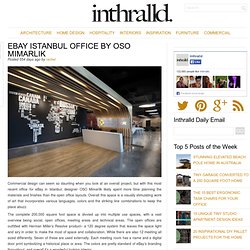 Commercial design can seem so daunting when you look at an overall project, but with this most recent office for eBay in Istanbul, designer OSO Mimarlik likely spent more time planning the materials and finishes than the open office layouts. Overall this space is a visually stimulating work of art that incorporates various languages, colors and the striking line combinations to keep the place abuzz. The complete 200,000 square foot space is divvied up into multiple use spaces, with a vast overview being social, open offices, meeting areas and technical areas. The open offices are outfitted with Herman Miller's Resolve product– a 120 degree system that leaves the space light and airy in order to make the most of space and collaboration. While there are also 12 meeting all sized differently. Seven of these are used externally.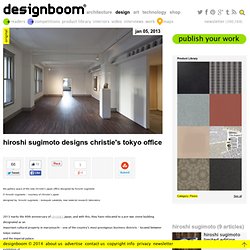 christie's tokyo office
first image the gallery space of the new christie's japan office designed by hiroshi sugimoto © hiroshi sugimoto / courtesy of christie's japan designed by hiroshi sugimoto / tomoyuki sakakida, new material research laboratory 2013 marks the 40th anniversary of christie's japan, and with this, they have relocated to a pre-war stone building designated as an important cultural property in marunouchi - one of the country's most prestigious business districts - located between tokyo station and the imperial palace.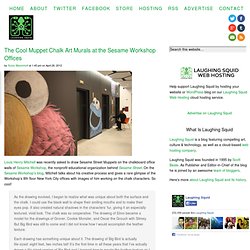 Louis Henry Mitchell was recently asked to draw Sesame Street Muppets on the chalkboard office walls of Sesame Workshop , the nonprofit educational organization behind Sesame Street . On the Sesame Workshop's blog , Mitchell talks about his creative process and gives a rare glimpse of the Workshop's 8th floor New York City offices with images of him working on the chalk characters. So cool! As the drawing evolved, I began to realize what was unique about both the surface and the chalk. I could use the black wall to shape their smiling mouths and to make their eyes pop. It also created natural shadows in the characters' fur, giving it an especially textured, vivid look.
The Cool Muppet Chalk Art Murals at the Sesame Workshop Offices
The Cool Muppet Chalk Art Murals at the Sesame Workshop Offices by agnesdelmotte May 3
Lego PMD - Rosan Bosch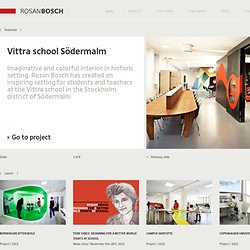 Rosan Bosch Studio works with design as a tool to develop better and more inspiring school environments. Check out this film on the Vittra Telefonplan school in Sweden where the physical spaces are designed to support motivation, fun and creativity. The design of the Swedish Vittra schools has become famous around the world with its colourful and imaginative interior, multifunctional learning spaces, and small niches for concentration and contemplation. "My ideal is to create school environments that invite to new forms of communication and turn the school day into a playful experience accepting that each kid has different needs", says Rosan Bosch
LEGO's development department, LEGO PMD, by agnesdelmotte Feb 11
LEGO Office
Après les locaux de JWT NYC et de Fuzzco voici les bureaux de LEGO situés à Copenhague. Réalisés conjointement par Rosan Bosh et Rune Fjord , l'objectif était de concevoir un intérieur qui reflète les valeurs de l'entreprise: coopération et partage des connaissances. Cela s'exprime par l'accueil qui est aussi la zone de la pause café des salariés. Ont été conçus 13 salles de réunions avec chacune une personnalité différente. Mais le plus important quand on travaille chez LEGO, c'est d'avoir toujours quelques briques à portée de mains pour exprimer sa créativité.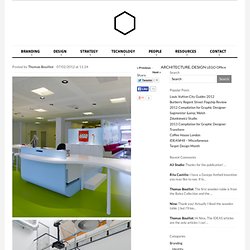 Exclusive: Foursquare Celebrates New Office Space, Elbow Room | The New York Observer
Exclusive: Foursquare Celebrates New Office Space, Elbow Room by agnesdelmotte Jan 17
Wall Photos
foursquare co-founder Dennis Crowley at their awesome new NYC HQ. by agnesdelmotte Feb 16
Top 16 des plus beaux bureaux de boites web qui donnent méchamment envie
Des beaux bureaux, ça peut paraître anecdotique, mais ça compte dans la stratégie de communication d'une boite. A ce petit jeu, les domaines de la pub et du design se défendent, mais l'informatique est toujours bien placée, oscillant entre la coolitude des start-ups de la fin des années 1990 et les moyens d'un nom coté sur les principaux marchés : des locaux classes, mais dans lesquels on se promène en bermuda le vendredi. Et idéalement dans un coin dans lequel on pourrait passer ses vacances. Petite visite guidée de vos prochains bureaux.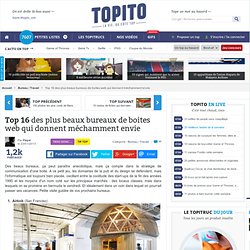 Instagram Team | Flickr : partage de photos !
behind the scenes at instagram's san francisco headquarters by geremia interior designall images © geremia design
behind the scenes at instagram's san francisco headquarters
Mozilla ¦ Les nouveaux bureaux de Mozilla à Paris
Voilà, cette semaine, juste à temps pour les 15 ans de Mozilla, les équipes parisiennes de Mozilla vont déménager vers de nouveaux locaux superbes dans le centre de Paris. La façade. Crédit photo : Gecina C'est un soulagement pour tous : jusqu'à présent, la forte croissance de Mozilla nous avais obligé à prendre des locaux temporaires en plus des locaux principaux, sans pour autant offrir l'espace que nous espérions pour la communauté. Les nouveaux locaux, sur le boulevard Montmartre, tout près des locaux actuels de La Cantine ont pour objectif ceux de tous les Mozilla Spaces , à savoir :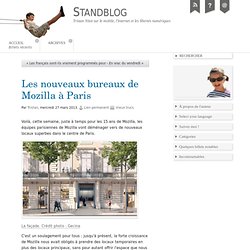 behind the scenes of the pinterest headquarters in san francisco by schwartz and architectureimage © naho kubota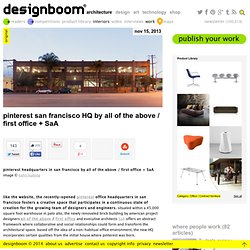 pinterest headquarters in palo alto by schwartz and architecture
Dans les coulisses de Pinterest à San Francisco : Découvrez les coulisses de Pinterest à San Francisco - JDN Web & Tech
A la découverte d'Evernote au coeur de la Silicon Valley : Visite du nouveau siège d'Evernote au coeur de la Silicon Valley - JDN Web & Tech
Succès international, Evernote est l'application de référence dans la gestion de prises de notes et compte plus de 34 millions d'utilisateurs. Après avoir levé 70 millions de dollars en mai dernier (166 au total), la start-up est valorisée à plus d'un milliard de dollars. Pour gérer son hypercroissance et accueillir de nouveaux salariés, Evernote a quitté Mountain View et s'est installée à Redwood City, où le Journal du Net lui a rendu visite.