Headquarters
Headquarters | google. Headquarters | instagram. Headquarters | nsa. Headquarters | tumblr. Headquarters | twitter. Headquarters | lego. Headquarters | foursquare. Headquarters | evernote. Headquarters | pinterest. Automattic (WordPress.com) Headquarters in San Francisco. Pathe Foundation Headquarters. Beats by dre headquarters by bestor architecture in culver city, california.
Jul 22, 2014 beats by dre headquarters by bestor architecture in culver city, california beats by dre headquarters by bestor architecture in culver city, californiaall images courtesy bestor architecture.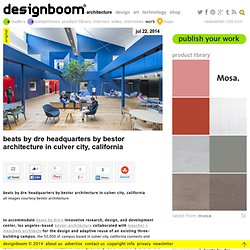 Brewery transformed into SoundCloud's berlin headquarters. Jun 18, 2014 brewery transformed into SoundCloud's berlin headquarters brewery transformed into SoundCloud's berlin headquartersphoto by christian wernerimages courtesy of kelly robinson / SoundCloud online audio platform SoundCloud has moved into its new offices in berlin, a 4,000 square meter transformation of a former brewery adjacent to the berlin wall. completed by german architecture practice KINZO, alongside kelly robinson, the conversion sees the preservation of much of the structure's industrial charm, with flexible workspaces promoting the company's culture of continuous and creative exchange. flexible workspaces promote the company's culture of continuous and creative exchangephoto by christian werner.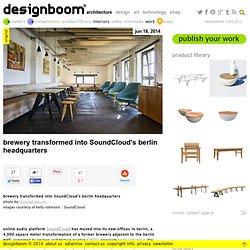 Christie's tokyo office. Jan 05, 2013 hiroshi sugimoto designs christie's tokyo office the gallery space of the new christie's japan office designed by hiroshi sugimoto© hiroshi sugimoto / courtesy of christie's japandesigned by hiroshi sugimoto / tomoyuki sakakida, new material research laboratory 2013 marks the 40th anniversary of christie's japan, and with this, they have relocated to a pre-war stone building designated as an important cultural property in marunouchi – one of the country's most prestigious business districts – located between tokyo station and the imperial palace.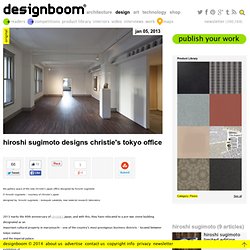 Design blitz: skype headquarters in palo alto. Aug 11, 2013 design blitz: skype headquarters in palo alto design blitz: skype headquarters in palo altoall photographs by matthew millman and hoffman chrismanall images courtesy of design blitz.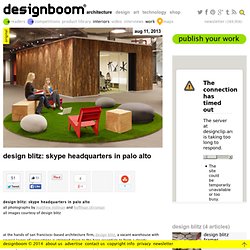 eBay Istanbul Office by OSO Mimarlik. Commercial design can seem so daunting when you look at an overall project, but with this most recent office for eBay in Istanbul, designer OSO Mimarlik likely spent more time planning the materials and finishes than the open office layouts.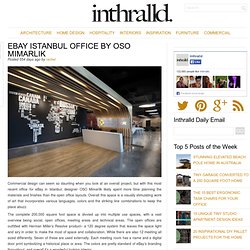 Overall this space is a visually stimulating work of art that incorporates various languages, colors and the striking line combinations to keep the place abuzz. The complete 200,000 square foot space is divvied up into multiple use spaces, with a vast overview being social, open offices, meeting areas and technical areas. The open offices are outfitted with Herman Miller's Resolve product– a 120 degree system that leaves the space light and airy in order to make the most of space and collaboration. While there are also 12 meeting all sized differently. Seven of these are used externally. Mozilla ¦ Les nouveaux bureaux de Mozilla à Paris. Voilà, cette semaine, juste à temps pour les 15 ans de Mozilla, les équipes parisiennes de Mozilla vont déménager vers de nouveaux locaux superbes dans le centre de Paris.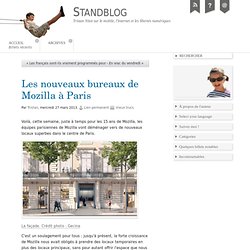 La façade. Crédit photo : Gecina C'est un soulagement pour tous : jusqu'à présent, la forte croissance de Mozilla nous avait obligés à prendre des locaux temporaires en plus des locaux principaux, sans pour autant offrir l'espace que nous espérions pour la communauté. Les nouveaux locaux, sur le boulevard Montmartre, tout près des locaux actuels de La Cantine ont pour objectif ceux de tous les Mozilla Spaces, à savoir : The Cool Muppet Chalk Art Murals at the Sesame Workshop Offices. Office Snapshots - i know where you work. Top 16 des plus beaux bureaux de boites web qui donnent méchamment envie. Des beaux bureaux, ça peut paraître anecdotique, mais ça compte dans la stratégie de communication d'une boite.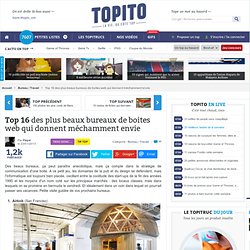 A ce petit jeu, les domaines de la pub et du design se défendent, mais l'informatique est toujours bien placée, oscillant entre la coolitude des start-ups de la fin des années 1990 et les moyens d'un nom coté sur les principaux marchés : des locaux classes, mais dans lesquels on se promène en bermuda le vendredi. Et idéalement dans un coin dans lequel on pourrait passer ses vacances. Petite visite guidée de vos prochains bureaux.
---