Why Curation
Manifesto For The Content Curator: The Next Big Social Media Job Of The Future ? September 30, 2009 | 46 Comments Every hour thousands of new videos are uploaded online.
Blog posts are written and published. Millions of tweets and other short messages are shared. To say there is a flood of content being created online now seems like a serious understatement. What Makes A Great Curator Great? How To Distinguish High-Value Curation From Generic Republishing. Today content curation is "sold", promoted and marketed as the latest and trendiest approach to content production, SEO visibility, reputation and traffic building.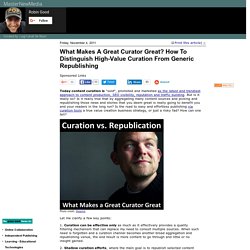 But is it really so? Is it really true that by aggregating many content sources and picking and republishing those news and stories that you deem great is really going to benefit you and your readers in the long run? Content Curation Strategies for Corporate Learning « Media1derLand. Welcome to the legacy Media1derland blog site.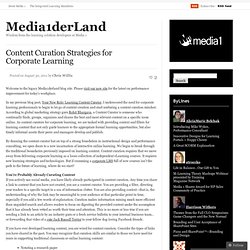 Please visit our new site for the latest on performance improvement for today's workplace. In my previous blog post, Your New Role: Learning Content Curator, I underscored the need for corporate learning professionals to begin to let go of content creation and start nurturing a content curation mindset. According to global marketing strategy guru Rohit Bhargava, a Content Curator is someone who continually finds, groups, organizes and shares the best and most relevant content on a specific issue online. As content curators for corporate learning, we are tasked with providing context and filters for learning content that not only guide learners to the appropriate formal learning opportunities, but also timely informal assets their peers and managers develop and publish.
Why do we curate? | urbantag. Are Content Curators the power behind social media influence? The importance of curation for journalists - storify.com. I attempt to try out, or at least read about, the many new tools that might enhance journalism.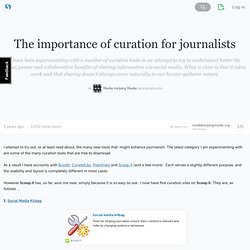 The latest category I am experimenting with are some of the many curation tools that are free to download. As a result I have accounts with Bundlr, Curated.by, Pearltrees and Scoop.it (and a few more). Seven Things Human Editors Do that Algorithms Don't (Yet) - Eli Pariser - The Conversation. By Eli Pariser | 10:20 AM May 26, 2011 A recommendation from the recommendation frontier: You may not want to fire your human editor just yet.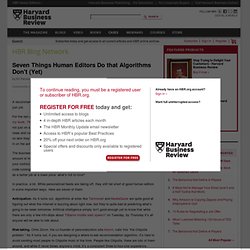 For the last year, I've been investigating the weird, wild, mostly hidden world of personalization for my book, The Filter Bubble. Capitalizing On Curation: Why The New Curators Are Beating The Old. Barring the invention of a "time turner" like the one Hermione Granger sported in 3rd Harry Potter novel, most of us will never have enough time to consume the information we might otherwise want to absorb.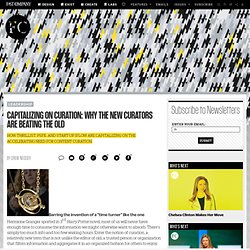 There's simply too much info and too few waking hours. Enter the notion of curation, a relatively new term that is not unlike the editor of old, a trusted person or organization that filters information and aggregates it in an organized fashion for others to enjoy. According to Steve Rosenbaum, author of Curation Nation, "curation is the new way of organizing the web going forward. " And no doubt he's right. Why Curation Is Just as Important as Creation [OPINION] Why Curation Is Important to the Future of Journalism.
Josh Sternberg is the founder of Sternberg Strategic Communications and authors The Sternberg Effect.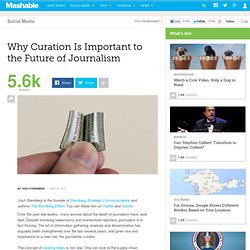 You can follow him on Twitter and Tumblr. Over the past few weeks, many worries about the death of journalism have, well, died. Despite shrinking newsrooms and overworked reporters, journalism is in fact thriving. Welcome To The New Age Of Curation. I'm guessing that a lot of you think that now – right now – is a golden age of creation.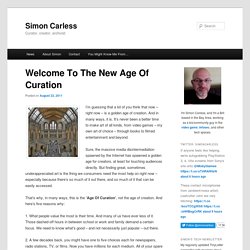 And in many ways, it is. It's never been a better time to make art of all kinds, from video games – my own art of choice – through books to filmed entertainment and beyond.
---