Curation
IBM's content curation has supercharged its intranet. Jeff Jarvis on what I've been beginning to call "The Content Creator's Dilemma" | Business Mindhacks. [From a previous Amplify curation post.]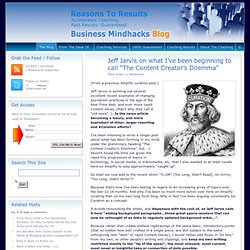 Jeff Jarvis is pointing out several excellent recent examples of changing journalism practices in the age of the Real-Time Web, and ever more rapid Content Decay (that's why they call it "old news"…). Is the news article becoming a luxury, and mere byproduct of other, larger reporting and #Curation efforts? I've been meaning to write a longer post about what has been forming in my mind under the preliminary heading "The Content Creator's Dilemma", but… I haven't found the time yet given the rapid-fire progression of topics in technology, in social media, in #dinomedia, etc. that I also wanted to at least curate here on Amplify to stay approximately "caught up".
So shall we now add to the recent idiom "TL;DR" (Too Long; Didn't Read), its mirror, "Too Long; Didn't Write"?! Curation - The Third Web Frontier. Posted by Guest Writer - January 8, 2011 Here is a guest article by Partice Lamothe - CEO of Pearltrees (Pearltrees is a consulting client of SVW.)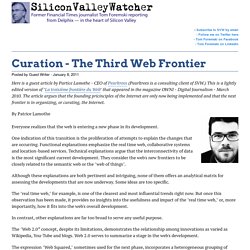 This is a lightly edited version of "La troisième frontière du Web" that appeared in the magazine OWNI - Digital Journalism - March 2010. The article argues that the founding pricinciples of the Internet are only now being implemented and that the next frontier is in organizing, or curating, the Internet. By Patrice Lamothe Everyone realizes that the web is entering a new phase in its development. Bloomstein @ SXSW 2011 Creation, curation, and the ethics of content strategy. Content Curation for Teachers  Have you ever felt that there is simply too much interesting, educational content on the web?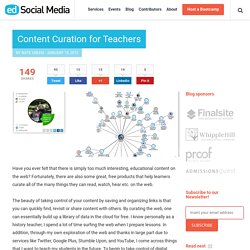 Fortunately, there are also some great, free products out there that are hugely helpful when it comes to curating all of the many things one can read, watch, hear etc. on the web. The beauty of taking control of your content by saving and organizing links is that you can quickly find, revisit or share content with others. Dead Link! The Human Algorithm. When I became a reporter, almost 20 years ago, my job was to dig up scarce, precious facts and deliver them to a passive audience.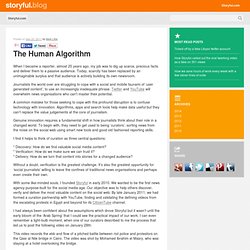 Today, scarcity has been replaced by an unimaginable surplus and that audience is actively building its own newsroom. Journalists the world over are struggling to cope with a social and mobile tsunami of 'user generated content', to use an increasingly inadequate phrase. Twitter and YouTube will overwhelm news organisations who can't master their potential. A common mistake for those seeking to cope with this profound disruption is to confuse technology with innovation. Algorithms, apps and search tools help make data useful but they can't replace the value judgements at the core of journalism. Why Content Curation Is Here to Stay. Steve Rosenbaum is the CEO of Magnify.net, a video Curation and Publishing platform.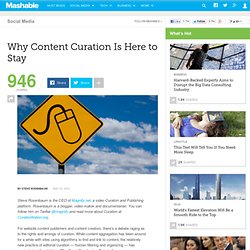 Rosenbaum is a blogger, video maker and documentarian. You can follow him on Twitter @magnify and read more about Curation at CurationNation.org. 4 Promising Curation Tools That Help Make Sense of the Web. Steven Rosenbaum is a curator, author, filmmaker and entrepreneur.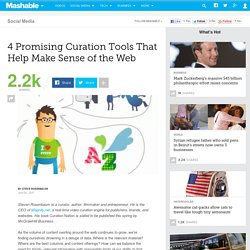 He is the CEO of Magnify.net, a real-time video curation engine for publishers, brands, and websites. His book Curation Nation is slated to be published this spring by McGrawHill Business. As the volume of content swirling around the web continues to grow, we're finding ourselves drowning in a deluge of data. What Is a Curator in Chief? Neil Sanderson is the Chief Curator at Eqentia--a software platform service that enables professional users and organizations to easily aggregate, curate and republish the news that's important to them.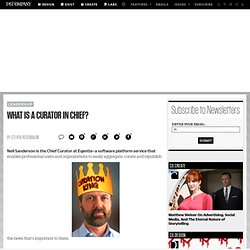 Eqentia's sites are both public and private--with some of the more public ones including Visability Marketing (visabilitymarketing.com) and Slices of Boulder (slicesofboulder.com) which is a local news website for Boulder, Colorado. More than 50 of the portals can be found at portal.eqentia.com/channels. I asked Neil what a 'Chief Curator' does. "It's much like being an Editor, except that I do not commission original reporting or writing.
" And Neil went on to explain that his job has three main tasks; finding, managing filters, and providing human curation.
Why Curation. Scrible | smarter online research - annotate, organize & collaborate on web pages. The 5 Models Of Content Curation. March 31, 2011 | 36 Comments Curation has always been an underrated form of creation.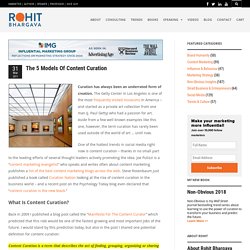 The Getty Center in Los Angeles is one of the most frequently visited museums in America – and started as a private art collection from one man (J. Paul Getty) who had a passion for art. Aside from a few well known examples like this one, however, the term curation has rarely been used outside of the world of art … until now. One of the hottest trends in social media right now is content curation – thanks in no small part to the leading efforts of several thought leaders actively promoting the idea. Startups StrawberryJ.am and Buffer Team Up on Tools to Curate the Web. Two startups aimed at tackling the problem of excessive noise on Twitter are combining forces.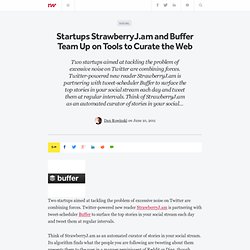 Twitter-powered new reader StrawberryJ.am is partnering with tweet-scheduler Buffer to surface the top stories in your social stream each day and tweet them at regular intervals. Think of StrawberryJ.am as an automated curator of stories in your social stream. Its algorithm finds what the people you are following are tweeting about them presents them to the user in a manner reminiscent of Reddit or Digg, though combined with the social graph, the way XYDO does. Maria Popova: In a new world of informational abundance, content curation is a new kind of authorship.
Editor's Note: Maria Popova is the editor of Brain Pickings, a curation of "cross-disciplinary interestingness" that scours the world of the web and beyond for share-worthy tidbits.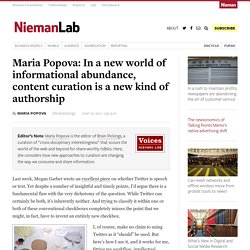 Here, she considers how new approaches to curation are changing the way we consume and share information. Last week, Megan Garber wrote an excellent piece on whether Twitter is speech or text. Yet despite a number of insightful and timely points, I'd argue there is a fundamental flaw with the very dichotomy of the question. While Twitter can certainly be both, it's inherently neither. Twitter and the Anti-Playstation Effect on War Coverage. As I follow the remarkable political transformations ongoing in the Middle East and North Africa through social media, I'm struck by the depth of the difference between news curation and anchoring on Twitter versus Television.
In this post, I'd like to argue that Television functions as a distancing technology while social media works in the opposite direction: through transparency of the process of narrative construction, through immediacy of the intermediaries, through removal of censorship over images and stories (television never shows the truly horrific pictures of war), and through person-to-person interactivity, social media news curation creates a sense of visceral and intimate connectivity, in direct contrast to television, which is explicitly constructed to separate the viewer from the events.
Although it is the first factor most people think of, I believe that the distancing effect of TV isn't just because TV is broadcast and social media is interactive. New Facebook Patent: the Huge Implications of Curated Search. SXSW 2011: Andy Carvin - the man who tweeted the revolution | Technology. Andy Carvin: 'I see my Twitter account as a newsgathering operation.' Photograph: Anna Gordon for the Guardian Andy Carvin is getting a little sick of talking about which verb best describes what he does.
"It's somewhere between reporting and collaborative network journalism, and George Plimpton-like oral history, except that I'm doing it in real time in 140 characters. Editing Pearltrees for Final Project.
---
writekelly Feb 25 2011

Fascinating, and from the perspective of a career writer and editor, certainly relevant.
---