Descriptions
Get flash to fully experience Pearltrees
"Curation taps the vast, agile, engaged human power of the web.
Thanks to Tom Foremski and Oliver Starr for inviting me to share my thoughts on curation at last night's salon, and to the group for a lively discussion.
This past year, social media replaced traditional news outlets as an unrivaled source of information for at least a few era-defining stories: Twitter broke the Osama Bin Laden story and YouTube became the window into the Arab Spring . Backed by a compelling history of performance, journalists rushed to their Twitter accounts over the past few days to speed up the painfully slow unraveling of the Norway massacre news. The problem is, the fire hose that is an unfiltered hashtag feed such as, say, #osloexpl , provides quality journalism embedded in a haystack of foreign languages, unlinked comments, and even the odd Star Wars quote (see below).
Content curation is the organizing, filtering and "making sense of" information on the web and sharing the very best pieces of content that you've cherry picked with your network. But finding and organizing the information is only half of the task. As Mari Smith points out in this video about why curation is important and some tools for doing it .
A few weeks ago now, I posted an opinion piece on Technorati titled, ' Why Social Media Curation Matters '. Following this I received quite a lot of feedback and it's thanks to one of these comments – posted by on my blog – that I was led to Pearltrees . In addition to this, I was also motivated to re-evaluate my position on the subject of curation and take a closer look at what I perceived that to be.
The term "curate" is the interactive world's new buzzword.
It's counter-intuitive--especially to Americans.
A TWEET that recently got quite a bit of traction (over 100 retweets), including among the SXSW audience, was this one : @robinsloan The way to cover big news in 2011 is not "here's what happened." It's "here's how to follow the story" http://t.co/sMqGOuh
By Christy Barksdale | Posted | 16 Comments | Filed in: Content Marketing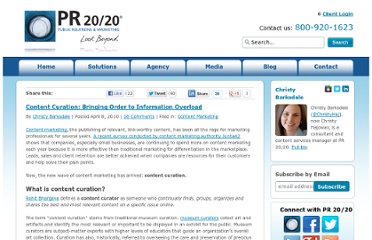 Curation: The Next Big Thing?