Curation: The Next Big Thing?
Is curation the next big thing? Let's discuss this point in this pearltree with the best articles we can find.

Please pearl only English articles in this pearltree so that as many people as possible can contribute.
French articles can be pearled in the sub pearltree "What is curation?" =>"Curation: French analyses" Curating Information as Content Strategy. Content, which is anything that informs, educates, or entertain online, is your business digital body language.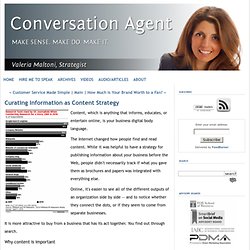 The Internet changed how people find and read content. While it was helpful to have a strategy for publishing information about your business before the Web, people didn't necessarily track if what you gave them as brochures and papers was integrated with everything else. Online, it's easier to see all of the different outputs of an organization side by side -- and to notice whether they connect the dots, or if they seem to come from separate businesses. It is more attractive to buy from a business that has its act together. Welcome to the Age of Curation. Forrester Research analyst Sarah Rotman Epps coined a phrase Friday for something many have been talking about since Apple launched the iPad about six weeks ago.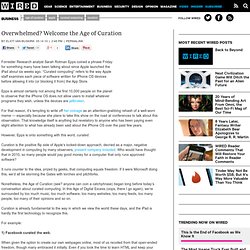 "Curated computing" refers to the way Apple staff examines each piece of software written for iPhone OS devices before allowing it into (or blocking it from) the App Store. Epps is almost certainly not among the first 10,000 people on the planet to observe that the iPhone OS does not allow users to install whatever programs they wish, unless the devices are jailbroken. For that reason, it's tempting to write off her coinage as an attention-grabbing rehash of a well-worn meme — especially because she plans to take this show on the road at conferences to talk about this observation. That knowledge itself is anything but revelatory to anyone who has been paying even slight attention to what has already been said about the iPhone OS over the past few years. Curation - The Third Web Frontier.
Posted by Guest Writer - January 8, 2011 Here is a guest article by Partice Lamothe - CEO of Pearltrees (Pearltrees is a consulting client of SVW.)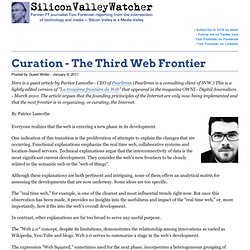 This is a lightly edited version of "La troisième frontière du Web" that appeared in the magazine OWNI - Digital Journalism - March 2010. The article argues that the founding pricinciples of the Internet are only now being implemented and that the next frontier is in organizing, or curating, the Internet. By Patrice Lamothe Everyone realizes that the web is entering a new phase in its development.
Comic strip for 10/30. La troisième frontière du Web. Chacun sent que le Web entre aujourd'hui dans une nouvelle phase de son développement.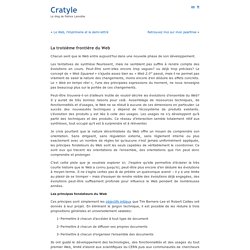 Les tentatives de synthèse fleurissent, mais ne semblent pas suffire à rendre compte des évolutions en cours. Peut-être sont-elles encore trop vagues? Ou déjà trop précises? Le concept de « Web Squared » s'ajuste assez bien au « Web 2.0″ passé, mais il ne permet pas vraiment de saisir la nature des changements, moins encore d'en déduire les effets concrets. The new billion-dollar opportunity: real-time-web curation - scobleizer's posterous. Social curation finds an audience: Pearltrees reaches 10M pageviews. With its slick visual interface for bookmarking content, Pearltrees is unique enough that I've been both impressed and slightly skeptical that a mass audience will actually use it.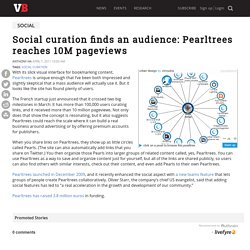 But it looks like the site has found plenty of users. The French startup just announced that it crossed two big milestones in March: It has more than 100,000 users curating links, and it received more than 10 million pageviews. Not only does that show the concept is resonating, but it also suggests Pearltrees could reach the scale where it can build a real business around advertising or by offering premium accounts for publishers.
What is curation? Curation for your businesses. Social search. Apps. Market structuration. Curation in the Age of Abundance. "A curator is an information chemist.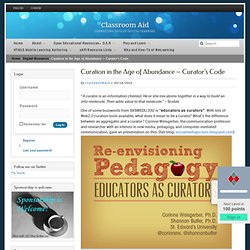 He or she mix atoms together in a way to build an info-molecule. Then adds value to that molecule." – Scoble. MindMap: Systems Thinking Skills. History of Curation. Curation.
---
vincent4711 Jan 21 2011

Il doit y avoir du Antoine derrière l'invitation... Merci. J'en ferai bon usage. Bien à toi. V PS/ Mes perles sont là De plus, j'ai vu la manip avec Worldpress. Tks a lot !

lerouxpa Dec 23 2010

Ok. Tx. What does that mean exactly ? I don't understand...

networkvb Dec 19 2010

I offer you your own page Pearltrees on your website with your own searchengine
---