Curation = Documentation + Edition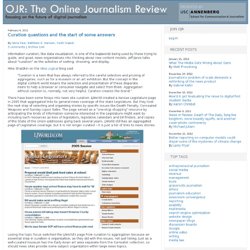 Information curation, like data visualization, is one of the buzzwords being used by those trying to guide, and goad, news organizations into thinking about new content models. Jeff Jarvis talks about "curation" as the activities of sorting, choosing, and display. Mike Shatzkin on the Idea Logical blog said
Curation questions and the start of some answers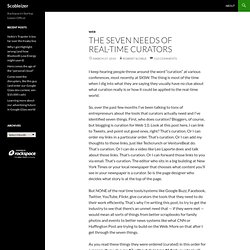 I keep hearing people throw around the word "curation" at various conferences, most recently at SXSW. The thing is most of the time when I dig into what they are saying they usually have no clue about what curation really is or how it could be applied to the real-time world. So, over the past few months I've been talking to tons of entrepreneurs about the tools that curators actually need and I've identified seven things. First, who does curation? Bloggers, of course, but blogging is curation for Web 1.0.
Métiers du web « Jean-Daniel Boutet
J'ai la sensation qu'on fait exprès d'oublier les métiers pré-existants. Ce n'est pas parce qu'on est sur un espace dématérialisé qu'on doit inventer de nouveaux métiers. L'acte de curation, c'est la sélection, l'organisation et la mise en contexte des contenus… … En pleine recherche de stage, j'ai écris cet article avec la complicité de trois de mes camardes de Master Web éditorial. Le ton y est volontairement prétentieux.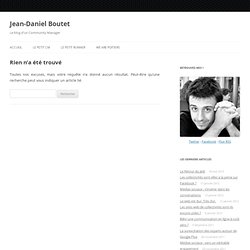 The term "curate" is the interactive world's new buzzword. During content creation and governance discussions, client pitches and creative brainstorms, I've watched this word gain traction at almost warp speed. As a transplant from museums and libraries into interactive media, I can't help but ask what is it about this word that deserves redefinition for the web?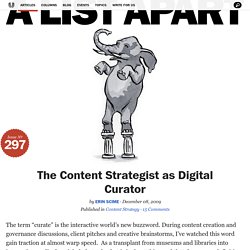 The Clip Report: An eBook on the Future of Media In the early 1990s when I began my career in PR there were clip reports. These were physical books that contained press clips. It seems downright archaic now but that's how I learned about the press - by cutting, pasting up and photocopying clippings.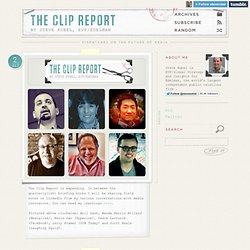 a shel of my former self
Le curateur, un éditeur de contenu qui a de l'avenir