Goldman Sachs
You knew Goldman the 'vampire squid' since Matt Taibbi's piece, but do you know Sachs its schizophrenic other? Was Fabrice Tourre Cheating On His Girlfriend? Are CDOs Really N. Zero Hedge is currently going through the 100 or so pages of just released Goldman emails that disclose in excruciating detail the events from late 2006 to late 2007 occurring in Goldman's mortgage trading business.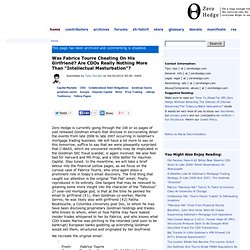 We will have a lot more to say on this tomorrow, suffice to say that we were pleasantly surprised that C-BASS, which we uncovered recently may be implicated in the Goldman SEC fraud scandal, is again involved. We also feel bad for Harvard and MS Prop, and a little better for Hayman Capital. Stay tuned. The Atlantic Reports That Deutsche Bank Also Sold Paulson-Select. Read Fabrice Tourre's Senate Testimony - Deal Journal. Chairman Levin, Dr.
Coburn and Members of the Subcommittee. My name is Fabrice Tourre, and I work at Goldman Sachs International in London. Stock Volume May Be First Casualty When Tourre Visits Congress - Messieurs de Goldman Sachs, c'est quoi cette "merde"? - Great Am. Un régal !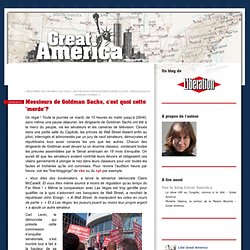 Toute la journée ce mardi, de 10 heures du matin jusqu'à 20h40, sans même une pause déjeuner, les dirigeants de Goldman Sachs ont été à la merci du peuple, via les sénateurs et les caméras de télévision. Cloués dans une petite salle du Capitole, les princes de Wall Street étaient enfin au pilori, interrogés et admonestés par un jury de neuf sénateurs, démocrates et républicains tous aussi coriaces les uns que les autres. Chacun des dirigeants de Goldman avait devant lui un énorme classeur, contenant toutes les preuves assemblées par le Sénat américain en 18 mois d'enquête. On aurait dit que les sénateurs avaient contrôlé leurs devoirs et obligeaient ces vilains garnements à plonger le nez dans leurs classeurs pour voir toutes les fautes et tricheries qu'ils ont commises. Pour revivre l'audition heure par heure, voir les "live-bloggings" de cbs ou du nyt par exemple.
John Paulson's donations to Carla Bruni could embarrass Nicolas. It transpires that Mr Paulson and his wife, Jenny, pledged to donate €500,000 (£435,000) to Mrs Bruni-Sarkozy's foundation "every year for three years".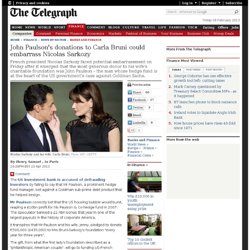 The gift, from what the first lady's foundation described as a "philanthropic American couple", will go to funding US-French art-exchange projects. Although Mr Paulson is not accused of any wrongdoing, the news is of potential embarrassment to Mr Sarkozy, as he has been on a crusade to "moralise capitalism" since the financial crisis struck. Last month, he lashed out at banks "engaging in proprietary speculation or financing speculative funds". The Paulsons pledged their gift when Mr Sarkozy and his wife, Carla, left were in Washington to meet President Barack Obama. Goldman Sachs Has First Perfect Quarter With Zero Trading Loss - Exclusive: US Probes Goldman's Timberwolf Deal, Alleged Victim S.
The federal prosecutors investigating Goldman Sachs are focusing on Timberwolf, the infamous "shitty deal" repeatedly cited in a tense Senate hearing last month, according to people who have been contacted by the Manhattan U.S.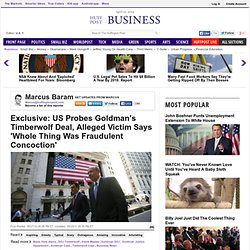 Attorney's office. The probe raises the possibility of criminal charges against the storied Wall Street firm, which was charged in April by the U.S.
---