Photoshop
Making Complex Selections in Photoshop. Making precise selections in Photoshop is an essential skill that every designer needs.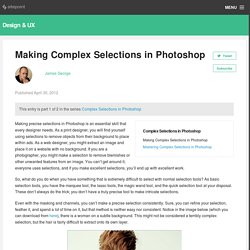 As a print designer, you will find yourself using selections to remove objects from their background to place within ads. As a web designer, you might extract an image and place it on a website with no background. If you are a photographer, you might make a selection to remove blemishes or other unwanted features from an image. You can't get around it; everyone uses selections, and if you make excellent selections, you'll end up with excellent work. So, what do you do when you have something that is extremely difficult to select with normal selection tools? Photoshop Crash Course | Jeremy Shuback . com.
Monster Size Selection of Awesome Photoshop Tutorials. During the last years I've been compiling resources for Photoshoppers.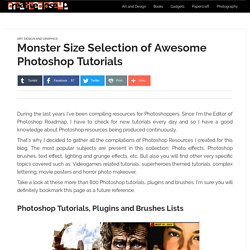 Since I'm the Editor of Photoshop Roadmap, I have to check for new tutorials every day and so I have a good knowledge about Photoshop resources being produced continuously. That's why I decided to gather all the compilations of Photoshop Resources I created for this blog. The most popular subjects are present in this collection: Photo effects, Photoshop brushes, text effect, lighting and grunge effects, etc. Photoshop. 30 Christmas Holiday PSD & AI Flyer Templates The success of any event, being it a show, a sale, a party or a simple get-together, often depends on how well you can promote it.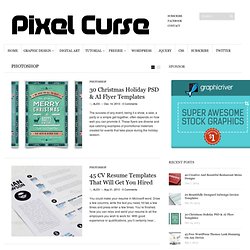 These flyers are diverse and eye-catching examples of promotional materials created for events that take place during the holiday season. 45 CV Resume Templates That Will Get You Hired You could make your resume in Microsoft word. Night School News, Videos, Reviews and Gossip - Lifehacker.
---