Very bizarre...
Time-zone database down. Today (2011-10-06), the time-zone database was closed down.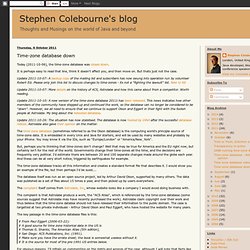 It is perhaps easy to read that line, think it doesn't affect you, and then move on. But thats just not the case. Update 2011-10-07: A backup copy of the mailing list and subscribers has now swung into operation run by volunteer Robert Elz. Please only join this list to discuss changes to time-zones - its not a "fighting the lawsuit" list. Avec The Oatmeal, le droit d'auteur sauve des ours et guérit le cancer. De nombreuses minutes de réflexion furent nécessaires à la rédaction de ce premier paragraphe, pour tenter d'introduire aussi clairement que possible le récit rocambolesque que contera cet article.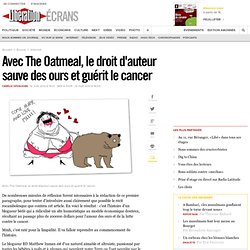 En voici le résultat : c'est l'histoire d'un blogueur bédé qui a ridiculisé un site humoristique au modèle économique douteux, récoltant au passage plus de 100000 dollars pour l'amour des ours et de la lutte contre le cancer. Mmh, c'est raté pour la limpidité. The Pirate Bay prévoit d'être hébergé dans des drônes aériens ! L'instinct de survie pousse à la créativité, voire au génie.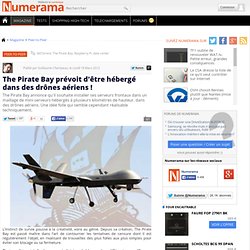 Depuis sa création, The Pirate Bay est passé maître dans l'art de contourner les tentatives de censure dont il est régulièrement l'objet, en rivalisant de trouvailles des plus folles aux plus simples pour éviter son blocage ou sa fermeture. Plusieurs fois sujet d'ordonnances judiciaires de blocage dans différents pays d'Europe, The Pirate Bay a toujours réussi à contourner la censure en demandant à ses utilisateurs de ne pas utiliser les serveurs DNS de leur FAI, ou en créant des noms de domaine alternatifs pour les différents pays concernés.
Le site a également changé de nom de domaine officiel, pour adopter le nom suédois ThePirateBay.se plutôt que le traditionnel ThePirateBay.org, pour éviter une saisie de son nom de domaine aux Etats-Unis. Chants d'oiseaux copyrightés : Rumblefish s'explique. Hier, nous racontions sur Numerama comment la société de gestion de droits musicaux Rumblefish s'est octroyée des droits sur des chants d'oiseaux entendus en fond sonore d'une vidéo filmée dans la nature, et diffusée sur YouTube.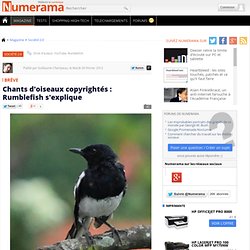 Dans un premier temps, les algorithmes du système ContentID de Google avaient identifié la vidéo comme étant une violation des droits de Rumblefish. Puis dans un second temps, devant la contestation du vidéaste, Rumblefish avait confirmé à YouTube qu'il détenait bien des droits sur le fond sonore entendu. Grâce à cette double erreur, grossière, Google et Rumblefish se sont tous les deux permis de diffuser de la publicité sur la vidéo concernée, et d'en partager les revenus sans reverser le moindre centime à l'auteur de la vidéo.
Sur YouTube, les chants d'oiseaux sont protégés par le droit d'auteur. Peut-on revendiquer des droits d'auteur sur des chants d'oiseaux ?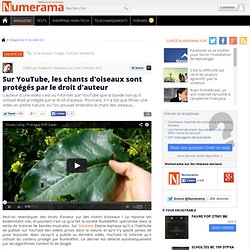 La réponse est évidemment non, et pourtant c'est ce qu'a fait la société Rumblefish, spécialisée dans la vente de licences de bandes musicales. Sur Slashdot, Eeplox explique qu'il a l'habitude de publier sur YouTube des vidéos prises dans la nature, et qu'il n'y ajoute jamais de piste musicale. Science and Technology News and Commentary: Aardvark Daily. 21 February 2012 The recording industry is whining long and hard about how piracy and file-sharing is crippling them.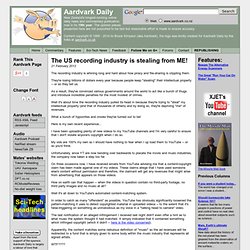 They're losing billions of dollars every year because people keep "stealing" their intellectual property -- or so they tell us. Interview: Rumblefish CEO on YouTube's Copyright System. Yesterday, a small section of Reddit was entirely focused on one story – how a YouTube video containing only the sounds of chirping birds was hit with a copyright claim.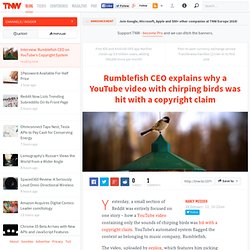 YouTube's automated system flagged the content as belonging to music company, Rumblefish. The video, uploaded by eeplox, which features him picking some fresh ingredients for a wild salad, with the faint sound of birds chirping in the background, has since received over 18,000 views. As is the case with any incorrect copyright claim, YouTube user eeplox disputed it, but a Rumblefish employee somehow managed to review the video and still determine that the chirping birds belonged to the music company.
Fortunately for eeplox, the vast, and highly unforgiving, community of Reddit rallied to his rescue, the story caught the attention of Rumblefish CEO, Paul Anthony, and the claim was removed. Il m'a copipi... il m'a copipi... il m'a copillé !!! - Sacrés Ancêtres! Qui n'a pas lu ça (enfin, à peu près) sur un forum de généalogie sur le net... sur un forum de Geneanet.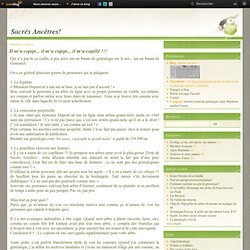 On a en général plusieurs genres de personnes qui se plaignent : 1. Doctors Discover Copyright Law: Cognitive Screening Test Killed Over Infringement Claims. We've certainly talked about how ridiculous patents have gotten in the way of health care professionals and doctors providing the best care they can.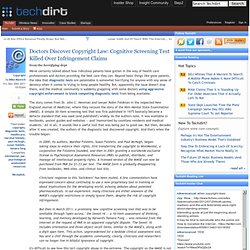 Beyond basic things like gene patents, the idea that diagnostic tests are patentable is somewhat horrifying for anyone with any sense of decency when it comes to trying to keep people healthy. But, apparently the issue doesn't stop there, and the medical community is suddenly grappling with some doctors using aggressive copyright enforcement to block competing diagnostic tests from being available. The story comes from Dr. John C. Newman and lawyer Robin Feldman in the respected New England Journal of Medicine, where they recount the story of the Mini–Mental State Examination (MMSE). Can you copyright a bonsai? - ragesoss. Besides Wikipedia, my main hobbies are bonsai and photography.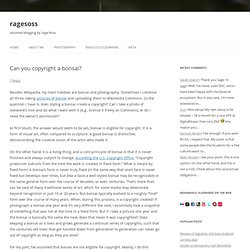 Sometimes I combine all three, taking pictures of bonsai and uploading them to Wikimedia Commons. So the question I have is, does styling a bonsai create a copyright? Can I take a photo of someone's tree and do what I want with it (e.g., license it freely on Commons), or do I need the owner's permission? At first blush, the answer would seem to be yes, bonsai is eligible for copyright.
It is a form of visual art, often compared to sculpture. Monkey Business: Can A Monkey License Its Copyrights To A News Agency? A year and a half ago, we wrote about a movie that was entirely filmed by chimpanzees, and wondered about who held the copyright on it. Technically, in most cases, whoever makes the actual work gets the copyright. That is, if you hand your camera to a stranger to take your photo, technically that stranger holds the copyright on the photo, though no one ever enforces this. There were some different theories made in the comments about who actually holds the copyrights, but no clear agreement. Qu'attend-on pour libérer le magenta ? | Rue89. Un tag du Front de libération du magenta (FLM) (David Mohamed) Le groupe Deutsche Telekom peut se vanter d'avoir déclenché une bronca artistique internationale. Notre ami David Mohamed, qui nous envoie parfois des tranches de vie dessinées, a traîné ses guêtres à la biennale de Saint-Etienne (où il vit). La RATP n'apprécie pas l'application iPhone CheckMyMetro.
Doctors and dentists tell patients, "all your review are belong to us" When I walked into the offices of Dr. Ken Cirka, I was looking for cleaner teeth, not material for an Ars Technica story. I needed a new dentist, and Yelp says Dr. Tattoos and moral rights: a couple of points to ponder. Apologies are owed to my correspondent who wrote me the following missive, which I meant to post last week but completely overlooked. He writes: "My colleague and I were discussing, at length, the art of tattooing (it was, after all, Friday afternoon!). My question is this, if a tattoo artist creates a unique design for a client, then this is tattooed on to the aforementioned client, does the tattoo artist still own any intellectual property rights (namely copyright) over this piece of art?
If the tattooed subject were to go on to a profession (I can only think of modelling at this precise moment) where the tattoo was constantly broadcast to the general public, and the designer viewed this to be derogatory to their work, would they be able to litigate! " Sports Licensing Corner: When a Tattoo Costs an Arm and a Leg— Basketball Star Gets Schooled In IP Law « The Licensing Law Blog. Rasheed says: "I told the guy to ink a 'T,' not a 'C'! " Here is an oldie but goodie from the worlds of sports licensing, which again reminds us that IP assignment agreements are not just for the rarefied world of lab researchers, but for the nitty gritty worlds of tattoo artists and technical foul prone power fowards as well.
Back when he was playing for the Portland Trail Blazers, basketball star Rasheed Wallace got an elaborate tattoo on his upper right arm depicting an ancient Egyptian royal family with the sun in the background (see photos here and here). For a fee of $450, Portland tattoo artist Matthew Reed created preliminary sketches of the tattoo for Wallace's approval, then applied ink and needle to skin.
Reed and Wallace signed a one page contract, but it was silent on who owned the intellectual property in the tattoo. Enclosing The Ocean Commons. Craig Venter's Genetic Typo - David M. Ewalt - Metagamer. A qui appartiennent les parfums ? Are DMCA takedown notice copyrighted? Superpowers as Personal Property | Law and the Multiverse.
Batman et la propriété intellectuelle, Cyclope, arme de destruction massive... ActuaLitté. A Copyright Lawsuit Over Dinosaur Bones. ReadRobReid.com: Year Zero Trailer. New Zealand, Intellectual Property, Can you own the haka? - Chapman Tripp - 19/11/2010, Copyright, Patent, Trademark. Copyright Unclear: Turkey Scrambles to Protect National Anthem - SPIEGEL ONLINE - News - International. Yoga copyright raises questions of ownership.
---