Content Curation
Why Curation Is Just as Important as Creation [OPINION] Remember Everything | Evernote Corporation. Guillaume Decugis(Scoop.it) & Jean-Marie Hullot @LeWeb, Le Web TV Sponsored by IBM Presents Guillaume Decugis(Scoop.it) & Jean-Marie Hullot @LeWeb leweb on.
Curation Advice. Human Discovery vs. Search. Curation in Marketing. Curation Services. Thoughts on Curation. Curation News. Sports AffCast #4 – Talking Curation with Scott Jangro. Podcast: Play in new window | Download (Duration: 34:33 — 31.6MB) On Episode 4 of the Sports Affcast we talked with long time affiliate industry veteran Scott Jangro about his new "curation" platform Shareist.com - a new platform that allows affiliates to quickly and easily build content sites on the topic of their choice.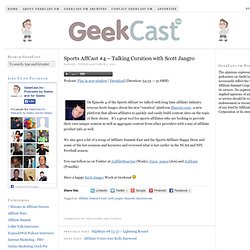 It's a great tool for sports affiliates who are looking to provide their own unique content as well as aggregate content from other providers with a mix of affiliate product info as well. We also gave a bit of a recap of Affiliate Summit East and the Sports Affiliate Happy Hour and some of the hot sessions and keynotes and reviewed what is hot earlier in the NCAA and NFL Football season. Findings Turns Your Ebook Highlights Into Shared Reading Libraries. The act of highlighting a noteworthy passage in an ebook is being socialized by Findings, an online destination where readers can collect, share, discuss and discover such highlights from ebooks and web texts.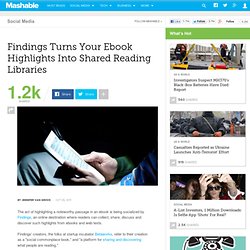 Findings' creators, the folks at startup incubator Betaworks, refer to their creation as a "social commonplace book," and "a platform for sharing and discovering what people are reading. " The Findings experience is centered around shared passages and user libraries. Libraries are like digital bookshelves and consist of all the texts — with highlights and quotes automatically organized by book, source or author — the user has clipped from. Creation Curations Ethics of Content Strategy W2E.
---