Curation Services
Comparison of Curation Tools
The Surprising (Content) Future of Google+
I have been spending time on Google+ since its launch, and though people on Google+ are talking a lot about Google+ (isn't that breaking the first rule of fight club?)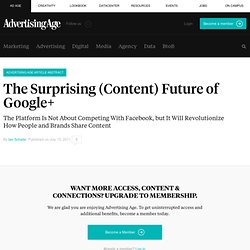 7 Content Curation Tools to Keep up With (and Share) Industry News
Guest post by Courtney Seiter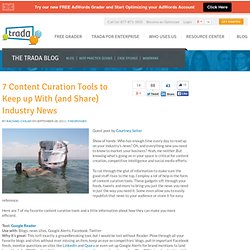 The world's first Content Logistics Platform | Vertical Acuity
Outbrain Select (formerly Scribit) empowers you to select from millions of articles and videos produced by the world's leading publications and instantly publish them on your site and in your social channels to drive engagement with your brand. Get Started Now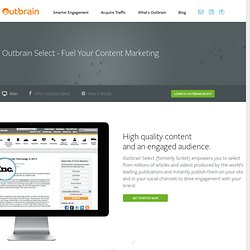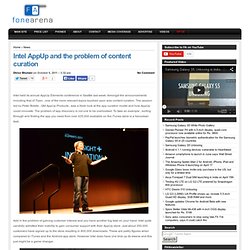 Intel AppUp and the problem of content curation
Home » News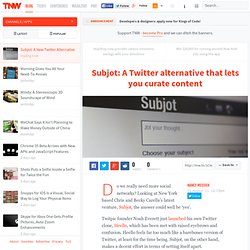 Do we really need more social networks? Looking at New York based Chris and Becky Carella's latest venture, Subjot, the answer could well be 'yes'.
Subjot: A Twitter alternative that lets you curate content
Organize your resources in an online binder - LiveBinders
Exclusive first look: Pearltrees iPad app enables new kind of content curation
Utopic.me launches new design and visual bookmarking to help discovery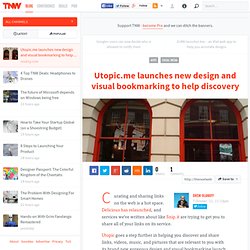 Curating and sharing links on the web is a hot space. Delicious has relaunched, and services we've written about like Snip.it are trying to get you to share all of your links on its service. Utopic goes a step further in helping you discover and share links, videos, music, and pictures that are relevant to you with its brand new gorgeous design and visual bookmarking launch.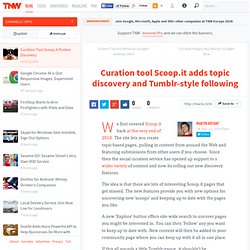 We first covered Scoop.it back at the very end of 2010. The site lets you create topic-based pages, pulling in content from around the Web and featuring submissions from other users if you choose. Since then the social curation service has opened up support to a wider variety of content and now its rolling out new discovery features.
Curation tool Scoop.it adds topic discovery and Tumblr-style following
See Percolate In Action [Video]
For years, I've been looking for a serious online research tool that would let me not just add to the ratnest of bookmarks and "favorites" I have, but really control, annotate, correlate, tag and source online material.
Zotero: A Serious Online Research Tool — Online Collaboration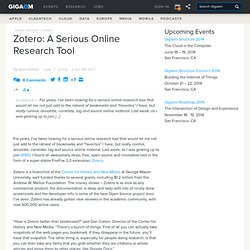 Send the Trend, a recently launched e-commerce site that brings personalization to the world of fashion accessories, is launching a new way for shoppers to curate their favorite items and make money at the same time, MyStyle. For background, Send the Trend offers its customers personalized, affordable accessories such as fashion jewelry, sunglasses, scarves and more. The site takes you through a very short survey of what kind of accessories you may want, and it then provides stylist-curated customized recommendations for five different accessories for you.
SendTheTrend Allows You To Create A Curated Online Store of Accessories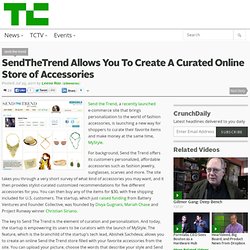 Explore The Scoop.it Community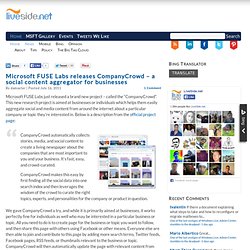 Microsoft FUSE Labs just released a brand new project – called the "CompanyCrowd". This new research project is aimed at businesses or individuals which helps them easily aggregate social and media content from around the internet about a particular company or topic they're interested in.
Microsoft FUSE Labs releases CompanyCrowd – a social content aggregator for businesses
Yahki :: Compose | Contribute | Discover | Engage
Add a Personal Touch To Any Webpage With BO.LT
BO.LT BO.LT is a platform that allows anyone to copy, edit, comment on, endorse, share and socialize any webpage. Add your own personal touch to the webpages you share.
BO.LT | Save and Share Interesting Content
Ingenic - Save and share useful information.
Flockler Bookmarklet is now available for your favorite web browser.
Bookmarklet for Curation with Audience
Squrl: The best place to watch and discover video.
How to set up your Shareist.com Website
Got content? Curate it with these top 20 websites — TechChi
A new Austin-based startup, Give As You Get, wants to make it easy for people to support their favorite nonprofit organization while shopping for items online. "We've gotten a great response from the community," said David Sandal, who launched the site late last year. More than 50 organizations have signed up and Give As You Get has raised more than $2,200.
How to BO.LT!
Our Lord of Curation series presents to you some of the great curators on Scoop.it.
Howard RheingoldScoop
Stroome Brings Easy Video Collaboration and Social Sharing to the Cloud at DEMO Fall 2011
Free Service Will Let Video Content Curators Dip Into World's Largest Rights-Cleared Clip Pool for Fast Video Creation
Put a little LO.VE into Your Pages on Vimeo
Social curation with Pinterest
Tweetdoc: Document your twitter event
30+ Cool Content Curation Tools for Personal & Professional Use
Susan Kistler on Content Curation Part II: Comparing Curation Tools Using the Same Content Items
Photovine Lets You Publicly Share Photos Based on Specific Topics
Searcheeze - Search collaboration made easy! on Vimeo
Ungoogling the Web on Vimeo
How to use Pearltrees (beta 0.8.2)
Content Curation with Google+
Snipi Bookmarklet on Vimeo
Wikipedia to Add Research Mega-Tool for Hot News Article Editors
Whit.li social curation technology, interesting people discovery tech
We're Curating Cool Curators (and Want More!)
Using Diigo for Collaborative Curation | Fusion Finds
Introducing Bing Editors' Picks: A Guide to Great Sites - Search Blog - Site Blogs - Bing Community