Curation Services
Delicious
Paper.li. Vertical Acuity. Swift River. PSFK. Frequency. Memolane Video. CurationSoft. Timelines. Choosito. Beans. LearnFizz. Scrible. Curatr. Silk. Whit.li. Storination. Comparison of Curation Tools. Google Plus. Curata. PearlTrees. Scoop.It. The Surprising (Content) Future of Google+ 7 Content Curation Tools to Keep up With (and Share) Industry News. Guest post by Courtney Seiter Show of hands: Who has enough time every day to read up on your industry's news?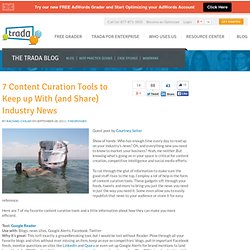 Oh, and everything new you need to know to market your business? Yeah, me neither. But knowing what's going on in your space is critical for content creation, competitive intelligence and social media efforts. The world's first Content Logistics Platform | Vertical Acuity. Intel AppUp and the problem of content curation. Home » News Intel held its annual AppUp Elements conference in Seattle last week.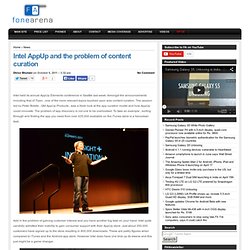 Amongst the announcements including that of Tizen , one of the more relevant topics touched upon was content curation. The session led by Peter Biddle , GM AppUp Products , was a fresh look at the app curation model and how AppUp could innovate. The problem of app discovery is not one to be overlooked. Subjot: A Twitter alternative that lets you curate content. Do we really need more social networks?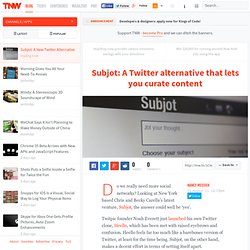 Looking at New York based Chris and Becky Carella's latest venture, Subjot, the answer could well be 'yes'. Twitpic founder Noah Everett just launched his own Twitter clone, Heello, which has been met with raised eyebrows and confusion. Heello feels far too much like a barebones version of Twitter, at least for the time being. Subjot, on the other hand, makes a decent effort in terms of setting itself apart.
Subjot is not just another Twitter clone. Organize your resources in an online binder - LiveBinders. Exclusive first look: Pearltrees iPad app enables new kind of content curation. Utopic.me launches new design and visual bookmarking to help discovery. Curating and sharing links on the web is a hot space.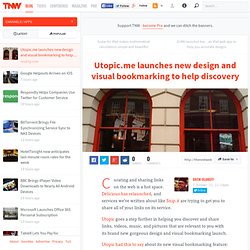 Delicious has relaunched, and services we've written about like Snip.it are trying to get you to share all of your links on its service. Utopic goes a step further in helping you discover and share links, videos, music, and pictures that are relevant to you with its brand new gorgeous design and visual bookmarking launch. Utopic had this to say about its new visual bookmarking feature: With one click you can now save, tag, share and later quickly recover anything on the internet that you find interesting.
Curation tool Scoop.it adds topic discovery and Tumblr-style following. We first covered Scoop.it back at the very end of 2010.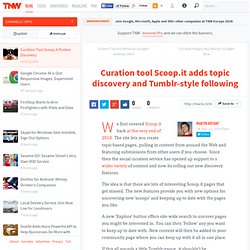 The site lets you create topic-based pages, pulling in content from around the Web and featuring submissions from other users if you choose. Since then the social curation service has opened up support to a wider variety of content and now its rolling out new discovery features. See Percolate In Action [Video] Zotero: A Serious Online Research Tool — Online Collaboration. For years, I've been looking for a serious online research tool that would let me not just add to the ratnest of bookmarks and "favorites" I have, but really control, annotate, correlate, tag and source online material.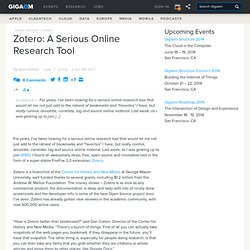 Last week, as I was gearing up to join WWD, I found an awesomely deep, free, open source and innovative tool in the form of a super-stable FireFox 2.0 extension: Zotero. Zotero is a brainchild of the Center for History and New Media at George Mason University, well funded thanks to several grants, including $1.2 million from the Andrew W. Mellon Foundation. The money shows – Zotero is as slick as any commercial product, the documentation is deep and tasty with lots of nicely done screencasts and the developer info is some of the best Open Source project docs I've seen. SendTheTrend Allows You To Create A Curated Online Store of Accessories. Send the Trend, a recently launched e-commerce site that brings personalization to the world of fashion accessories, is launching a new way for shoppers to curate their favorite items and make money at the same time, MyStyle.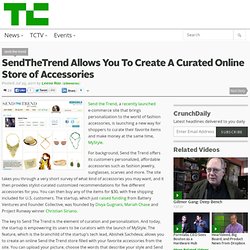 For background, Send the Trend offers its customers personalized, affordable accessories such as fashion jewelry, sunglasses, scarves and more. The site takes you through a very short survey of what kind of accessories you may want, and it then provides stylist-curated customized recommendations for five different accessories for you. Explore The Scoop.it Community. Microsoft FUSE Labs releases CompanyCrowd – a social content aggregator for businesses. Microsoft FUSE Labs just released a brand new project – called the "CompanyCrowd".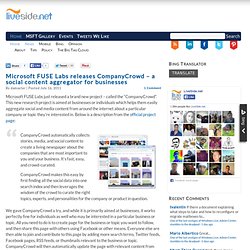 This new research project is aimed at businesses or individuals which helps them easily aggregate social and media content from around the internet about a particular company or topic they're interested in. Below is a description from the official project page: CompanyCrowd automatically collects stories, media, and social content to create a living newspaper about the companies that are most important to you and your business. It's fast, easy, and crowd-curated.CompanyCrowd makes this easy by first finding all the social data into one search index and then leverages the wisdom of the crowd to curate the right topics, experts, and personalities for the company or product in question.
We gave CompanyCrowd a try, and while it is primarily aimed at businesses, it works perfectly fine for individuals as well who may be interested in a particular business or topic. Yahki :: Compose | Contribute | Discover | Engage. Add a Personal Touch To Any Webpage With BO.LT. BO.LT is a platform that allows anyone to copy, edit, comment on, endorse, share and socialize any webpage.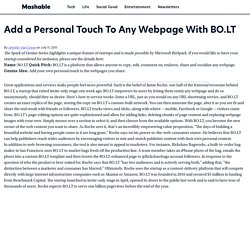 Add your own personal touch to the webpages you share. Great applications and services make people feel more powerful. BO.LT | Save and Share Interesting Content. Ingenic - Save and share useful information. Bookmarklet for Curation with Audience. Flockler Bookmarklet is now available for your favorite web browser.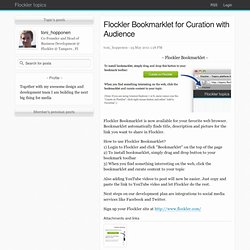 Bookmarklet automatically finds title, description and picture for the link you want to share in Flockler. How to use Flockler Bookmarklet? 1) Login to Flockler and click "Bookmarklet" on the top of the page 2) To install bookmarklet, simply drag and drop button to your bookmark toolbar 3) When you find something interesting on the web, click the bookmarklet and curate content to your topic. Squrl: The best place to watch and discover video. How to set up your Shareist.com Website. Got content? Curate it with these top 20 websites — TechChi.
A new Austin-based startup, Give As You Get, wants to make it easy for people to support their favorite nonprofit organization while shopping for items online. "We've gotten a great response from the community," said David Sandal, who launched the site late last year. More than 50 organizations have signed up and Give As You Get has raised more than $2,200. How to BO.LT! Howard RheingoldScoop. Our Lord of Curation series presents to you some of the great curators on Scoop.it. They are here to share their insights and advice with you. Howard Rheingold is a critic, writer, and teacher; his specialties are on the cultural, social and political implications of modern communication media such as the Internet, mobile telephony and virtual communities (a term he is credited with inventing). Check him out at and "Rheingold U! Stroome Brings Easy Video Collaboration and Social Sharing to the Cloud at DEMO Fall 2011. Free Service Will Let Video Content Curators Dip Into World's Largest Rights-Cleared Clip Pool for Fast Video Creation SANTA CLARA, CA--(Marketwire - Sep 13, 2011) - Stroome, the free, cloud-based video platform that lets users quickly edit, remix, discover and share video, will be demonstrating onstage at the prestigious DEMO Fall 2011 conference being held this week at the Hyatt Regency Silicon Valley.
Journalists, filmmakers, musicians, students, sports enthusiasts, travelers, activists, bloggers -- basically anyone who wants to create original content -- can use the Stroome service. Stroome users can work alone or find like-minded collaborators to create and share video. Put a little LO.VE into Your Pages. Social curation with Pinterest. It's tool time, so today's post is about Pinterest, a social curation tool. Pinterest is a curation platform with a specific focus: to help users collect visually rich web pages or uploaded images ("pins") on pages called "pinboards," connecting objects to associations meaningful to the user.
In their About page, the folks at Pinterest describe how people " use pinboards to plan their weddings, decorate their homes, and organize their favorite recipes." But people also use Pinterest to organize design inspirations, illustrations, paintings, tech tools, favorite books, among other "objects," which is why it has its place as a learning tool as well. A pinboard by Pinterest user Sha, collecting design inspiration for his work at Trulia. Tweetdoc: Document your twitter event. 30+ Cool Content Curation Tools for Personal & Professional Use. As the web becomes more and more inundated with blogs, videos, tweets, status updates, news, articles, and countless other forms of content, "information overload" is something we all seem to suffer. It is becoming more difficult to weed through all the "stuff" out there and pluck out the best, most share-worthy tidbits of information, especially if your topic is niche.
Let's face it, Google definitely has its shortcomings when it comes to content curation and the more it tries to cater to all audiences, the less useful it becomes. Susan Kistler on Content Curation Part II: Comparing Curation Tools Using the Same Content Items. Photovine Lets You Publicly Share Photos Based on Specific Topics. Searcheeze - Search collaboration made easy! Ungoogling the Web. Content Curation with Google+ Snipi Bookmarklet. Wikipedia to Add Research Mega-Tool for Hot News Article Editors.
Whit.li social curation technology, interesting people discovery tech. We're Curating Cool Curators (and Want More!) Using Diigo for Collaborative Curation | Fusion Finds. Introducing Bing Editors' Picks: A Guide to Great Sites - Search Blog - Site Blogs - Bing Community. Storify.
---