Curation in the News
How Tumblr is Changing Journalism. Earlier this week we looked at the remarkable growth of Tumblr, a blogging and curation service that now gets over 12 billion page views per month.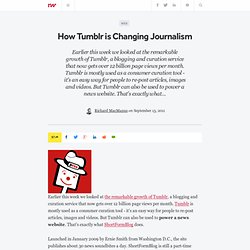 Tumblr is mostly used as a consumer curation tool - it's an easy way for people to re-post articles, images and videos. But Tumblr can also be used to power a news website. That's exactly what ShortFormBlog does. Launched in January 2009 by Ernie Smith from Washington D.C., the site publishes about 30 news soundbites a day. Topsy Searches Twitter Better Than Twitter. DST's Milner: Founders' Exit Is Cue For Investors' Exit - Venture Capital Dispatch.
Web Content & Digital Curation. 4 Promising Curation Tools That Help Make Sense of the Web. Steven Rosenbaum is a curator, author, filmmaker and entrepreneur.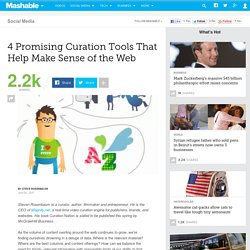 He is the CEO of Magnify.net, a real-time video curation engine for publishers, brands, and websites. His book Curation Nation is slated to be published this spring by McGrawHill Business. As the volume of content swirling around the web continues to grow, we're finding ourselves drowning in a deluge of data. Where is the relevant material? The Best Alternatives to Delicious. Trunk.ly Adds Search and Curation to Social Bookmarking. The wake of the Delicious debacle has been very fruitful for a few other services that occupy a similar Web curation space.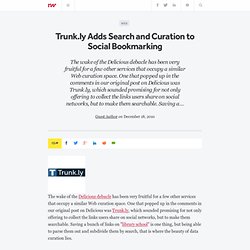 One that popped up in the comments in our original post on Delicious was Trunk.ly, which sounded promising for not only offering to collect the links users share on social networks, but to make them searchable. Saving a bunch of links on "library school" is one thing, but being able to parse them out and subdivide them by search, that is where the beauty of data curation lies. Trunk.ly starts off by stating plainly that the nature of bookmarking is changing, that it's now a "rolling social rumble of retweets, likes, favorites, sharing, commenting and general discussion... whenever you show some interest in a link by taking a social action on it (liking it, tweeting it), Trunk.ly is actively monitoring and sucks that link into your Trunk.
" Bit.ly Bundles Now Allow Hyper Personalized Wikis: Tech News « Bit.ly, the URL link-shortener, took a turn last month into content curation with Bundles, its tool for packaging and preserving multiple links.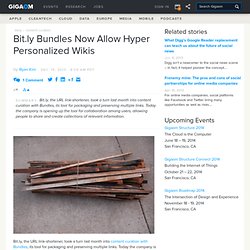 Today the company is opening up the tool for collaboration among users, allowing people to share and create collections of relevant information as people seek to sort through the crush of content online. Now people who create a bundle can add new editors, who can contribute toward a shared bundle. The bundles are like a more personal and lightweight versions of a Wikipedia page but with the same ability to be a lasting resource for others when shared. Steve Rosenbaum: MySpace is Reborn as Social Curation. First look at the New MySpace promises changes in design -- embraces community knowledge and passion.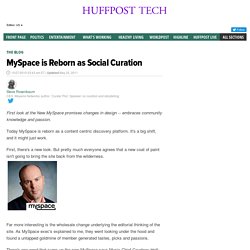 Today MySpace is reborn as a content centric discovery platform. It's a big shift, and it might just work. First, there's a new look. Curation And The Human Web... Posted by Tom Foremski - November 16, 2010 There is no doubt in my mind that the topic of curation and the Internet, is an important one and that it will be a dominant topic in 2011.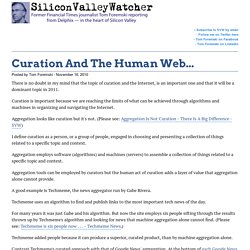 Curation is important because we are reaching the limits of what can be achieved through algorithms and machines in organizing and navigating the Internet. Why Social Media Curation Matters - Technorati Blogging. Over the past few weeks I've raved about the current raft of social media curation start-ups.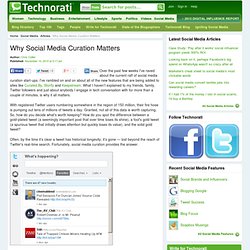 I've rambled on and on about all of the new features that are being added to sites like Curated.By, Storify and Keepstream. What I haven't explained to my friends, family, Twitter followers and just about anybody I engage in tech conversation with for more than a couple of minutes, is why it all matters. With registered Twitter users numbering somewhere in the region of 150 million, their fire hose is pumping out tens of millions of tweets a day. Granted, not all of this data is worth capturing. Craig Newmark on editors and news curation. Web 2.0 Expo NY: Clay Shirky (shirky.com) It's Not Information Overload. It's Filter Failure.
Howard Rheingold on collaboration.
---