Conferences
International CTIA WIRELESS
Le Mobile 2.0
Future of Television Conference: East
Social TV Summit
Social TV State of The Union – 2014 I decided this year to start a tradition of providing a State of the Union message about the Social TV industry and, providing a forum for industry Thought Leaders to make some bold predictions about what lays a head for 2014. I thought it was important to see what took place at CES and NATPE in January before we delivered our State of the Union.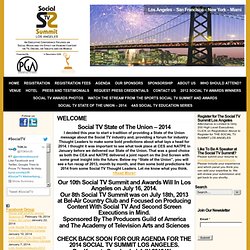 RDV Média 2011: l'événement annuel des médias
Mesure, optimisation du retour sur investissement, big data, réseaux sociaux, créativité média, enchères en temps réel, contenu de marque; les moyens d'augmenter sa performance sont diversifiés. Quelle place accorder à l'innovation? Comment sortir des sentiers battus dans une industrie où les décisions se font en fonction des données? Infopresse et le Conseil des directeurs médias du Québec (CDMQ) accueilleront plus de vingt experts internationaux et d'ici, dont Jonah Peretti, fondateur et président de Buzzfeed, l'une des 50 entreprises les plus innovantes de 2012 selon Fast Company.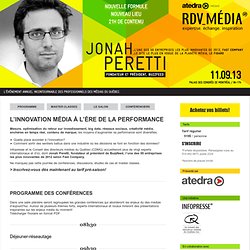 Gamification Summit - Sep 15 – 16 • New York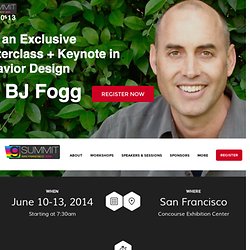 The world of engaging with people has changed. There are more distractions now than ever and businesses are having a challenging time competing for both the attention of their consumers & employees. It's affecting everyone, in every department and in every industry: Marketing & HR, retail, hospitality, transportation, healthcare, entertainment, finance, telecom, government, education, philanthropy, startups & more--everyone wants to increase user engagement. Join 1000+ attendees (see who's already attending) and 50+ speakers for 4-days at GSummit San Francisco (June 10-13) to learn how to bring effective engagement strategies & design back to your company to conquer this user engagement crisis. Register Now Content + Hands-on Labs + Workshops
Registration: Web 2.0 Expo New York 2011 - Co-produced by O'Reilly Media & UBM TechWeb, October 10 - 13, 2011, New York, NY
Web 2.0 Expo New York 2011 - Co-produced by O'Reilly Media & UBM TechWeb, October 10 - 13, 2011, New York, NY