Security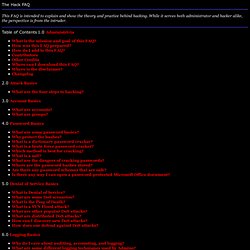 The Hack FAQ: Table of Contents
The Hack FAQ This FAQ is intended to explain and show the theory and practice behind hacking. While it serves both administrator and hacker alike, the perspective is from the intruder. Table of Contents
Anatomy of Credit Card Numbers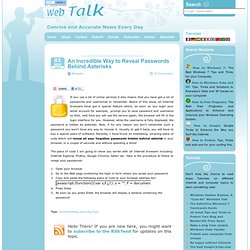 If you use a lot of online services it also means that you have got a lot of passwords and usernames to remember. Aware of this issue, all Internet browsers have got a special feature which, as soon as you login your email account for example, prompt you to save password and username so that, next time you will use the service again, the browser will fill in the login interface for you. However, while the username is fully displayed, the password is hidden by asterisks. Now, if for any reason you don't remember such a password you won't have any way to recover it. Usually, to get it back, you will have to buy a special piece of software.
CCIA: copyright wiretaps are Hollywood's "PATRIOT Act"
Yesterday's White House wish list of new intellectual property laws focused on things like counterfeit medicines, but it also included proposals to extend wiretaps into copyright cases and to ensure that illegal streaming video is a felony. A DC trade group representing companies like AMD, Facebook, Oracle, Yahoo, Google, and Microsoft today objected loudly to the plan, saying that legitimate concerns about counterfeiting have been "hijacked to create draconian proposals to alleviate the content industry of the burden of protecting its own interest using its own extensive resources." And that was just the beginning. Computer & Communications Industry Association chief Ed Black tapped his inner prophet to roll out a barnburner of a response to the White House.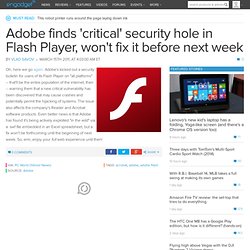 Oh, here we go again . Adobe's kicked out a security bulletin for users of its Flash Player on "all platforms" -- that'll be the entire population of the internet, then -- warning them that a new critical vulnerability has been discovered that may cause crashes and potentially permit the hijacking of systems. The issue also affects the company's Reader and Acrobat software products.
Adobe finds critical security hole in Flash Player, wont fix it before next...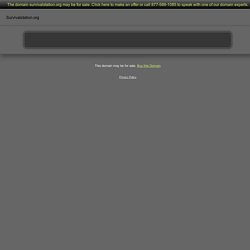 May 16 2010 If you value your rapidly disappearing privacy while surfing the Internet you need to know about these tools. Whether you want to protect yourself from snoopers, want to spy on those out to get you, or want to be able to track trends that you know will lead to something big, then these tools will help you get the job done. The best part about them is they are FREE!