College.
Drinking Games. Century Club This is a rather straight forward simple game, the best kind.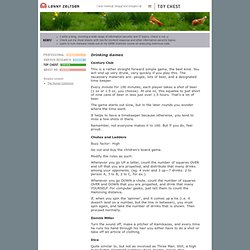 You will end up very drunk, very quickly if you play this. The necessary materials are: people, lots of beer, and a designated time keeper. Every minute for 100 minutes, each player takes a shot of beer (1 oz or 1.5 oz, you choose). At one oz, this equates to just short of nine cans of beer in less just over 1.5 hours. "Flowchart: Can You Skip Class Today?" by Kevin Corrigan. A.S.B. • Hello, alcohol poisoning. Alcohol Under The Microscope. A company called Bevshots has produced a series of shots of booze under the microscope at the Florida State University's chemistry labs.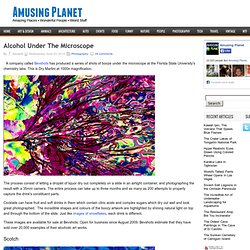 This is Dry Martini at 1000x magnification. The process consist of letting a droplet of liquor dry out completely on a slide in an airtight container, and photographing the result with a 35mm camera. The entire process can take up to three months and as many as 200 attempts to properly capture the drink's constituent parts. Block Posters - Create large wall posters from any image for free! Distractions. KeepMeOut. Dumb Student Late Assignment [PIC] Quality Reference Material. Power Hower: The World's Most Advanced Power Hour Timer. Drinking Games | What To Drink. Nutella Shot Recipe.
---