OpenStack
Opera Software has released its State of the Mobile Web report for November 2010 today, but has also taken the opportunity to look back at the preceding months to summarize trends and statistics related to global mobile Web usage for 2010. The findings? Mobile Web surfing is way, way up. Opera served 340 billion pages during the first 11 months of the year compared with only 129 billion pages during the same period in 2009.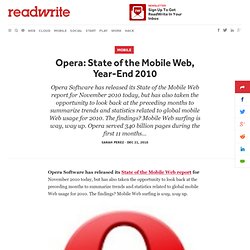 Opera: State of the Mobile Web, Year-End 2010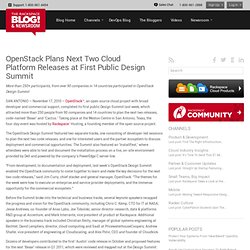 OpenStack Plans Next Two Cloud Platform Releases at First Public Design Summit | Rackspace Newsroom
SAN ANTONIO – November 17, 2010 – OpenStack ™, an open source cloud project with broad developer and commercial support, completed its first public Design Summit last week, which attracted more than 250 people from 90 companies and 14 countries to plan the next two releases, code-named 'Bexar' and 'Cactus.' Taking place at the Weston Centre in San Antonio, Texas, the four-day event was hosted by Rackspace ® Hosting, a founding member of the open source project. The OpenStack Design Summit featured two separate tracks, one consisting of developer-led sessions to plan the next two code releases, and one for interested users and the partner ecosystem to discuss deployment and commercial opportunities. The Summit also featured an 'InstallFest,' where attendees were able to test and document the installation process on a live, on-site environment provided by Dell and powered by the company's PowerEdge C server line.
OpenStack Image Registry and Delivery Service (Glance) in Launchpad
NASA's Nebula: The Cloud in a Container « Data Center Knowledge
December 2nd, 2009 By: Rich Miller The Verari data center container housing the NASA Nebula cloud computing application arrives at Ames Research Center in Mountain View, Calif.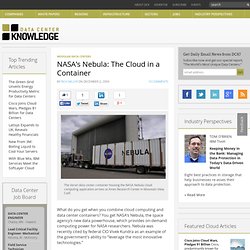 Canonical CEO on ARM and OpenStack for Ubuntu Servers: Cloud «
 NASA Nebula | Nurturing Innovation with Nebula
I've been with NASA for over 25 years and Nebula is by far the most dynamic project I've worked on to date. Truly inspired, Nebula has many lessons to share with others on how a small group can drive innovation within a larger, highly structured organization. I'm glad to be a part of Team Nebula so that can I experience daily the energy that pumps through this project team.
Why NASA uses Open Source - InternetNews:The Blog - Sean Michael Kerner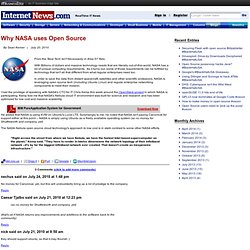 From the 'Best Tech Isn't Necessarily in Area 51' files:
NASA Nebula - Cloud Computing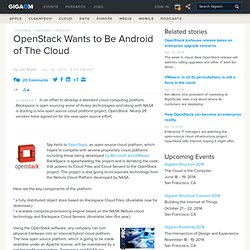 OpenStack Wants to Be Android of The Cloud
Say hello to OpenStack, an open-source cloud platform, which hopes to compete with several proprietary cloud platforms including those being developed by Microsoft and VMware.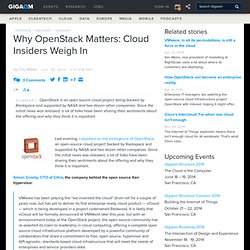 Last evening, I reported on the emergence of OpenStack, an open-source cloud project backed by Rackspace and supported by NASA and two dozen other companies.
Why OpenStack Matters: Cloud Insiders Weigh In
NASA gives OpenStack instant credibility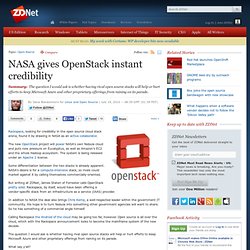 Rackspace, looking for credibility in the open source cloud stack arena, found it by drawing in NASA as an active collaborator.
By tim, on July 19th, 2010 Follow tim on Twitter Today's big open source announcement is OpenStack, an open source cloud platform that aims to be an non-proprietary alternative to Amazon's Elastic Computer Cloud (EC2) and Simple Storage Service (S3). There are nearly 30 companies currently signed up to support OpenStack, including NASA, Citrix, Dell, Intel, AMD and Right Scale, but the big mover here is Rackspace, which says: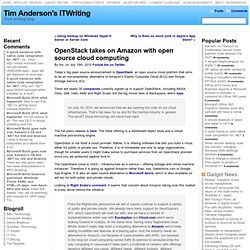 OpenStack takes on Amazon with open source cloud computing
Marten Mickos Talks Red Hat, OpenStack and M&A: Cloud «