Definition
Cloud Computing: Why Businesses Are Embracing It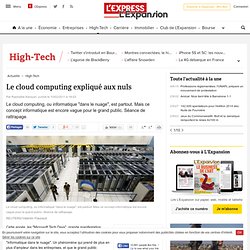 Cette année, les " Microsoft Tech Days ", grande manifestation organisée par le groupe pour les professionnels du numérique, étaient placés sous le signe du cloud computing , aussi appelé "informatique dans le nuage". Un phénomène qui prend de plus en plus d'ampleur dans les entreprises, et que le grand public commence à connaître sous la forme de services de stockage à distance, ou encore de musique en streaming. Le cloud est sur toutes les lèvres, y compris celles d'Eric Besson qui a lancé en janvier un appel à projets autour du cloud dans le cadre du grand emprunt.
Cloud Computing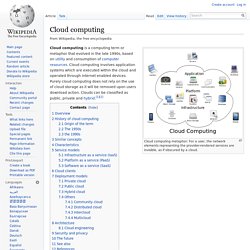 Cloud computing logical diagram Cloud computing is the use of computing resources (hardware and software) that are delivered as a service over a network (typically the Internet ). The name comes from the use of a cloud -shaped symbol as an abstraction for the complex infrastructure it contains in system diagrams. Cloud computing entrusts remote services with a user's data, software and computation. End users access cloud-based applications through a web browser or a light-weight desktop or mobile app while the business software and user's data are stored on servers at a remote location.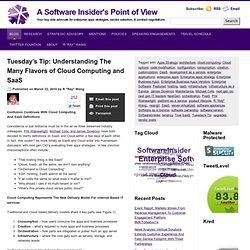 Confusion Continues With Cloud Computing And SaaS Definitions Coincidence or just brilliance must be in the air as three esteemed industry colleagues, Phil Wainewright , Michael Cote, and James Governor , have both decided to clarify definitions on SaaS and Cloud within a few days of each other. In fact, this couldn't be more timely as SaaS and Cloud enter into mainstream discussion with next gen CIO's evaluating their apps strategies. A few common misconceptions often include: "That hosting thing is like SaaS" "Cloud, SaaS, all the same, we don't own anything" "OnDemand is Cloud Computing" "ASP, Hosting, SaaS seems all the same" "It all costs the same so what does it matter to me?"
Understanding flavors of Cloud
Above the Clouds
above_the_clouds
Michael Armbrust, Armando Fox, Rean Griffith, Anthony D. Joseph, Randy H. Katz, Andrew Konwinski, Gunho Lee, David A. Patterson, Ariel Rabkin, Ion Stoica and Matei Zaharia EECS Department University of California, Berkeley Technical Report No.
Above the Clouds: A Berkeley View of Cloud Computing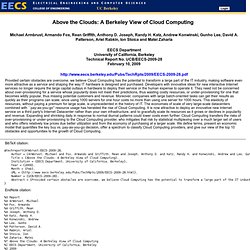 Myth: Cloud is just a fad. Truth: Cloud as a term is new, but the concepts and requisite technologies have been evolving for years (many years in some cases). Cloud computing continues to emerge as a game-changing technology, with high adoption rates and investment. Gartner Research predicts that by 2012, 80% of Fortune 1000 enterprises will be paying for some form of cloud computing services. Cloud computing is here to stay. Myth: The cloud is not secure.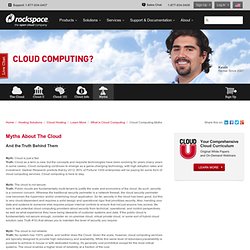 Myths