Marsh - April - May - June 2o12
China to increase weather manipulation program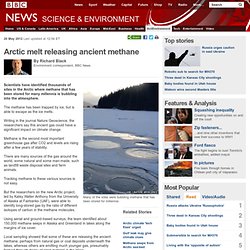 Arctic melt releasing ancient methane
20 May 2012Last updated at 12:54 ET By Richard Black Environment correspondent, BBC News Many of the sites were bubbling methane that has been stored for millennia Scientists have identified thousands of sites in the Arctic where methane that has been stored for many millennia is bubbling into the atmosphere. The methane has been trapped by ice, but is able to escape as the ice melts.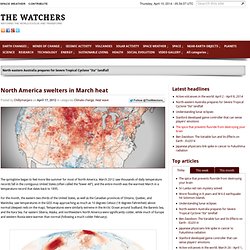 North America swelters in March heat
The springtime began to feel more like summer for most of North America. March 2012 saw thousands of daily temperature records fall in the contiguous United States (often called the "lower 48"), and the entire month was the warmest March in a temperature record that dates back to 1895. For the month, the eastern two-thirds of the United States, as well as the Canadian provinces of Ontario, Quebec, and Manitoba, saw temperatures in the GISS map approaching as much as 10 degrees Celsius (18 degrees Fahrenheit) above normal (deepest reds on the map). Temperatures were similarly extreme in the Arctic Ocean around Svalbard, the Barents Sea, and the Kara Sea. Far eastern Siberia, Alaska, and northwestern North America were significantly colder, while much of Europe and western Russia were warmer than normal (following a much colder February).
The US and Maldives endure the long, hot March of climate change | Amy Goodman | Comment is free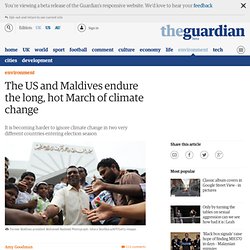 The Pentagon knows it. The world's largest insurers know it. Now, governments may be overthrown because of it. It is climate change, and it is real.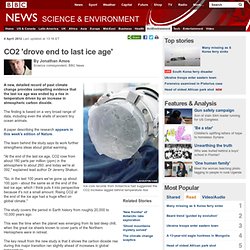 CO2 'drove end to last ice age'
4 April 2012Last updated at 13:16 ET By Jonathan Amos Science correspondent, BBC News Ice core records from Antarctica had suggested the CO2 increase lagged behind temperature rise A new, detailed record of past climate change provides compelling evidence that the last ice age was ended by a rise in temperature driven by an increase in atmospheric carbon dioxide.
Google artists create a real-time 'Wind Map' | Cutting Edge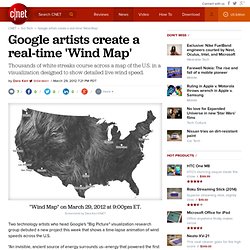 Two technology artists who head Google's "Big Picture" visualization research group debuted a new project this week that shows a time-lapse animation of wind speeds across the U.S. "An invisible, ancient source of energy surrounds us--energy that powered the first explorations of the world, and that may be a key to the future," the artists wrote in a post yesterday. "This map shows you the delicate tracery of wind flowing over the US right now." The black map, simply named "Wind Map," displays white streaks that show varying wind speeds from 1 to 30 miles per hour. The stronger the winds, the more dense the white streaks. As the wind courses across the county, certain patterns emerge, such as swirls around the Rockies and powerful blasts coming off the Great Lakes.
An invisible, ancient source of energy surrounds us—energy that powered the first explorations of the world, and that may be a key to the future. This map shows you the delicate tracery of wind flowing over the US. The wind map is a personal art project, not associated with any company. We've done our best to make this as accurate as possible, but can't make any guarantees about the correctness of the data or our software. Please do not use the map or its data to fly a plane, sail a boat, or fight wildfires :-)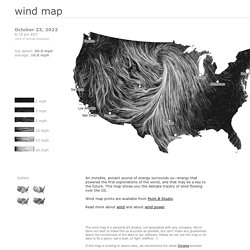 State_of_the_Planet_Declaration.pdf (Objet application/pdf)