Citing and referencing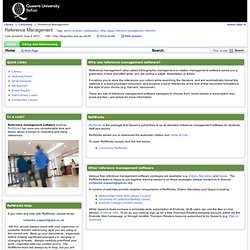 Reference management (also called bibliographic management or citation management) software saves you a great deal of time and effort when you are writing a paper, dissertation or thesis. It enables you to store the references you collect while searching the literature, and will automatically format the citations in a word processor document, and produce a list of references at the end of that document formatted in the style of your choice (e.g. Harvard, Vancouver).
Home - Reference Management - LibGuides at Queen's University Belfast
Every reference you add to your RefWorks account will include a QConnect button (displayed in Standard or Full view), designed to let you connect easily to the full text of articles. Sometimes, however, you might click on the QConnect button in RefWorks, and be told that the full text of the article isn't available, even though you know Queen's subscribes to the journal in question. If this happens, please report the problem by emailing your subject librarian or the RefWorks support team ( refworks-support@qub.ac.uk ). Make sure to include as much information as possible, including full article/journal details, as well as screenshots of what you see after you click QConnect.
RefWorks - Reference Management - LibGuides at Queen's University Belfast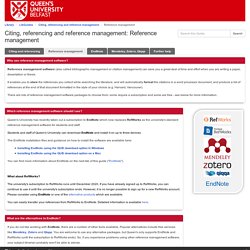 Welcome to RefWorks 2.0!
RefWorks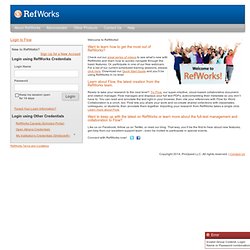 Problems Formatting Your Bibliography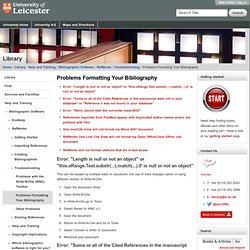 Error: "Length is null or not an object" or "this.oRange.Text.substr(...).match(...).0' is null or not an object"
Refworks - Word processing documents Importing - UW Libraries
Pre-existing bibliographies in word processing documents generally do not have field labels that permit importing into RefWorks. One work-around is to convert the bibliography into BibTex, then import the BibTeX file into RefWorks.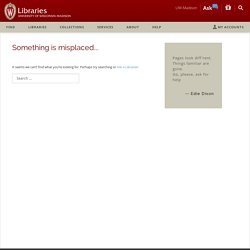 m-biblio
Reference Management and Knowledge Organization
Hi binhpok, thanks for the information, it's very useful. I work at a university and support RefWorks so it's useful for me to find out about all the other services such as Zotero and Qiqqa that are on offer. Thanks to pearltrees I've also just learnt about Citavi. There's so much choice now! by danrholden Jan 26
danrholden, I've started to move away from mendeley-- I found it limiting. I moved to it at a time when it offered better metadata extraction and it was great for managing PDFs. Adding notes to PDFs was pretty good, too, but then I realized that reports of notes was based on 1 PDF at a time. This seems nuts that if I wanted to generate a report of all notes and references based on a search term, I could only do it one PDF at a time.

Since Zotero now has a standalone copy (so it works in ANY browser) and plugins like Zotfile (to rename files) and forthcoming Zotpad (for iPad), it might be the winner for me.

Two notes: Endnote's annotation tools have improved dramatically, but it might still be cumbersome to get Endnote PDFs into iPad and a new one called ReadCube seems interesting. by kbpc Jan 25
I also love this program. I can't say that I've seen too many bugs or found it too slow. Do you know how it compares with Mendeley? by danrholden Jan 25
LISTSERV 16.0 - LISTSERV Archives at LS.REFWORKS.COM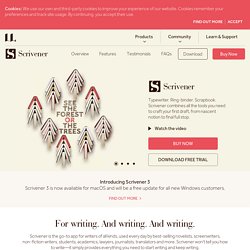 "The biggest software advance for writers since the word processor." — Michael Marshall Smith
Using Referencing Software with Long Documents