Citing and referencing
ReferenceME - Referencing Made Easy
"@colwiz: Today is our 1st birthday! We're celebrating with a new home page & updates! More at: http://blog.colwiz.com/?p=1464 " #phdchatPosted on 28 MarToday is our 1st birthday!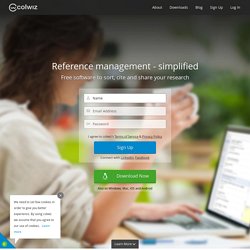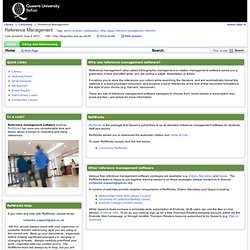 Reference management (also called bibliographic management or citation management) software saves you a great deal of time and effort when you are writing a paper, dissertation or thesis. It enables you to store the references you collect while searching the literature, and will automatically format the citations in a word processor document, and produce a list of references at the end of that document formatted in the style of your choice (e.g. Harvard, Vancouver).
Home - Reference Management - LibGuides at Queen's University Belfast
RefWorks
Problems Formatting Your Bibliography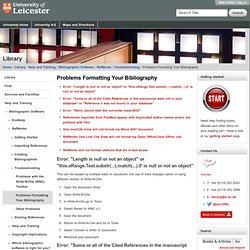 Error: "Length is null or not an object" or "this.oRange.Text.substr(...).match(...).0' is null or not an object" This can be caused by multiple edits on document, the use of track changes option or using different version of Write-N-Cite. Open the document WordOpen Write-N-CiteIn Write-N-Cite go to Tools Select Revert to WNC v.2Save the documentReturn to Write-N-Cite and for to ToolsSelect Convert to WNC III DocumentReformat your document Error: "Some or all of the Cited References in the manuscript were not in your database" or "Reference n was not found in your database" You have deleted the reference from your RefWorks account.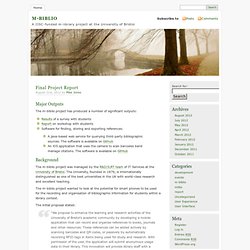 m-biblio
Major Outputs The m-biblio project has produced a number of significant outputs: Results of a survey with studentsReport on workshop with studentsSoftware for finding, storing and exporting references: A java-based web service for querying third-party bibliographic sources.
Reference Management and Knowledge Organization
LISTSERV 16.0 - LISTSERV Archives at LS.REFWORKS.COM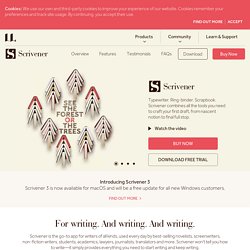 "The biggest software advance for writers since the word processor." —Michael Marshall Smith Grow your ideas in style Scrivener is a powerful content-generation tool for writers that allows you to concentrate on composing and structuring long and difficult documents.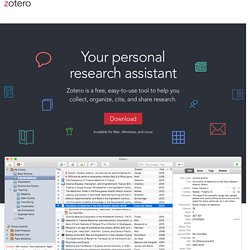 Cite perfectly. Whether you need to create footnotes, endnotes, in-text citations, or bibliographies, Zotero will do all the dirty work for you, leaving you free to focus on your writing. Create citations in Word and OpenOffice without ever leaving your word processor and add references to an email, a Google Doc, or some other editor simply by dragging one or more references out of Zotero. Always in style. Ready to submit your manuscript to Tropical Doctor or French Historical Studies? We've got you covered: with native integration of the powerful and flexible Citation Style Language (CSL), Zotero supports thousands of publication formats with more styles added daily.