During #mediablackout do NOT scoop the wire : EvictionDay
WP: "Most disturbingly, the NYPD sought to block any and all press from covering this eviction." Posted at 11:45 AM ET, 11/15/2011 Nov 15, 2011 04:45 PM EST TheWashingtonPost.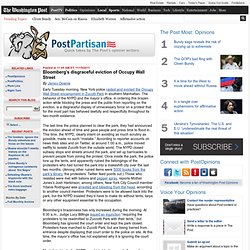 WSJ: Journalists detained at NYC Occupy protests. Mike Bloomberg: NYC will continue to prote... Hunterw: I was blocked from viewing... Andy Carvin: NPR freelancer Julie Walke... Julie Walker: Am still reporting on #OWS... Occupy Wall Street Media Blackout, Police State. Media Blackout at OWS. Eviction @ #Occupy Wall Street, Journalists kicked out as police beat sitting protestors. The Climactic Minutes of Last Night's Occupy Raid.
Inside Police Lines at the Occupy Wall Street Eviction. By about 4 a.m. today, New York City police had pushed the media out of Zuccotti Park and were preparing to evict the few dozen protesters who remained.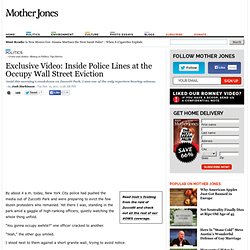 Yet there I was, standing in the park amid a gaggle of high-ranking officers, quietly watching the whole thing unfold. "You gonna occupy awhile? " one officer cracked to another. "Yeah," the other guy smiled. I stood next to them against a short granite wall, trying to avoid notice. Josh Harkinson (@JoshHarkinson) sur Twitter. Josh Harkinson: Cops just violently shoved... Josh Harkinson: I told him that I am a rep...
Newyorkist: From earlier: Police broug... Jared Malsin: I videotaped my own arrest... Video: Reporter for The Local Is Arrested During Occupy Wall Street Clearing. Jared Malsin: @BenDoernberg @storify Yes... Untitled. Jared Malsin: @MatthewWells Don't have t... NewYorkObserver: We are being stopped by po... Media Pushed Back from Protest Raid. Brian Stelter: "Those 20 minutes were som... Brian Stelter: This is exactly what I'm h... Ryan Devereaux: Police are now pushing the... Melissa Gira Grant: Reporter on WBAI asking of... Andrew Katz: NYPD says my @columbiajour... Rosie Gray: Me: "I'm press!" Lady cop:... Matt Wells: My running tally of accred... Pat Kiernan: @poniewozik Our crews had... Newyorkist: @TimKarr. Newyorkist: #mediablackout: @ChristRob...
New York Daily News: Our reporter @mblysiak is... New York Daily News: The New York Daily News ha... Michael Moore: Police helicopters have cl... @AntDeRosa I just spoke with the CBS News... Julie Shapiro: Got shoved by an NYPD offi... Image pl5p. Occupy Wall Street Protesters Evicted, Grapple With Future of Movement. Justin Elliott: WSJ: cops got special "dis... The United States Conference of Mayors. Seth Wenig (@sdwenig) sur Twitter. Media Pushed Back from Protest Raid. [video]NY1: Insider View Of Zuccotti Park Raid. CBS New York: Several Journalists Among Those Arrested During Zuccotti Park Raid. From our newsroom to your inbox weekday mornings at 9AM.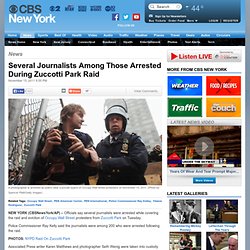 Sign Up NEW YORK (CBSNewsYork/AP) – Officials say several journalists were arrested while covering the raid and eviction of Occupy Wall Street protesters from Zuccotti Park on Tuesday. Police Commissioner Ray Kelly said the journalists were among 200 who were arrested following the raid. PHOTOS: NYPD Raid On Zuccotti Park Associated Press writer Karen Matthews and photographer Seth Wenig were taken into custody Tuesday along with Daily News reporter Matthew Lysiak.
Daveweigel: @joshharkinson has Zuccott... Reporters Say Police Denied Access to Protest Site. 4:26 p.m. | Updated As New York City police cleared the Occupy Wall Street campsite in Zuccotti Park early Tuesday morning, many journalists were blocked from observing and interviewing protesters.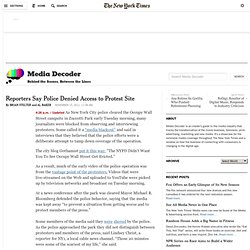 Some called it a "media blackout" and said in interviews that they believed that the police efforts were a deliberate attempt to tamp down coverage of the operation. The city blog Gothamist put it this way: "The NYPD Didn't Want You To See Occupy Wall Street Get Evicted." As a result, much of the early video of the police operation was from the vantage point of the protesters. Occupy Wall Street: Zuccotti Park eviction - live updates | World news.
12.00 noon: Welcome to our continuing coverage of the eviction of Occupy Wall Street protesters from Zuccotti Park in New York.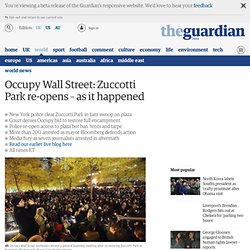 Here is a summary of events so far today. • Police in New York have cleared the Occupy Wall Street camp from Zuccotti Park in Lower Manhattan, where it has been based since 17 September. Officers with helmets and shields arrived around 1am, set up floodlights and ordered the 200 or so activists to leave . NYTimes reports "At least four journalists" arreste. Inside Police Lines at the Occupy Wall Street Eviction. Media Kept at Distance as NY Police Clear Occupy Wall Street Encampment. Emmanuel Dunand/AFP/Getty Images NEW YORK - In a surprise overnight move, police here on early Tuesday cleared out Zuccotti Park in downtown Manhattan where Occupy Wall Street protesters had been camped out for about two months.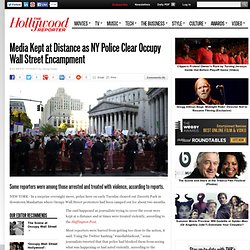 The raid happened as journalists trying to cover the event were kept at a distance and at times were treated violently, according to the Huffington Post. Most reporters were barred from getting too close to the action, it said. Using the Twitter hashtag "#mediablackout," some journalists tweeted that that police had blocked them from seeing what was happening or had acted violently, according to the Huffington Post. Occupy Wall Street 'Media Blackout': Journalists Arrested, Roughed Up, Blocked From Covering Clearing. UPDATE: The Society Of Professional Journalists has condemned the arrests of reporters carried out by the New York Police Department during their raid of the Occupy Wall Street encampment.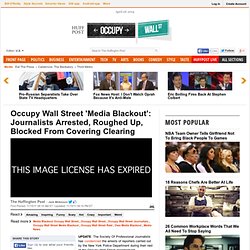 In a statement on Tuesday, the group noted that at least six journalists had been arrested, and called "for all charges against these journalists to be dropped and for greater care by police to avoid arresting or otherwise obstructing journalists who are simply and clearly doing their jobs. " It also stressed that "the journalists were either wearing press credentials or explained to police that they were reporters covering the protests," and argued, "they were clearly exercising the constitutional right of a free press...it is clear now that many journalists have been erroneously arrested without cause.
" The New York Press club also condemned the Bloomberg administration for its apparent efforts to block journalists from witnessing the raid. Press Suppression at Occupy Wall Street Raid · bendoernberg. The NYPD Didn't Want You To See Occupy Wall Street Get Evicted. A police officer carries trash through Zuccotti Park (AP) During our coverage of the eviction of the Occupy Wall Street protesters early this morning, a NPR reporter, a New York Times reporter, and a city councilmember were arrested.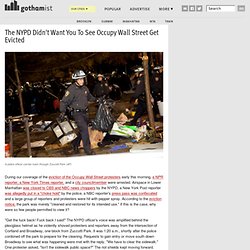 Airspace in Lower Manhattan was closed to CBS and NBC news choppers by the NYPD, a New York Post reporter was allegedly put in a "choke hold" by the police, a NBC reporter's press pass was confiscated and a large group of reporters and protesters were hit with pepper spray. According to the eviction notice, the park was merely "cleaned and restored for its intended use.
" If this is the case, why were so few people permitted to view it? Occupy Crackdown Targets Journalists « Groundswell. For the past two months I have been tracking journalist arrests at Occupy protests around the country.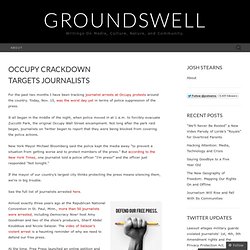 Today, Nov. 15, was the worst day yet in terms of police suppression of the press. It all began in the middle of the night, when police moved in at 1 a.m. to forcibly evacuate Zuccotti Park, the original Occupy Wall Street encampment. Journalists arrested, roughed up as police clear Zuccotti Park of OWS protesters. Chad Roedemeier: AP reporter Karen Matthews... Poynter: AP staff tweeting about OW... Associated Press Staff Scolded for Tweeting Too Quickly About OWS Arrests. A high importance e-mail went out to Associated Press employees early Wednesday morning to remind them of Twitter rules in the wake of staff arrests at yesterday's local protests.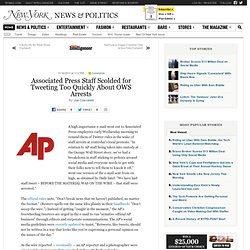 "In relation to AP staff being taken into custody at the Occupy Wall Street story, we've had a breakdown in staff sticking to policies around social media and everyone needs to get with their folks now to tell them to knock it off," went one version of the e-mail sent from on high, as obtained by Daily Intel. "We have had staff tweet – BEFORE THE MATERIAL WAS ON THE WIRE – that staff were arrested.
" Arrests Occupy Wall St. Trinity lot #ows 11.15.11.mp4. Nicole Bode: Video courtesy of @LeonieH... Yoav Gonen: RT @leoniehaimson Video of... DNAinfo: Journalists Arrested While Covering OWS Police Raids. By DNAinfo Staff MANHATTAN — Two journalists for DNAinfo.com were among a handful of reporters and photographers arrested Tuesday morning as they tried to cover the aftermath of the city's attempt to expel Occupy Wall Street protesters from Zuccotti Park. Patrick Hedlund, a DNAinfo.com News Editor, and Paul Lomax, a freelance photographer assigned to cover Occupy Wall Street for DNAinfo.com, were arrested in separate incidents.
Hedlund, who has reported in the city and around the United States for seven years, was arrested about 4:30 a.m. outside the perimeter of Zuccotti Park. Michael Bloomberg's raid on Zuccotti Park and freedom of the press: 'Not tonight' More Tagging tips: A tag is a way to search for this diary. If someone is searching for "Barack Obama," is this a diary they'd be trying to find? The "Frozen Zone" Photo by Mario Tama/Getty Images One of today's must-reads: This Josh Harkinson piece, written after he spent as long as possible at Occupy Wall Street, defying police orders to skedaddle. Not to spoil it, but he's pulled away after watching police tear up the encampment. In the process, he hears an unfamiliar term. "Can I help you? " an burly officer asked me, his helpfulness belied by his scowl. Targeting Media Who Cover OWS. Share Early Tuesday morning, the New York Police Department forcibly evacuated Zuccotti Park, epicenter of the Occupy Wall Street movement.
In what appears to have been a premeditated and coordinated effort to block media coverage of the raid, many journalists said they were barred from reporting the police action. Ten reporters were arrested, another was put in a choke hold and numerous others described extensive police harassment, including, perhaps ironically, a New York Post scribe who told the New York Times's Brian Stelter that he'd been "roughed up." Christopher Robbins: Protester to NYPD: "why ar... Michael Moore: The cop-pucation of #Occup... Protester to NYPD: "why are you occupying zuccotti park & what are your demands?" #ows. Sign at Foley Square: Mubarak, Gaddafi, Bloomberg. Raindrift: #NYPD #OWS PR disaster sco... RT: Crackdown on OWS camps coo... Update: 'Occupy' crackdowns coordinated with federal law enforcement officials - Minneapolis Top News. Poynter: The only business people l... Society of Professional Journalists News: SPJ condemns arrests of journalists at Occupy protests.
NY Press Club Demands Investigation Into Reporters Arrested at Occupy Wall Street | PolitickerNY. Nashville Scene reporter catches own Occupy Nashville arrest on video. Reporters detained, arrested across the country in "Occupy" protests. Journalists obstructed from covering OWS protests. OCCUPYWALLSTREET: If ur enraged that @MikeBl... Media Can Avoid NYPD Arrest By Getting Press Pass They Can't Get | Threat Level. 25 26 Arrested Reporters and What They Do. Bloomberg Spokesperson Admits Arresting Credentialed Reporters, Reading The Awl. In Light of 'Occupy' Arrests, New Group 'To Monitor NYPD/Press Relations' | PolitickerNY. News Organizations Complain About Treatment During Protests. @PennyRed Occupy the media.
N.Y.P.D. Stops Reporters With Badges and Fists. The shocking truth about the crackdown on Occupy | Naomi Wolf. This global financial fraud and its gatekeepers | Naomi Wolf. Massive Drum Circle for Bloomberg. Bloomberg/Warlord? Fired! NYPD Orders Officers Not to Interfere With Press. Mayor Bloomberg Defends NYPD's Handling Of Press During Raid.
---