Chromebooks and BYOT
Bring Your Own Device/Tech
Over the last twenty years, there has been dramatic change in the Print Management landscape. From the early 1990′s when System Administrators sought out obscure drivers from FTP sites; to the 2000′s when Support Engineers fought to deploy print infrastructure via Active Directory; to today, Print Management has never been more complex. The challenge for Network Managers lies in keeping pace with the explosive growth of "Bring Your Own Devices" (BYOD) – smartphones, laptops / notebooks and tablets. To help with this challenge, PaperCut developed capabilities that support BYOD Laptops with Web Print, and iOS devices with iOS printing support. Today we are excited to announce the next part of the mobile print management story… In PaperCut Version 13.5 we are integrating PaperCut's Print Management solution with Google Cloud Print, catering for users of Chromebooks and Android devices.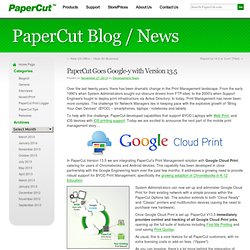 Goes Google-y with Version 13.5 – PaperCut Blog / News
Awesome Screenshot Extension for Google Chrome
BYOD VS 1-TO-1: Just as Edudemic's Jeff Dunn reveals that at least one student isn't too thrilled with their school's 1:1 iPad program, New Milford High School Principal, Eric Sheninger, is experiencing a change of heart in the 1:1 vs. BYOD debate. Originally a fan of 1:1 device implementations for their ability to provide "equitable access to all students regardless of socioeconomic status" and reduce the "headache for the IT department," Sheninger is no longer sure such benefits outweigh the cons of homogenous devices: "I am beginning to think that 1:1 programs are not necessarily the best option for our students. My main reason for this shift in thought is why would we want to pigeonhole our students to one single device and/or platform?
School Device Rollouts Generate More Questions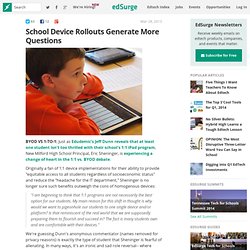 A Chromebook Screencasting Solution – not a moment too soon! | K4STEMLAB
I've been searching for a very long time for a solution that will allow me to produce high-quality screencasts using our Google Chromebooks. Thanks to a quick Google search today, I came across a month-old Youtube video that explains one solution in detail: I've gone ahead and ordered the Avertv HD DVR High Definition / Analog Video Capture Card and the StarTech.com DP2HDMI2 DisplayPort to HDMI Video Adapter Converter. I just need to find out when our order of Chromebooks will arrive.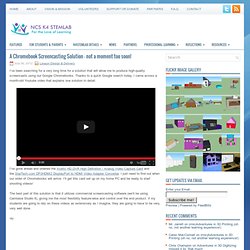 How can my classroom go BYOT if my school does not? | TestSoup
guest written by JD Ferries-Rowe, CIO and Debate Coach, Brebeuf Jesuit Preparatory School Much of the #byotchat writing on geekreflection.blogspot.com is focused on the big picture: how to implement for a school, why this paradigm shift works, and how it empowers students broadly. But there is a growing number of teachers who work in schools that do not have the infrastructure ready to go, who do not have a voice in the broad school policies, or who are already in a school that has settled on netbooks or iPads.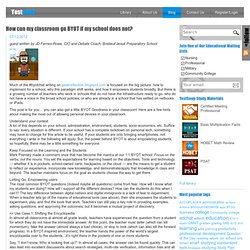 A List of Interesting Mobile Learning Links
Are You Ready for BYOD?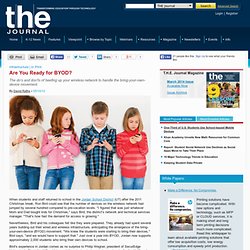 Infrastructure | In Print Are You Ready for BYOD? The do's and don'ts of beefing up your wireless network to handle the bring-your-own-device movement. When students and staff returned to school in the Jordan School District (UT) after the 2011 Christmas break, Ron Bird could see that the number of devices on the wireless network had jumped by several hundred compared to pre-vacation levels.
Shoemaker, Cassie / List of Educational Apps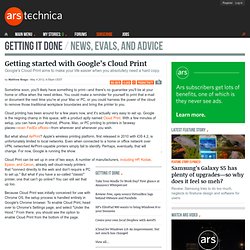 Sometime soon, you'll likely have something to print—and there's no guarantee you'll be at your home or office when the need strikes. You could make a reminder for yourself to print that e-mail or document the next time you're at your Mac or PC, or you could harness the power of the cloud to remove those traditional workplace boundaries and bring the printer to you. Cloud printing has been around for a few years now, and it's actually very easy to set up.
Getting started with Google's Cloud Print
- Google Docs
SIGTE: BYOT, Why we took the Plunge_0
When Technologies Collide: Consumer, K-12 and Higher Ed
Big Ideas Culture Digital Tools Teaching Strategies Flickr: Orange Fred By Frank Catalano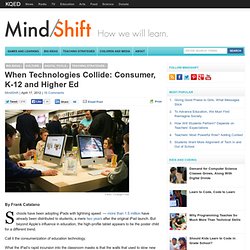 How to take a screenshot in Google Chromebook - Google Chrome Fans
The Chromebooks are launched, and with the different operating system unlike the Windows and Mac OS, the options and interface for sure would be a lot different. Doing the most basic things in the Google Chrome OS would be different and new, and one has to learn about it. The basic activities usually are taking screenshot, transferring data to other devices etc. and taking screenshots is one of the important ones too, to share tutorials, to share info with friends in an easy way. But as said, the Google Chrome OS and the Chromebooks have a different way of operating the things. Using the Page Flipper key When you are on a particular window, taking the screenshot of that particular window can be done by pressing 2 keys.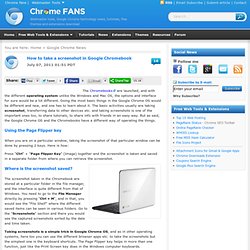 Keep up to 20 laptops secure and fully charged with a Mobile Laptop Charging Station. Stations feature built-in UL/CSA-approved electrical outlets for each laptop compartment. Locking doors fold back and stay open with a magnet while loading or unloading laptops.
Mobile Laptop Charging Stations - Computing | MooreCo - Balt - Best-Rite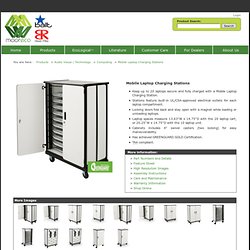 How would I prepare to teach a BYOD class?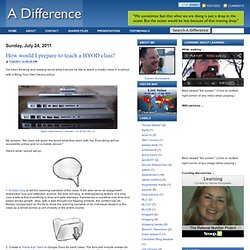 I've been thinking and reading about what it would be like to teach a (math) class in a school with a Bring Your Own Device policy. My answer: "My class will teach the world what they learn with me. Everything will be accessible online and on a mobile device." Here's what I would set up: 1.
Years ago, when farms dominated our landscape, children were responsible for performing meaningful jobs that were vital to each family's success. Depending on their age, children would care for animals, repair farm equipment, prepare food to sell at local markets and more. Children were essential to the very survival of the family.
Students as Contributors: The Digital Learning Farm
www.mckinneyisd.net/images/sub2files/file/BYOT Student Parent Staff IV.pdf
Professional Development - BYOD
PowerPad 16 USB station charges your iPad and 15 others
New USB Charger Powers 16 iPads at a Time A convenient USB charging unit provides full power to 16 iPads, iPhones or iPods in a compact device from Datamation Systems SOUTH HACKENSACK, N.J.--(BUSINESS WIRE)--Charging large numbers of iPads, iPhones and iPods is a challenge for many schools, businesses and other organizations. A new 16-port professional USB charging station now makes this possible.
New Chromebook How-Tos "Boom. We're Done. Let's Get Tacos." - The Des Moines Egotist
Chromebook Classroom