Chocolate!
Hot Fudge Sauce in 99 seconds | The Family Kitchen. I'll never buy hot fudge in a jar again.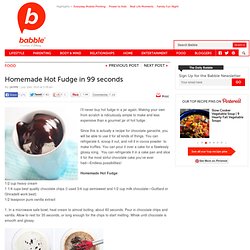 Making your own from scratch is ridiculously simple to make and less expensive than a gourmet jar of hot fudge. Since this is actually a recipe for chocolate ganache, you will be able to use it for all kinds of things. You can refrigerate it, scoop it out, and roll it in cocoa powder to make truffles. You can pour it over a cake for a flawlessly glossy icing. You can refrigerate it in a cake pan and slice it for the most sinful chocolate cake you've ever had—Endless possibilities! Peanut Butter Chocolate Cupcakes with Peanut Butter Frosting. Even before we tasted these cupcakes, we'd already consumed a fair number of baked goods.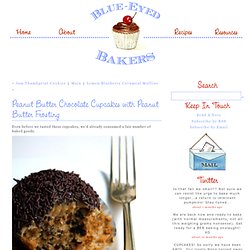 There was the espresso chip scone. The Nutella sandwich cookie. The donut muffin. The 'smores cookies. Oh and the dark chocolate covered honeycomb candy. Stylish Cuisine « Peanut Butter Cup Bars. My cousin Greg from DC stayed with us last night.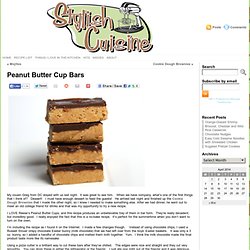 It was great to see him. When we have company, what's one of the first things that I think of? Dessert! I must have enough dessert to feed the guests! He arrived last night and finished up the Cookie Dough Brownies that I made the other night, so I knew I needed to make something else. HERSHEY'S Kitchens Home Page Recipes. Oreo Truffles. Attention ladies and gents – Valentine's Day is around the corner, and you are about to be given the tools for a delectable sweet that will have your sweet thinking you are: a. thoughtful b. a great cook and c. not at all concerned with the size of their ass!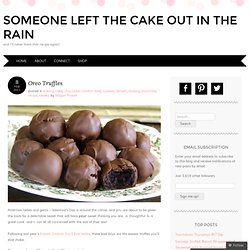 Following last year's Easiest Cookies You'll Ever Make, these bad boys are the easiest truffles you'll ever make. Three ingredients. The Motherlode Layered Cookie Bars! Good Thursday folks!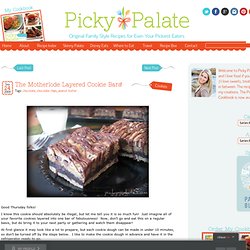 I know this cookie should absolutely be illegal, but let me tell you it is so much fun! Just imagine all of your favorite cookies layered into one bar of fabulousness! Now, don't go and eat this on a regular basis, but do bring it to your next party or gathering and watch them disappear! The Brownie That Will Change Your Life. Let me start off by saying that viewer discretion is advised for today's post.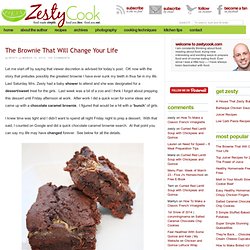 OK now with the story that preludes possibly the greatest brownie I have ever sunk my teeth in thus far in my life. Last Saturday Mrs. Zesty had a baby shower to attend and she was designated for a dessert/sweet treat for the girls. Last week was a bit of a zoo and I think I forgot about prepping this dessert until Friday afternoon at work. After work I did a quick scan for some ideas and came up with a chocolate caramel brownie. Cheesecake Bars. I was in the mood for something cold and lip-smackingly sweet.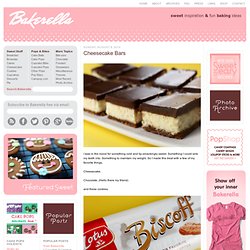 Something I could sink my teeth into. Something to maintain my weight.
---