Travel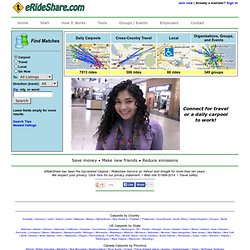 Australia | Germany | India | Ireland | Israel | Malaysia | Mexico | Netherlands | New Zealand | Pakistan | Philippines | Scandinavia | South Africa | United Kingdom | Europe | World US Carpools by StateAlabama | Alaska | Arizona | Arkansas | California | Colorado | Connecticut | Delaware | Washington, DC | Florida | Georgia | Guam | Hawaii | Idaho | Illinois | Indiana | Iowa | Kansas | Kentucky | Louisiana | Maine | Maryland | Massachusetts | Michigan | Minnesota | Mississippi | Missouri | Montana | Nebraska | Nevada | New Hampshire | New Jersey | New Mexico | New York | North Carolina | North Dakota | Ohio | Oklahoma | Oregon | Pennsylvania | Puerto Rico | Rhode Island | South Carolina | South Dakota | Tennessee | Texas | Utah | Vermont | Virginia | Washington | West Virginia | Wisconsin | Wyoming |
I Like Her Style!
The worldwide hitchhikers agency: go hitchhike for a cheap or free holiday
Car Share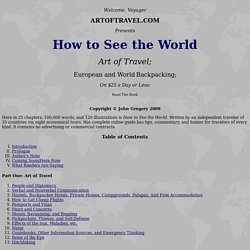 Welcome, Voyager Presents How to See the WorldArt of Travel;European and World Backpacking;On $25 a Day or Less;Read This BookCopyright © John Gregory 2009 Here in 25 chapters, 100,000 words, and 120 illustrations is How to See the World. Written by an independent traveler of 35 countries via eight economical tours, this complete online guide has tips, commentary, and humor for travelers of every kind. It contains no advertising or commercial contracts.
Join free, search free, notify families or caregivers of your interest for free, reply free, and gain free access to reports with a paid subscription. Create your free child care nanny, housekeeper, babysitter, au pair, tutor, personal assistant or senior care provider profile. Find jobs or candidates instantly and connect online today. Safe, secure and simple. Find jobs. Hire People.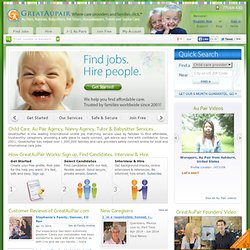 SERVAS - Home Page
My two experiences were very different from each other, but made up a brilliant month of great travelling, and helpXing! - Katie , United Kingdom I think HelpX is great idea. The website is easy to use, and it is helpful to be able to read hosts profiles and references. I've enjoyed my experience as a helper. It is a great way to meet people and get to know the local area and culture. - Liane, United Kingdom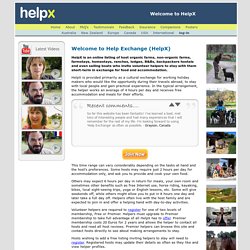 Volunteer Program Links | True Travellers Society - Free Volunteer Work and Meaningful Travel Abroad
Sea Turtle Restoration Project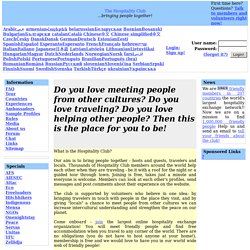 Our aim is to bring people together - hosts and guests, travelers and locals. Thousands of Hospitality Club members around the world help each other when they are traveling - be it with a roof for the night or a guided tour through town. Joining is free, takes just a minute and everyone is welcome. Members can look at each other's profiles, send messages and post comments about their experience on the website.
Gorges de l'Areuse, a photo from Neuchatel, West