CareerInfo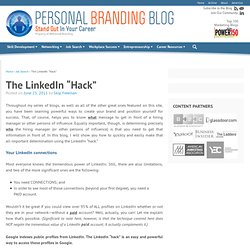 Throughout my series of blogs, as well as all of the other great ones featured on this site, you have been learning powerful ways to create your brand and position yourself for success. That, of course, helps you to know what message to get in front of a hiring manager or other persons of influence. Equally important, though, is determining precisely who the hiring manager (or other persons of influence) is that you need to get that information in front of. In this blog, I will show you how to quickly and easily make that all-important determination using the LinkedIn "hack."
The LinkedIn "Hack"
10 Things Employers Forget When Hiring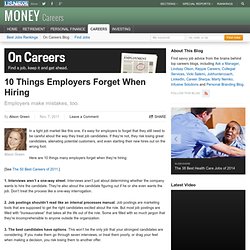 In a tight job market like this one, it's easy for employers to forget that they still need to be careful about the way they treat job candidates. If they're not, they risk losing great candidates, alienating potential customers, and even starting their new hires out on the wrong foot. Here are 10 things many employers forget when they're hiring: [See The 50 Best Careers of 2011.] 1. Interviews aren't a one-way street.
Numerous federal laws preclude discrimination based on "protected" characteristics. Your interview and overall evaluation should only focus on objective, job related factors in order to negate any possible claims of discriminatory bias. 1. Citizenship You cannot ask them to specify their actual citizenship.
Top 8 Illegal or Inappropriate Interview Questions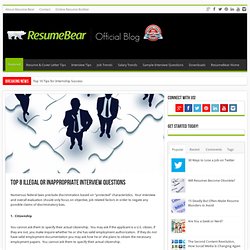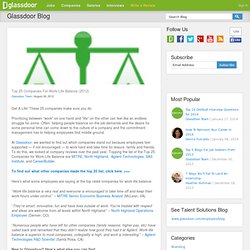 Get A Life! These 25 companies make sure you do. Prioritizing between "work" on one hand and "life" on the other can feel like an endless struggle for some. Often, helping people balance on-the-job demands and the desire for some personal time can come down to the culture of a company and the commitment management has to helping employees find middle ground.
Top 25 Companies For Work-Life Balance
Five Careers with a Future
Whether you're a new grad breaking into the job market, or a seasoned professional looking for a change in pace, you'll want to choose a career that's actually going to be around ten year down the line. Here's our pick for the top five: 1) Healthcare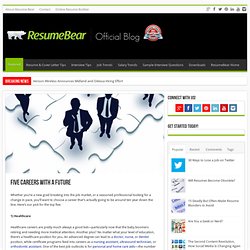 AICPA MediaRelations (aicpanews) on Twitter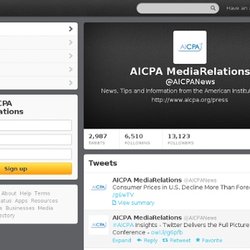 Language: English Bahasa Indonesia Bahasa Melayu
Companies hiring the most this holiday season - Business - Holiday retail
The holidays are shining a ray of light onto the grim U.S. employment picture. Companies like Best Buy, J.C. Penney, Sears and Toys R Us currently have thousands of jobs open for seasonal employees. According to a survey of 2,700 hiring managers and human resources pro's, 30 percent of retailers are planning to hire extra seasonal help this year and employers across the board expect their holiday hiring to be roughly the same as last year. In addition, the pay for these workers is rising, and a third of employers surveyed said they plan to keep some of their seasonal workers on staff permanently after the holidays.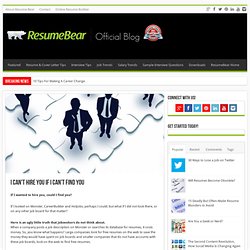 If I wanted to hire you, could I find you? If I looked on Monster, CareerBuilder and HotJobs, perhaps I could; but what if I did not look there, or on any other job board for that matter? Here is an ugly little truth that jobseekers do not think about.
I Can't Hire You if I can't Find You
There are literally hundreds, if not thousands of ways to make money online. All of these ways are derivatives of two basic ways, which are selling your own products & services, and selling other people's products & services. Each has their advantages and disadvantages, and I personally do a little of both. Today's post is basically to show you a few of my favorite places to work online. I do offer web services and have my own websites to make money as well, but now we will focus on other places I go to make even more money.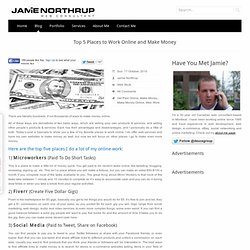 11 New Websites for Your Job Search
If you're entering the job market for the first time or haven't searched for a new job in the last three years, you're in for a shock over how the process works—and how it has changed in a relatively short period of time. Job search 1.0 = help wanted ads in newspapers Job search 2.0 = online job boards Job search 3.0 = social talent communities What's next? "Job search 4.0 will be less about finding talent and finding jobs and more about applying skills to the problems existing in any marketplace," says Joel Capperella, vice president for Yoh, a Philadelphia-based technology staffing firm.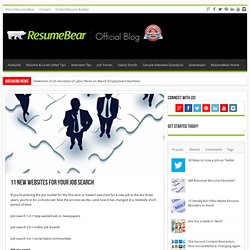 Transitioning from college into full-time work is rarely an easy journey. There's a lot to learn about office culture, time management, keeping jobs and even about what you really want out of a career. With so much to learn and take in, many new grads find themselves looking for a little help and guidance to make things make a little bit more sense as they learn the ropes.
40 Best Career Counselor Blogs for the Brand New Graduate
It's not a little bit optimistic to be establishing a list of best careers now, at the tail end of a particularly hard-knocks recession that has helped put 15.4 million Americans out of work. That's particularly so because no industry or occupation was spared the misery of layoffs, hiring freezes, benefit cuts, and general anxiety. But some industries were much safer harbors for workers than others. Healthcare, most notably, managed to expand its payrolls, though not at the clip customary for a healthier economy. It's clear that the recession is ending and that employers aren't slashing jobs with the blunt instrument they used over the past two years, but many unemployed workers and college students have a question that can't be answered by upticks in the GDP, namely: Where on earth will the jobs be?
The 50 Best Careers of 2010
Facebook, the social networking giant, has landed the ultimate compliment from its employees: ranking No. 1 on a newly-released list of 50 best places to work. The list, which is based on surveys of company employees, is produced by Glassdoor.com, a website that offers insight into careers and companies, as well as job listings. Southwest Airlines ranked second, and Bain & Company, a business consulting firm, came in third.
The Top 50 Companies to Work For
Best Careers 2011: Business Jobs
When it comes to careers, who doesn't need a little help? It's not just the 14.6 million unemployed, but the millions of employed who are stuck in comatose companies or dead-end jobs. While there are plenty of websites that have useful information for job seekers today, many people still look to the web largely to find job openings. Here are seven sites that stand out for their intelligence, niche, data, or usefulness, rather than their job listings: Fistful of Talent: Reading the posts on this blog is like listening to a lunchroom full of human resources professionals, hiring managers, and recruiters talk about their likes, dislikes, and strategies.
7 Sites That Will Help You Get Hired
Twitter is not just for talking about your dog or your lunch. Tens of thousands of businesses are using twitter, quite a few of which are using it to help in their search for new employees – and that means there is some great opportunities to find your perfect job through social media. Traci Koller did just that! Traci Koller (@heykolls) found her dream job working with the National Breast Cancer Foundation (@NBCF) in Frisco, TX simply through social media connections. Here is a bit of her story: Which social media tools were you using when you got noticed?
How twitter got me hired
We actually want you to be honest.: 21 Things Hiring Managers Wish You Knew - US News & World Report
25 companies who are hiring new graduates this year
Careers that are in Demand Now
Employment Listings, State of New Hampshire Human Resources
12 Hot Careers for College Graduates
Top 10 jobs that do not require a College Degree
Company Salaries
Discover, Evaluate, and Monitor Your Professional Online Brand
Find employees who fit and employee hiring tool | ClearFit
The 10 Most Common Job Interview Questions
After Interview: Thank You Email Example | Thank You Letter after a Job Interview
15 Answers: Why Do You Want This Job? Interview Question
Updating a Resume for 2011 - WSJ.com
We'd like a thank-you note right away.: 21 Things Hiring Managers Wish You Knew - US News & World Report
Best Answers to Why Should We Hire You?
Why Should We Hire You: Interview Answers to Tough Questions
Interview Insider