Búsqueda ACADÉMICA
www.cartulario.es/21 REPERTORIO/REPERTORIO BIBLIOGRAFICO SECCTTHH 2012.pdf
Brocade Desktop: anet
iBoogie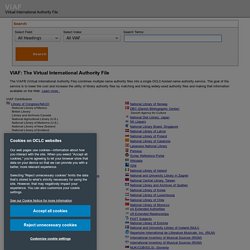 The VIAF™ (Virtual International Authority File) combines multiple name authority files into a single OCLC-hosted name authority service. The goal of the service is to lower the cost and increase the utility of library authority files by matching and linking widely-used authority files and making that information available on the Web. Search Note
Using Library of Congress Authorities, you can browse and view authority headings for Subject, Name, Title and Name/Title combinations; and download authority records in MARC format for use in a local library system. This service is offered free of charge. or switch to the >> Library of Congress Online Catalog << to search for and display catalog records for the over 12 million books and other items in the collections of the Library of Congress.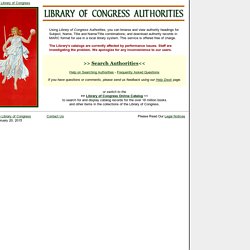 TRX/TDR tesis doctorales U. Catalunia
Us informem que el repositori TDX ha canviat d'adreça. Si us plau, actualitzeu aquesta adreça per aquesta altra: http://www.tdx.cat/ Per accedir a la nova adreça premeu l'enllaç o bé espereu 10 segons. Os informamos que el repositorio TDR ha cambiado de dirección.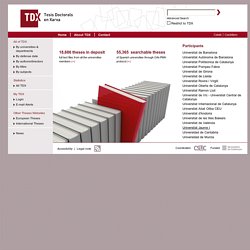 MR: Search Publications database
TRAVESÍA
OLAC Language Resource Catalog
OLAC Language Resource Catalog
OLAC Search
Search
Digital Collections
Copac