Design Tools
Web Design Process. Web Development Project Estimator. Side Projects The Web Development Project Estimator is a simple tool that allows web designers and site developers to quickly and thoroughly estimate the time and materials required for a proposed web project.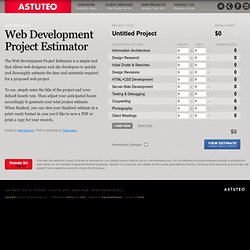 To use, simply enter the title of the project and your default hourly rate. Then adjust your anticipated hours accordingly to generate your total project estimate. When finished, you can view your finalized estimate in a print-ready format in case you'd like to save a PDF or print a copy for your records. 45 Incredibly Useful Web Design Checklists and Questionnaires.
Advertisement Designing websites can be a long and complicated process.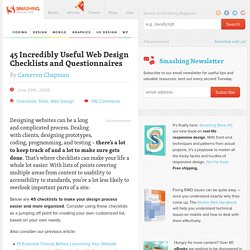 Dealing with clients, designing prototypes, coding, programming, and testing – there's a lot to keep track of and a lot to make sure gets done. That's where checklists can make your life a whole lot easier. With lists of points covering multiple areas from content to usability to accessibility to standards, you're a lot less likely to overlook important parts of a site. 10 Extremely Useful Background Generators for Designers. Using good background image in web design can really lift up a simple layout.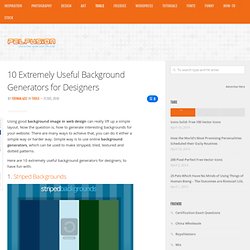 Now the question is, how to generate interesting backgrounds for your website. There are many ways to achieve that, you can do it either a simple way or harder way. Simple way is to use online background generators, which can be used to make stripped, tiled, textured and dotted patterns. 50 Free and Premium Attractive User Interface Design Kits | UI Kits. Designing a website is a time consuming task.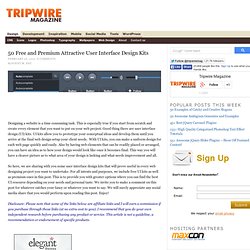 This is especially true if you start from scratch and create every element that you want to put on your web project. Good thing there are user interface design (UI) kits. UI kits allow you to prototype your conceptual ideas and develop them until you arrive at the final web design setup your client needs. With UI kits, you can make a uniform design for each web page quickly and easily. Also by having web elements that can be readily placed or arranged, you can have an idea as to how your design would look like once it becomes final. 35 High Quality Photoshop Web Design Tutorials. The Top 10 Web Design Skills You WILL Need! Here are my top 10 web design skills that you WILL need to master to become an effective web designer.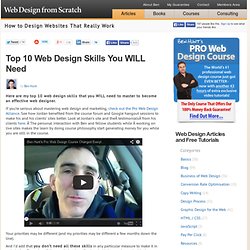 If you're serious about mastering web design and marketing, check out the Pro Web Design Alliance. See how Jordan benefited from the course forum and Google hangout sessions to make his and his clients' sites better. Look at Jordan's site and the testimonials from his clients here.  The personal interaction with Ben and fellow students while  working on live sites makes the learn by doing course philosophy start generating money for you while you are still in the course. The Anatomy of a Perfect Landing Page. How Clean is Your Web Design? Clean.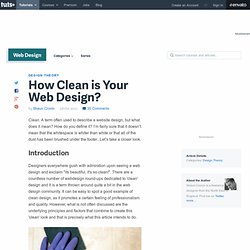 A term often used to describe a website design, but what does it mean? How do you define it? I'm fairly sure that it doesn't mean that the whitespace is whiter than white or that all of the dust has been brushed under the footer...Let's take a closer look. Introduction Designers everywhere gush with admiration upon seeing a web design and exclaim "its beautiful, it's so clean! ". How to Create an Awesome Scrolling Navigation using jQuery - thebeebs.
I was looking over the .net award nominees this week and stumbled across the flipboard.com website.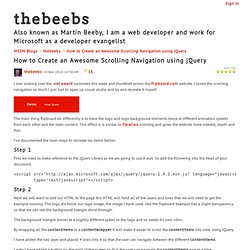 I loved the scrolling navigation so much I just had to open up visual studio and try and recreate it myself. DemoView Demo. How do I Make An Image Change On MouseOver? How do I make an image change on mouse over?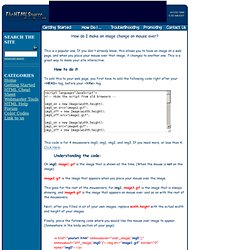 This is a popular one. If you don't already know, this allows you to have an image on a web page, and when you place your mouse over that image, it changes to another one. This is a great way to make your site interactive. How to do it. 40 Online Generators for Web Designers Should Bookmark. Online Generators for Web Designers can be a great way to save time in your web design projects.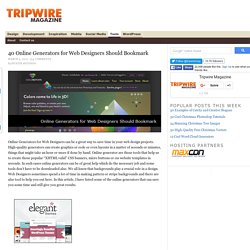 High-quality generators can create graphics or code or even layouts in a matter of seconds or minutes, things that might take an hour or more if done by hand. Online generator are those tools that help us to create those popular "XHTML valid" CSS banners, micro buttons or css website templates in seconds. In such cases online generators can be of great help which do the necessary job and some tools don't have to be downloaded also. We all know that backgrounds play a crucial role in a design. Free Customized Feedback Form for Your Website: Feedback Form Wizard. Free customized form to mail PHP/Perl script / contact form thesitewizard.com's Free Customized Feedback Form Wizard creates a FREE feedback form for your website.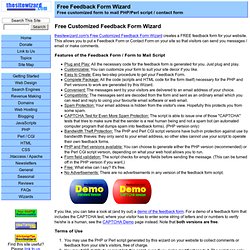 This allows you to put a Feedback Form or Contact Form on your site so that visitors can send you messages / email or make comments. Features of the Feedback Form / Form to Mail Script Plug and Play: All the necessary code for the feedback form is generated for you. Free Vector graphic art, free icons, free website templates, psd graphic, photoshop brush, font, free download.
---