Business Intelligence
Fabiano Oliveira
Elton Belz - business intelligence
09basevol1n2_artigo05
a06v12n1
a07v18sp
http://www.aedb.br/seget/artigos07/1116_SEGET_Artigo_O_Business_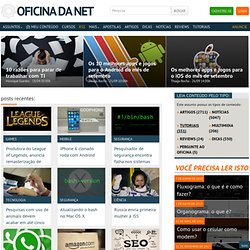 Business Intelligence
WMS como vantagem competitiva para organizações Publicado: 20/03/2013 às 16:15 por Samuel Gonsales Este artigo vai apresentar alguns dos possíveis benefícios do WMS e assim colaborar para que as organizações possam criar soluções aos desafios de armazenagem, localização e expedição de mercadorias, gerando com isso vantagens competitivas em se...
Saas é a sigla de Software as a service, em tradução livre, Software como Serviço. Para que todos possam entender, ele é um modelo de distribuição de software, na qual não é vendido e instalado localmente, mas sim é liberado apenas o acesso ao serviço oferecido por este software e é licenciado para a utilização através da internet.
Saas - Software as a service: O que é?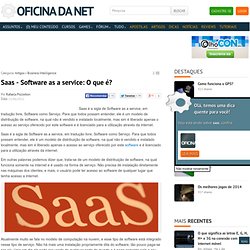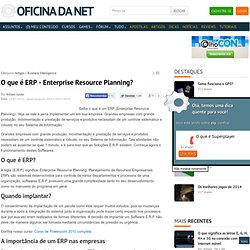 O que é ERP - Enterprise Resource Planning?
Saiba o que é um ERP (Enterprise Resource Planning). Veja se vale a pena implementar um em sua empresa.
Notícias sobre Business Intelligence
Empresas não sabem lidar com as informações
Estratégia da informação e o desempenho competitivo: uma aplicação na indústria de autopeças para veículos
Ciência da Informação - User studies: the pattern that comprises three approaches
Estudos de usuários: o padrão que une três abordagens User studies: the pattern that comprises three approaches Isa Maria Freire I ; Bruno Macedo Nathanhson II ; Carla Tavares II ; Carmelita do Espírito Santo II
ART%203%20-%20A%20import%C3%A2ncia%20do%20sistema%20de%20informa%C3%A7%C3%A3o%20gerencial%20para%20tomada%20de%20decis%C3%B5es
ENEGEP2004_Enegep0904_1839
2.pdf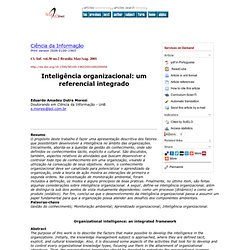 Inteligência organizacional: um referencial integrado
Ciência da Informação - Organizational intelligence: an integrated framework
Net Promoter - What Is Net Promoter?
www.scielo.br/pdf/ci/v32n1/15969.pdf
http://www.scielo.br/pdf/%0D/ci/v28n3/v28n3a6.pdf
andrebuzzijr - Decisões com BI - Livro do Google
JISTEM - Journal of Information Systems and Technology Management (Online) - Business Intelligence (BI) implementation from the perspective of individual change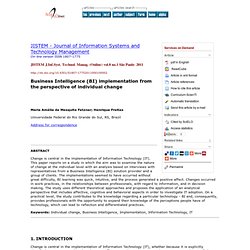 Business Intelligence (BI) implementation from the perspective of individual change Maria Amélia de Mesquita Fetzner; Henrique Freitas
Artigo: New Trends in Business Intelligence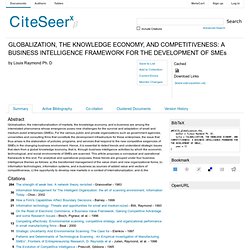 Abstract Globalization, the internationalization of markets, the knowledge economy, and e-business are among the interrelated phenomena whose emergence poses new challenges for the survival and adaptation of small and medium-sized enterprises (SMEs).
Artigo: GLOBALIZATION, THE KNOWLEDGE ECONOMY, AND COMPETITIVENESS: A BUSINESS INTELLIGENCE FRAMEWORK FOR THE DEVELOPMENT OF SMEs
Plano de Ensino: Business Information Systems
Periódico: International Journal of Information Technology & Decision Making (WorldSciNet)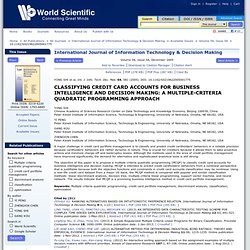 Chinese Academy of Sciences Research Center on Data Technology and Knowledge Economy, Beijing 100039, China Peter Kiewit Institute of Information Science, Technology & Engineering, University of Nebraska, Omaha, NE 68182, USA A major challenge in credit card portfolio management is to classify and predict credit cardholders' behaviors in a reliable precision because cardholders' behaviors are rather dynamic in nature.
Artigo: CLASSIFYING CREDIT CARD ACCOUNTS FOR BUSINESS INTELLIGENCE AND DECISION MAKING
Base de Dados: ScienceDirect (2007-atual)
Artigo: Measuring the effects of business intelligence systems: The relationship between business process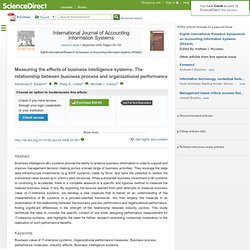 1. Introduction 2.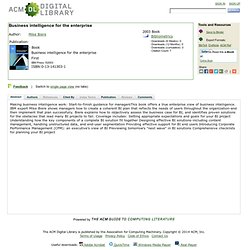 Making business intelligence work: Start-to-finish guidance for managersThis book offers a true enterprise view of business intelligence.
Livro: Business intelligence for the enterprise
Artigo: The BI-Based Organization
Michel Dias - Process Models of B.I
Michel Dias - Decision Support Intelligent Systems
O%20Uso%20do%20Balanced%20Scorecard%20na%20%C3%93tica%20do%20Business%20Intelligence
As alianças como estratégia e inteligência competitiva na partilha de conhecimento organizacional
Josiane - Beyond Data \Warehousing