Books
Công ty văn hóa & truyền thông Nhã Nam
www.cfainstitute.org/learning/products/publications/contributed/equityinvestments/Documents/valentine_ch20_best_practices_equity_sample.pdf
Andrew Matthews - International Speaker Bestselling Author
Life's Little Instructions
Men are From Mars, Women are From Venus
The Godfather
The Godfather Collectibles
The Godfather - Official Movie Site - Available on DVD and Blu-ray Disc from Paramount Pictures
The last temptation of Christ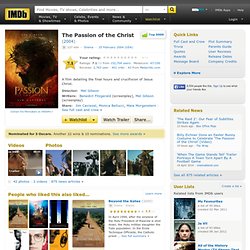 The Passion of the Christ (2004
Edit Storyline Plot Summary | Plot Synopsis Taglines: The movie, behind the greatest event in the history of the world. See more »
The Last Temptation of Christ (1988
Washington's crossing
Read. It's an interesting and lovely review by robinthieu Jul 7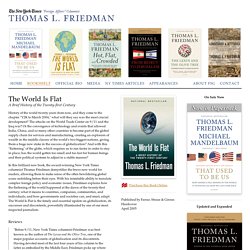 History of the world twenty years from now, and they come to the chapter "Y2K to March 2004," what will they say was the most crucial development? The attacks on the World Trade Center on 9/11 and the Iraq war? Or the convergence of technology and events that allowed India, China, and so many other countries to become part of the global supply chain for services and manufacturing, creating an explosion of wealth in the middle classes of the world's two biggest nations, giving them a huge new stake in the success of globalization? And with this "flattening" of the globe, which requires us to run faster in order to stay in place, has the world gotten too small and too fast for human beings and their political systems to adjust in a stable manner?
Confessions of an Economic Hit Man, by John Perkins--the shocking real-life story of how America built an empire on third world debt
How to Win Friends and Influence People
www.dalecarnegie.com/assets/1/7/GoldenBook_English.swf
Book Summary: In this book, I tell you everything I learned from starting, growing, and selling CD Baby, compressed into an entertaining and useful one-hour read. No secrets held back, I share the biggest mistakes, keys to its success, and the philosophies behind the big decisions. Called "40 lessons for a new kind of entrepreneur", it's 10 years of experience in one hour, designed to be immediately usable for your own business or project.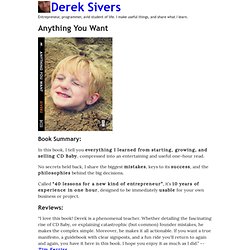 ANYTHING YOU WANT
Obvious to you. Amazing to others. on Vimeo