Magazines
Dans notre petite bulle. "WebGL Bookcase" by Google Data Arts Team. The-discworld-reading-order-guide-20.jpg (1000×1795) Babelio. Words Without Borders: Home. Le blog de Just-Love-Books. Quatrième de Couverture : Quand l'étrange jeune homme rencontré dans les bois qui borde le Manoir lui affirme qu'il a le pouvoir d'exaucer son voeu le plus cher-prolonger la vie de sa mère gravement malade- Kate se refuse à le croire.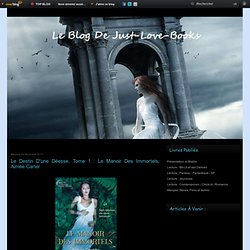 Mais de mystérieux et terribles événements l'obligent à chasser ses doutes et à accepter le pacte qu'il lui propose : la vie de sa mère, contre six mois au Manoir des Immortels, où elle devra affronter sept épreuves...et une tentation... Mon Avis : Pitbook.com. Hibouc. Le Pont des Savoirs. Libro de Notas. The Public Domain Review | Los Angeles Review of Books - A Man Apart. ActuaLitté. C'est vraiment à se demander, hein.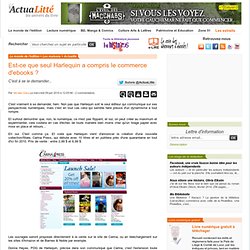 Non pas que Harlequin soit le seul éditeur qui communique sur ses perspectives numériques, mais c'est en tout cas celui qui semble faire preuve d'un dynamisme à tout rompre. Et surtout démontrer que, non, le numérique, ce n'est pas flippant, et oui, on peut créer au maximum et expérimenter, cela coûtera en cas d'échec de toute manière bien moins cher qu'un tirage papier avec mise en place et retours... Eh oui. C'est comme ça. Blog livres. Estandarte - Noticias de libros, premios literarios, editoriales, recursos para escritores... Paris Review – Writers, Quotes, Biography, Interviews, Artists. Wattpad - Discover a World of Unlimited Stories. Welcome to Open Library (Open Library)
Blogs littéraires. Plus fort (et moins risqué) que Chatroulette : Blogroulette ! - L'aventure des écritures.
In French. In english. Ciberdúvidas da Língua Portuguesa. Agulha Revista de Cultura. La Rivista dei Libri. La Rivista dei Libri : Sommario. Willibald Sauerländer I volti diversi dell'Illuminismo Jean-Antoine Houdon: Die sinnliche Skulptur /La sculpture sensible, mostra presso la Liebieghaus Skulpturensammlung di Francoforte, dal 29 ottobre 2009 al 28 febbraio 2010; e presso il Musée Fabre di Montpellier, dal 16 marzo al 27 giugno 2010.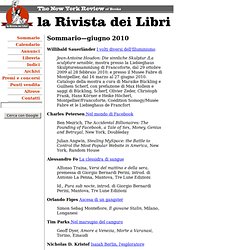 Catalogo della mostra a cura di Maraike Bückling e Guilhem Scherf, con prefazione di Max Hollein e saggi di Bückling, Scherf, Olivier Zeder, Christoph Frank, Hans Körner e Heike Höcherl, Montpellier/Francoforte, Coédition Somogy/Musée Fabre et le Liebieghaus de Francfort Charles Petersen Nel mondo di Facebook. Ugly Duckling Presse.
---