Magazines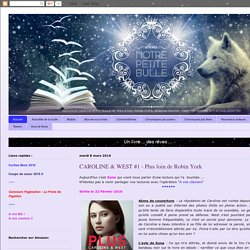 Dans notre petite bulle
Résumé: Mia Monroe is running. Running from a person she doesn't ever want to find her. Running from a past she doesn't ever want anyone to know.
"WebGL Bookcase" by Google Data Arts Team
the-discworld-reading-order-guide-20.jpg (1000×1795)
Babelio
Words Without Borders: Home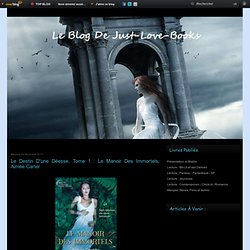 Le blog de Just-Love-Books
Vendredi 29 mars 5 29 /03 /Mars 19:11 Dorina Basarab is a dhampir—half-human, half-vampire. Subject to uncontrollable rages, most dhampirs live very short, very violent lives. So far, Dory has managed to maintain her sanity by unleashing her anger on those demons and vampires who deserve killing.
Pitbook.com
Hibouc
« Si tu diffères de moi mon frère, loin de me nuire, tu m'enrichis. » Antoine de St Exupéry Le Pont des Savoirs est une association Loi 1901, qui fait partie des Réseaux d'Echanges Réciproques de Savoirs, dont l'objectif est de mettre en contact des personnes qui désirent partager leurs connaissances ou en acquérir de nouvelles.
Le Pont des Savoirs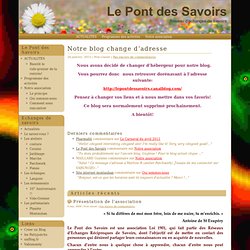 Libro de Notas
Antonio Martínez Ron - Guía para perplejos Es jueves, 29 de mayo, y estamos en 1947. La Segunda Guerra Mundial ha terminado hace más de dos años y lo que dice el tipo de las gafas no tiene ningún sentido. ¿Cómo iba a llegar un cohete nazi hasta este lugar y a estas alturas?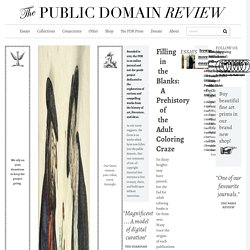 Encounter at the crossroads of Europe – the fellowship of Zweig and Verhaeren Stefan Zweig, whose works passed into the public domain this year in many countries around the world, was one of the most famous writers of the 1920s and 30s. Will Stone explores the importance of the Austrian's early friendship with the oft overlooked Belgian poet Emile Verhaeren. Read More » Time and Place: Eric Ravilious (1903-1942) In many countries around the world the works of Eric Ravilious have come out of copyright this year – he died when his aircraft went missing off Iceland while he was making war paintings.
The Public Domain Review |
Los Angeles Review of Books - A Man Apart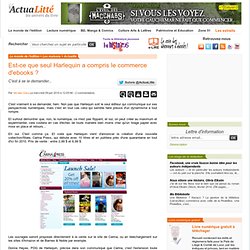 ActuaLitté
C'est vraiment à se demander, hein. Non pas que Harlequin soit le seul éditeur qui communique sur ses perspectives numériques, mais c'est en tout cas celui qui semble faire preuve d'un dynamisme à tout rompre. Et surtout démontrer que, non, le numérique, ce n'est pas flippant, et oui, on peut créer au maximum et expérimenter, cela coûtera en cas d'échec de toute manière bien moins cher qu'un tirage papier avec mise en place et retours... Eh oui. C'est comme ça.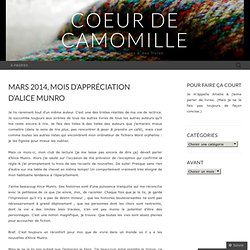 Blog livres
Pour une fin juin tour à tour pluvieuse & ensoleillée, grise & étouffante, la chaleur qui s'accumule sous ses gros nuages ronflants – deux livres devant lesquels je reste un peu ambivalente. The Book Thief (Markus Zusak) C'est un peu difficile d'écrire une histoire sur l'Allemagne nazie qui n'ait pas au moins un petit goût de remâché, mais on peut pas dire que Zusak n'essaie pas de toutes ses forces d'amener de l'eau fraîche au moulin (…pour dire ça comme ça). Son roman, The Book Thief, est narré par la mort en personne, adopte un style particulier, plein à craquer d'images truculentes & de métaphores excentriques, & suit les aventures de Liesel, une fille pas comme les autres qui, on s'en doute, deviendra la voleuse de livres du titre.
Estandarte - Noticias de libros, premios literarios, editoriales, recursos para escritores...
Twitter Filmmaker David Cronenberg on the similarities between his 1986 film, "The Fly," and Kafka's "The Metamorphosis": http://t.co/zYYo8K7CmP. Follow Us Newsletter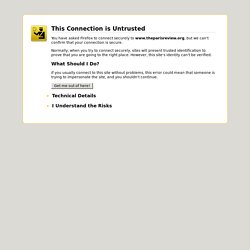 Paris Review – Writers, Quotes, Biography, Interviews, Artists
Wattpad - Discover a World of Unlimited Stories
Welcome to Open Library (Open Library)
Open Library is an open, editable library catalog, building towards a web page for every book ever published. More Just like Wikipedia, you can contribute new information or corrections to the catalog. You can browse by subject , author or lists members have created. If you love books, why not help build a library?
Plus fort (et moins risqué) que Chatroulette : Blogroulette ! -
L'aventure des écritures
Ciberdúvidas da Língua Portuguesa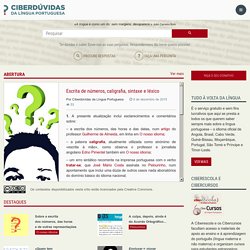 O Ciberdúvidas da Língua Portuguesa completa 17 anos de existência neste dia, em que o consultório alcança as 32 336 respostas em arquivo e as demais rubricas disponibilizam cerca de 5000 textos, num conjunto que faz eco de dúvidas e discussões à volta do uso do português nos mais variados âmbitos, incluindo, como não poderia deixar de ser, os institucionais e, ainda, um regular registo do que vai sendo publicado de obras especializadas da língua portuguesa. Projeto singular em todo o espaço de língua oficial portuguesa – pela sua natureza de serviço público, gracioso e universal, e espaço simultaneamente noticioso, de esclarecimento, reflexão e polémica sobre o idioma comum de oito povos, em toda a sua diversidade histórica e geográfica –, são 17 anos não isentos de dificuldades e sobressaltos só superáveis graças à generosidade dos patrocinadores1 que o Ciberdúvidas tem conhecido ao longo do seu percurso.
Agulha Revista de Cultura
la Rivista dei Libri
John Banville: Una voce luminosa accende il buio In un grande saggio dal titolo Esperienza, Ralph Waldo Emerson scrive alcune cose forti, e ormai famose, sul delicato argomento del dolore. Nel gennaio del 1842 Emerson e la moglie Lidian avevano perso l'amatissimo figlio Waldo, morto di scarlattina a cinque anni.
Willibald Sauerländer I volti diversi dell'Illuminismo Jean-Antoine Houdon: Die sinnliche Skulptur /La sculpture sensible, mostra presso la Liebieghaus Skulpturensammlung di Francoforte, dal 29 ottobre 2009 al 28 febbraio 2010; e presso il Musée Fabre di Montpellier, dal 16 marzo al 27 giugno 2010. Catalogo della mostra a cura di Maraike Bückling e Guilhem Scherf, con prefazione di Max Hollein e saggi di Bückling, Scherf, Olivier Zeder, Christoph Frank, Hans Körner e Heike Höcherl, Montpellier/Francoforte, Coédition Somogy/Musée Fabre et le Liebieghaus de Francfort Charles Petersen Nel mondo di Facebook
la Rivista dei Libri : Sommario
Ugly Duckling Presse