Magazines
Dans notre petite bulle
"WebGL Bookcase" by Google Data Arts Team
the-discworld-reading-order-guide-20.jpg (1000×1795)
Babelio
Words Without Borders: Home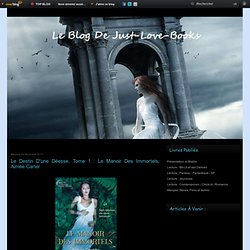 Le blog de Just-Love-Books
Vendredi 29 mars 5 29 /03 /Mars 19:11 Dorina Basarab is a dhampir—half-human, half-vampire. Subject to uncontrollable rages, most dhampirs live very short, very violent lives. So far, Dory has managed to maintain her sanity by unleashing her anger on those demons and vampires who deserve killing.
Pitbook.com
Hibouc
Le Pont des Savoirs
Libro de Notas
The Public Domain Review |
Los Angeles Review of Books - A Man Apart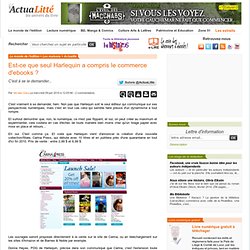 ActuaLitté
C'est vraiment à se demander, hein.
Blog livres
Estandarte - Noticias de libros, premios literarios, editoriales, recursos para escritores...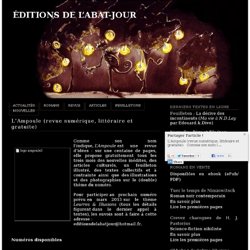 L'Ampoule (revue numérique, littéraire et gratuite) - Editions de l'Abat-Jour
L'Ampoule est la revue littéraire et numérique des éditions de l'Abat-Jour, dirigée depuis juin 2011 par Marianne Desroziers et Franck Joannic. Tous les trois mois, on y retrouve nouvelles inédites, articles culturels, textes collectifs et à contrainte ainsi qu'illustrations et photographies, sur un double thème et une centaine de pages. La revue est gratuite et les participations ouvertes à tous. Les envois sont à faire à notre adresse : editionsdelabatjour@hotmail.fr, selon les thèmes du numéro à venir. Nous privilégions textes et dessins inédits, mais surtout ce qui sort de l'ordinaire ! Appel à textes n°11 (mars 2014)
Paris Review – Writers, Quotes, Biography, Interviews, Artists
Wattpad - Discover a World of Unlimited Stories
Welcome to Open Library (Open Library)
Plus fort (et moins risqué) que Chatroulette : Blogroulette ! -
L'aventure des écritures
Ciberdúvidas da Língua Portuguesa
Agulha Revista de Cultura
la Rivista dei Libri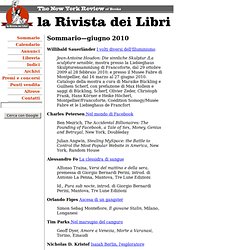 Willibald Sauerländer I volti diversi dell'Illuminismo Jean-Antoine Houdon: Die sinnliche Skulptur /La sculpture sensible, mostra presso la Liebieghaus Skulpturensammlung di Francoforte, dal 29 ottobre 2009 al 28 febbraio 2010; e presso il Musée Fabre di Montpellier, dal 16 marzo al 27 giugno 2010. Catalogo della mostra a cura di Maraike Bückling e Guilhem Scherf, con prefazione di Max Hollein e saggi di Bückling, Scherf, Olivier Zeder, Christoph Frank, Hans Körner e Heike Höcherl, Montpellier/Francoforte, Coédition Somogy/Musée Fabre et le Liebieghaus de Francfort Charles Petersen Nel mondo di Facebook
la Rivista dei Libri : Sommario
Ugly Duckling Presse