Bibliography
The BioPortfolio Corporate directory has been designed for three groups of users; the professional Business Development, Planning and Licensing executive seeking to identify partners or collaborators; the job seeker wishing to identify potential employers active in their area of interest; and the general investor with an interest in who are the key organizations in a given area – for example Alzheimer companies . The directory lists over 40,000 healthcare, pharmaceutical and biotechnology companies worldwide, involved in research, development, manufacturing, services and support. Companies can be sorted by keyword and each profile provides related press releases and clinical trials - for example Genentech Inc .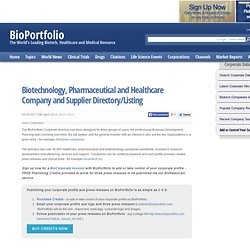 Life Science Company Database
Life Technologies Select
Scholar
IOPscience::.. Welcome!
UK PubMed Central
Faculty of 1000 introduces a novel Open Access publishing venture: F1000 Research