Beatles
Primitive Soul - Come Tomorrow
The Beatles were an English rock band that formed in Liverpool, in 1960. With John Lennon, Paul McCartney, George Harrison, and Ringo Starr, they became widely regarded as the greatest and most influential act of the rock era.[1] Rooted in skiffle and 1950s rock and roll, the Beatles later experimented with several genres, ranging from pop ballads to psychedelic rock, often incorporating classical elements in innovative ways. In the early 1960s, their enormous popularity first emerged as "Beatlemania", but as their songwriting grew in sophistication they came to be perceived as an embodiment of the ideals shared by the era's sociocultural revolutions. Starting in 1960, the Beatles built their reputation playing clubs in Liverpool and Hamburg over a three-year period. Manager Brian Epstein moulded them into a professional act and producer George Martin enhanced their musical potential. They gained popularity in the United Kingdom after their first hit, "Love Me Do", in late 1962.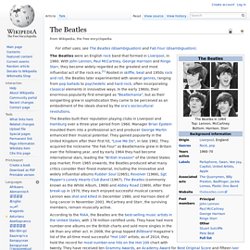 Beatles Novels
Roman Historique sur les Beatles
DM's Beatles forums
The Beatles accession to the Toppermost of the Poppermost began in 1960 when they headed over to Hamburg Germany to work regularly in nightclubs. Working 8 hour shifts, with another band…sometimes Ringo's band "Rory Storm and the Hurricane" helped them to focus their stage act and dramatically increase their repertoire. This included the writing of their own songs, initially to make sure they would have material to play when they traveled with other bands. As most Rock bands were in England at this time in history, the Beatles were a cover band, offering their versions of Carl Perkins, Larry Williams, Buddy Holly, Little Richard, Chuck Berry and many other artists songs. After moderate success on the British Melody Maker Chart during 1962 with a Lennon/McCartney original composition, "Love Me Do" (it reached # 21), the Beatles had their first NUMBER 1 hit with "Please, Please Me" in March of 1963.
Beatles History
Beatle Money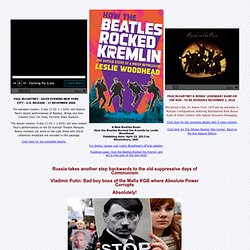 A very noteworthy entry into this Beatles Timeline: On this date, Paul McCartney performs a free concert before an unprecedented crowd of "around 500,000" at the Coliseum in Rome. Said Paul, "I'm completely blown away - it was one of the most fantastic evenings of my life and I'm so chuffed that at my stage in the game this was the biggest show of my entire career," wrote the Daily Post. The day before, Paul held a charity concert at the Coliseum before a crowd of 400 people who paid up to $1,485 in an internet auction for tickets. Proceeds of $285,000 were raised from the concert and will go towards "Adopt-A-Minefield" and to archaeological projects in Rome.
BeatlesNews.com