Videos
How to keep centered around negative people.
Society is a Macro-fractal Self | Ascending Luminosity
Gratitude - The Infinite Journey
Spirit Science 3 - Channeling
Spirit Science 2 - Chakras
Project Camelot: Dolores Cannon - Convoluted Universe
Spirit Science Video Collection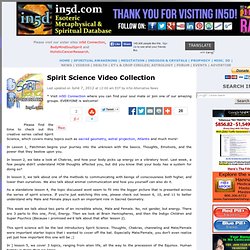 Click HERE to visit our Official Facebook page and be sure to "Like" us!!!
Project Camelot Interviews Marcia Schafer: Groundcrew 101
Jim Carrey on "Awakening"
‪Paula Gloria w/ Miceal Ledwith, "What the Bleep Do We Know?"‬‏
‪Michael St Clair.1/3-Parallel Dimension. ETs, Future Possibilities‬‏
‪Bashar + Abraham - "You Have Changed the Past"‬‏