Audio suppliers
Logic Users Group | Home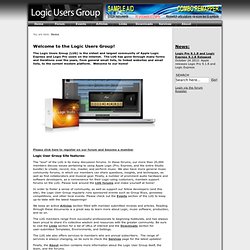 You are here: Home The Logic Users Group (LUG) is the oldest and largest community of Apple Logic Express and Logic Pro users on the internet. The LUG has gone through many forms and iterations over the years, from general email lists, to linked websites and email lists, to the current modern platform.
Mercenary Audio - Professional Audio Recording Equipment and Advice
USB Audio Interfaces, FireWire Audio Interfaces, AD/DA Converters > Apogee Electronics
Earthworks Audio - High Definition Microphones™, Handmade in the USA
Vintage King Audio | 248.591.9276 | The Largest Selection of New & Used Pro Audio in the World
Laws For Audio Engineers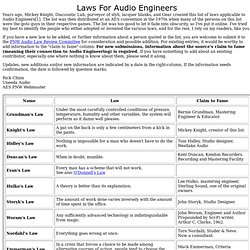 Laws For Audio Engineers Years ago, Mickey Knight, Diacoustic Lab, purveyor of styli, lacquer blanks, and Gear created this list of laws applicable to Audio Engineers[1]. The list was then distributed at an AES convention in the 1970s when many of the persons on this list were the goto guys in their respective games.
SSL Clone construction page
The SSL Clone The SSL Clone The SSL Mixbus Compressor Clone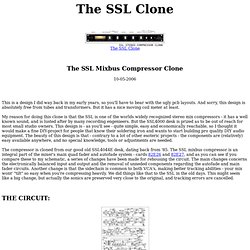 Vintage King Audio | 248.591.9276 | The Largest Selection of New & Used Pro Audio in the World