Atlas
Get flash to fully experience Pearltrees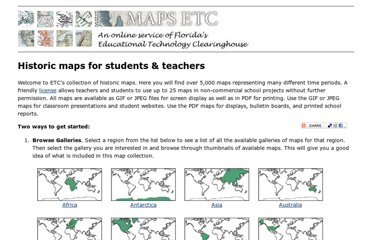 Welcome to ETC's collection of historic maps. Here you will find over 5,000 maps representing many different time periods. A friendly license allows teachers and students to use up to 25 maps in non-commercial school projects without further permission.
World Maps serve various purposes and can contain a wealth of information.The world is home to an amazingly wide range of travel destinations and maps are useful to those who travel and explore the world. The seven continents, Asia, Africa, North America, South Africa, Antarctica, Europe, and Australia, as well as any subdivisions are shown on world maps. There are many types of world maps from physical maps to political maps, and a large range of thematic maps, which provide visual representation of data or geographic features. Blank world maps are a great tool for teachers and students studying geography. There are various types of world maps and depending on your requirement, you can take a glance at the different types of maps. Blank World Maps can be useful to students as this can be used for map plotting exercises.
Signatory States ( 183 ) Ratifying States ( 159 ) Non-Signatory States ( 13 ) The use of particular designations of countries or territories does not imply any judgement by the Commission as to the legal status of such countries or territories, of their authorities and institutions or of the delimitation of their boundaries. The dotted line on the maps represents approximately the Line of Control in Jammu and Kashmir agreed upon by India and Pakistan. The two countries have not agreed upon the final status of Jammu and Kashmir.
Using Scotland's Greenspace Map You can search the map using place names or postcodes, or you can navigate to an area using the zoom and pan tools on the left hand side. Alternatively, if you hold down the shift key whilst clicking and dragging a box around an area of interest, you can zoom in straight to this area. The presence of greenspace is displayed in green at the national scale. To see all the different types of greenspace you will need to zoom in closer (to at least 1:18,056). When you click on an area of greenspace you will see its primary (and if relevant) secondary coding, ie the type of greenspace present.
National Administrative regions