NASA
A Trip Around Our Solar System - Alan Taylor - In Focus. Robotic probes launched by NASA, the European Space Agency (ESA), and others are gathering information for us right now all across the solar system.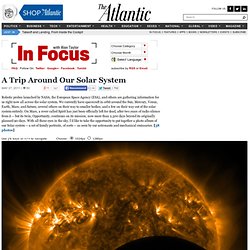 We currently have spacecraft in orbit around the Sun, Mercury, Venus, Earth, Mars, and Saturn; several others on their way to smaller bodies; and a few on their way out of the solar system entirely. On Mars, a rover called Spirit has just been officially left for dead, after two years of radio silence from it -- but its twin, Opportunity, continues on its mission, now more than 2,500 days beyond its originally planned 90-days. With all these eyes in the sky, I'd like to take the opportunity to put together a photo album of our Solar system -- a set of family portraits, of sorts -- as seen by our astronauts and mechanical emissaries. [38 photos] HSF Space Shuttle Gallery.
What an Astronaut's Camera Sees. Mars Exploration Program. International Space Station and Discovery - STS-133. Any use of one of these images other than strictly private must be subject to prior authorization from legault@astrophoto.fr FEBRUARY 28 : an astronaut in spacewalk in 3D video This is the first image ever taken from the ground, of an astronaut in extravehicular activity (EVA1).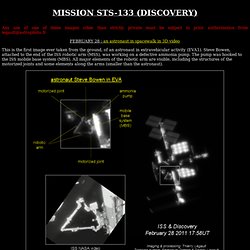 Planetary Names: Planet and Satellite Names and Discoverers. MESSENGER Web Site. Discovery timelapse 110307 ladanyi.
---