Diverse contemporary
Yannick Vallet photographies - deux ou trois choses - photographs - two or three things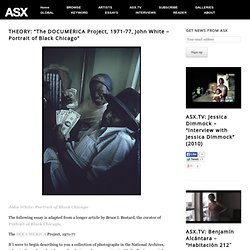 DANNY LYON: "DOCUMERICA" (1970′s
John White: Portrait of Black Chicago The following essay is adapted from a longer article by Bruce I. Bustard, the curator of Portrait of Black Chicago . The DOCUMERICA Project, 1971-77
Beth Dow
I love old photos. I admit being a nosey photographer. As soon as I step into someone else's house, I start sniffing for them. Most of us are fascinated by their retro look but to me, it's imagining how people would feel and look like if they were to reenact them today… Two years ago, I decided to actually do this.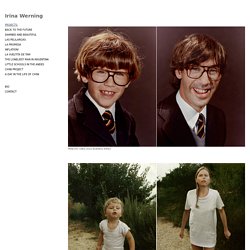 Ben Chrisman
Oliviero Toscani
STUDIOTOSCANI
Thomas Prior Takes Photo And Likes Plenty: Blackrock Tower
Kirill Golovchenko - Fotografie
Joel Peter Wilkin
Né dans une famille ouvrière de Brooklyn en 1939, Joel Peter Witkin a un père juif et une mère catholique. Les tensions - dues aux conflits de religion - éclatent fréquemment dans le foyer familial et amènent le couple à se séparer. Le jeune garçon et son frère sont alors confiés à leur mère. Très jeune, Joel Peter Witkin est confronté à la mort : « A six ans, j'ai assisté avec ma mère et mon frère à un carambolage impliquant plusieurs voitures à Brooklyn.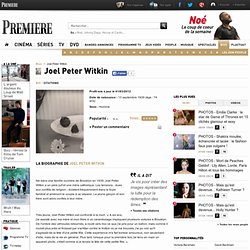 Paolo Roversi
Beth Dow
Light my fire
Philippe Gronon
Existencias Julian Opie Philippe Parreno ... Exhibition title : Existencias Participating artists : Over 200 artists held in the MUSAC ... 4,000 sq m in total), introducing the work of over 200 Spanish and international artists held ... Event - admin - 16/10/2010 - 15:24 - 1 comment Franck Scurti artists of the last 30 years, from Daniel Buren and Bertrand Lavier to Philippe Parreno, owe something ... a vague group portrait but certainly not the portrait of an artist as singular as Franck Scurti.
Serge Guerand
Patrick Laforet Photo
Marc Montméat - Photographe
George Georgiou