Crafts
DIY Craft Table IKEA Hack. Faux Antique Card File Drawers. Winter Crafts: Beat Boredom with DIY Projects. Don't let cold weather get you down.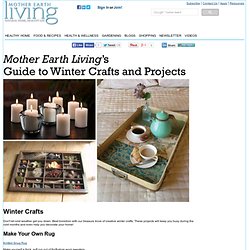 Beat boredom with our treasure trove of creative winter crafts. These projects will keep you busy during the cold months and even help you decorate your home! So Much To Do. How To: Make a Bulletin Board from Wine Corks | Apartment Therapy Re-Nest. Wine cork bath mat. Inspired by CB2's bamboo bath mat I'm evidently on a hot-glue kick lately.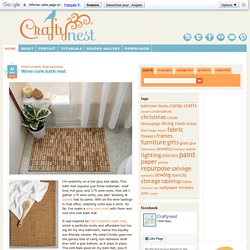 This bath mat requires just three materials: shelf liner, hot glue, and 175 wine corks. How did I gather 175 wine corks, you ask? Working at Sunset had its perks. With all the wine tastings in that office, collecting corks was a cinch. Cleaning Buttons: How to for the Button Collector. Before cleaning buttons, it is essential to know what material the button is made of, as well as its construction.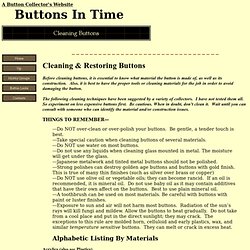 Also, it is best to have the proper tools or cleaning materials for the job in order to avoid damaging the button. The following cleaning techniques have been suggested by a variety of collectors. I have not tested them all. So experiment on less expensive buttons first. Be cautious. Buttons In Time, Home Page. Delicious Food Recipes - Arts and Crafts Ideas - Entertaining Tips - Gardening - Pets - Martha Stewart. Mini roses from dollar store crepe paper streamers. Gonna show you how to make these, because there's still enough time before Valentine's day, and also Heather from Dollar Store Crafts is having a link party and all you need to make these is crepe paper streamers that the Dollar Store sells in packs of two.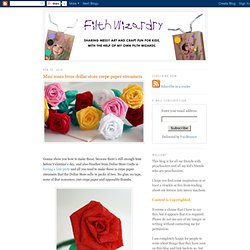 No glue, no tape, none of that nonsense, just crepe paper and opposable thumbs. When I was about ten years old, we had our village's first summer festival, where one girl from the local primary school got to be the carnival queen. Just Undo It. How to Transform a Hoodie into Nearly Everything. — Conceptual Devices. A hoodie is not just a hoodie.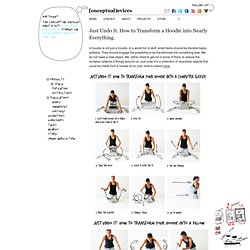 In a world full of stuff, smart items should be transformable, editable. They should engage the possibility to be transformed into something else. We do not need a new object. Psimadethis. ~Ruffles And Stuff~
Just Something I Made. SHOP anna maria. Wise Craft: make a rice pillow for your Valentine. Updated 10/1/12- I have revised this pattern and reposted the how to here.
As a family, we kind of obsessively like our rice pillows and firmly believe it's one of those small things that greatly improve our quality of life. The giving of something like this is a large gesture on our part, a bit of a warm hug really. Part of our nighttime ritual is to pop one in the microwave, heat it up, and wrap it around cold feet, lay on an upset tummy, or just snuggle with it when its cold and pouring rain outside. I made Emma a new one, from a sweet floral sheet Sally gave me. These are so quick and satisfying to make, think of it as one of those quilts you haven't had the time or courage to jump into just yet. Wink Designs: No-sew fabric covered boxes tutorial. These are fun and easy to make (no sewing involved) and look great as storage containers on childrens' shelves or desks.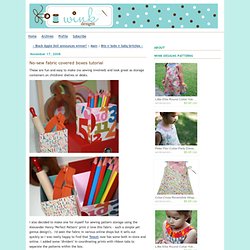 I also decided to make one for myself for sewing pattern storage using the Alexander Henry "Perfect Pattern" print (I love this fabric - such a simple yet genius design!). I'd seen the fabric in various online shops but it sells out quickly so I was really happy to find that Tessuti now has some both in-store and online.
Mini bunting birthday card. My latest quickie DIY project: a birthday card with a tiny bunting of miniature flags.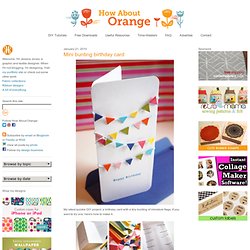 If you want to try one, here's how to make it. Fold a sheet of cardstock into thirds, accordian style. If you want a printed message on your card, run it through your printer before folding. Cut out strips of colored paper and fold them in half lengthwise. (My strips were about 1" wide.) Wholly Craft! Cloud9 Fabrics | Home. Cicada Studio | Home. Collage Lost and Found. Free Baby Crafts Patterns, Projects, & Baby Shower Ideas at AllCrafts! Craft Leftovers.
---